---
On Sunday, June 30 the United Nations marked the International Day of Parliamentarianism at a time in Sri Lanka's Parliament, standards, values and principles have plunged to one of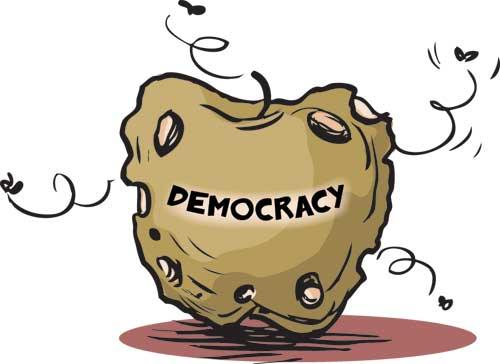 the lowest levels with some cynics even suggesting that the Easter Sunday's suicide bombers should have targeted Parliament also. At a recent event when there was a 21-gun salute at a ceremony presided over by the President in the vicinity of Parliament some had even suggested a gun or two should have been turned towards Parliament.

Since independence in 1948, there was some degree of national unity and national service with parliamentarians rising above party politics and sincerely serving the people. But in 1951 when SWRD Bandaranaike broke away mainly on the Sinhala only policy, formed the Mahajana Eksath Peramuna (MEP) and swept to power in 1956, party politics and the desire for personal gain or glory have grown and reached their worst levels in recent years.

Statesmen have regularly pointed out that if people want to do business and get rich they should go elsewhere instead of seeking election to parliament where they are committed to serve the people sincerely, selflessly and sacrificially. But what happens now is a multi-million dollar plunder of the people's wealth and resources through subtle, third party or fourth party means. This crime is complex.

The present government won the January 8, 2015 presidential elections largely on the promise that good governance would be restored and those involved in big frauds would be brought to justice. But more than four and a half years later not a single of these large scale fraudulent politicians has been brought to justice, convicted, jailed or fined. Instead we are told the investigations are being conducted by several agencies and even the three-judge high court benches appointed to expedite the cases have found it difficult to proceed, largely because of complex issues in the law. So much so that President Maithripala Sirisena -- known to be involved in an open political battle with Prime Minister Ranil Wickremesinghe's United National Front (UNF) government appointed a Presidential Committee to probe alleged frauds by ministers, MPs or top officials of the current administration.

Tragically, less than two months after the good governance, no-frauds national government took office, Sri Lanka was hit by one of the biggest ever frauds -- the Central Bank bond scam where racketeers allegedly plundered more than Rs.11 billion in public funds. Unfortunately, despite objections from the President, the Prime Minister insisted on the appointment of his Arjuna Mahendran as the Central Bank Governor and he has now been indicted as the main suspect in this biggest-ever fraud. But Mr. Mahendran is still in Singapore where he is a dual-citizen and seems to be saying to the government, 'catch me if you can'.

According to the 19th Amendment and a Supreme Court ruling, President Sirisena's term ends on December 8 this year and sometime in October he has to direct the Elections Department to conduct the presidential election. But like most politicians, the President who received more than 6.2 million votes after he promised to abolish the Executive Presidency and rule only for one term now appears to be in a muddle because he seems to be like a nowhere man who does not know what to do or where to go and might end up in the Polonnaruwa Museum which he opened on Wednesday.

The UNF government apparently targeting the polls, has launched major development projects like the Gamperaliya and Enterprise Sri Lanka. Yesterday, the UNF launched what it called an 'educational revolution' by opening 250 new school buildings under its policy of making the nearest school the best school. The government is also to provide tabs to A/Level students and facilities have been made for them to continue their studies even if they failed the GCE O/L examinations. They will be provided opportunities for vocational training mainly in high technology areas so that students could get well-paid, creative jobs and become good and eco-friendly citizens.

But the problem is the lack of example with most of the political leaders allegedly involved in frauds acting like hypocrites and sanctimonious humbugs. The system is so rotten that some analysts believe that even the parliamentary process is at stake. Even when a public-service oriented person of integrity and honesty comes into this system he or she gets corrupted.
We hope the abolition of the executive presidency with more transparency and accountability in parliamentary democracy could be the first step in restoring the image and dignity of Parliament.