---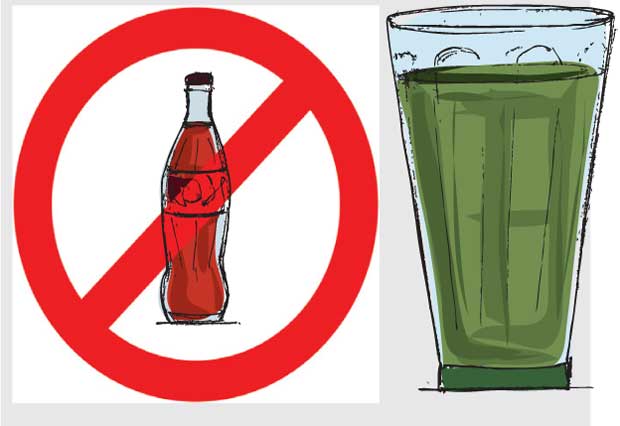 ealth and nutrition are vital for Sri Lanka's sustainable growth and the Health Ministry is taking one important step from August 1 though attention today is focused on a showdown point on issues relating to the South Asian Institute of Technology and Medicine (SAITM) and the National Medicines Regulatory Authority (NMRA).

Health and Nutrition Minister Rajitha Senaratne announced last week a gazette notification would be issued regarding the sugar content of fizzy drinks. Accordingly drinks with a sugar content of more than 11 grams would have a red sign, drinks with sugar content from 2 grams to 11 grams a yellow sign and those with less than 2 grams a green sign. This requirement is intended to curb the rising diabetes rate which is reaching dangerous proportions of about 30 per cent with about 15% being schoolchildren. We hope the Ministry would go further and carry out awareness programmes to educate the people on how much better it would be to have natural fruit drinks, preferably home-made. Sri Lanka is known to have about 40 varieties of tasty fruits but unfortunately most of our artificial soft drinks are imported and many people are going for them because it is the easy way. Parents especially need to educate their children and set an example by getting some fresh fruits using a blender if necessary and making natural fruit drink where they could limit the sugar content and make them not only tasty but also good and nourishing.

In ancient Sri Lanka when people were known to be healthier and wiser with a rich culture and tradition, most people would regularly or daily take Kola Kenda. The Sri Lanka Rupavahini Corporation yesterday morning telecast an educational programme where a senior Ayuruvedhe doctor showed the rich nutrition in kola kenda varieties such as Hathawariya, Welpenela, Karapincha and Gotukola. They could be easily made at home with the addition of condiments such as garlic and pepper with a little coconut milk. The Rupavahini programme coordinatot told parents that if they could not make kola kenda daily for their children because of the school rush in the morning they need to prepare it at least on Saturdays and Sundays.
Unfortunately with the colonisation of our minds there is a tendency to ask a person who looks weak whether he or she had drunk kenda. People who indulge in such loose talk perhaps unknowingly must be made aware that they are maligning our hallowed ancient civilisation where kola kenda was known to be one of the main sources of strength. Big companies using marketing skills have promoted vending machines for some imported drinks at various functions. The government must consider the possibilities of having such machines for natural food drinks and even kola kenda.

As for the diabetes outbreak, if not epidemic among school children, the Health Ministry need to educate parents on the dangers of allowing or encouraging their children to have imported junk food for their breakfast or during their short intervals. In elite circles some children are known to get some false pride and privilege by ordering hamburgers to be delivered to the school during the interval. When less affluent children see this they also insist on this privilege, the parents feel obligd to do so and the rat race goes on. Regular programmes need to be conducted on the need for parents to train their children to have nutritious pulses like gram, green gram or cowpea for breakfast regularly because these are low in starch and sugar.
President Maithripala Sirisena in May last year launched a widely-acclaimed two-year programme for Sri Lanka to produce its own nutritious food in our country without busting up hundreds of millions of dollars annually on the import of junk foods and processed rubbish. Along with this the government also needs to take steps to encourage the people mainly the children to drink fresh milk instead of imported powdered milk.
Education Ministry recently launched a programme to provide a packet of fresh milk daily to children in some schools. This needs to be done on a national level with the revival of our dairy milk industry. These and similar measures would be important towards building a healthy and therefore wealthy Sri Lanka.