---
Ours is a country which has been impoverished by choice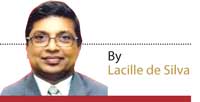 British utilitarian Jeremy Bentham (1748 – 1832) advocated the view "greatest happiness for the greatest number" should be the goal of any democratic Government. He had added that a Government should pay attention to the needs of the citizen and work towards realisation of democracy. How about us?

Politicians go back on commitments, switch allegiance from one party to another, discard good old buddies, engage in cheap politics, make baseless allegations, cross over and accept ministerial posts. They, thereafter, created history with the largest Cabinet of Ministers in the world during the previous regime!
Our voters too overwhelmingly supported them atseveral elections one after the other, mainly as an endorsement owing to the military victory over the so called "unwinnable war".
Nevertheless, Parliamentarians' primary role must be to set goals and targets to achieve sustainable economic growth and development, greater equality, better protection of eco systems and many more.

What is the role of the Opposition? The Opposition should work hard to question the Government, take up issues in debates, challenge legislation and safeguard the interest of the general public.
Lord Buddha always advised the rulers to improve the existing political system and be virtuous. Buddha showed that both human life and the socio-political processes were also subject to change and decay. Rulers must therefore necessarily ensure essential improvements from time to time. Shouldn't we also look forward for reforms, innovation and change? Yes.
Fortunately, the Prime Minister seems to be the one and the only reformist keen to improve the shortcomings in the Parliament.

He is well aware that reforms alone could generate better conditions for the people and it is the only way to make Parliament more effective and efficient.
The PM must now try to teach moral law to our legislators-the basic guidelines for practising good conduct as elected representatives for their own benefit and the society. Buddha had advised the importance of being virtuous and orated "the gift of the law exceeds all gifts" – by "law" Buddha meant Dhamma.

Buddha had added "Decay is inherent in all component things. Work out your salvation with diligence".
Buddha also preached that everyone must practise non-violence and showcompassion to all beings "Let everyone cultivate a boundless friendly mind towards all beings".Buddha had added "Let no one deceive another, let him/her not despise another in any place, let him not out of anger or resentment wish harm to another".

It could also be seen that our Parliamentarians make hate speeches and this was the reason that led to the establishment of United Nations, which is at the centre of different ideas of different statesmen from different parts of the world.

The well-spoken language which is delivered by the Buddha, if followed by Parliamentarians, who have political authority, will lead the country to peace and happiness.
We should always learn to speak words which do not pain or hurt others. The Buddha urged men to cultivate goodwill to each other. The example of the Buddha to spread universal love to everybody will ensure peace, sustainable economic development and growth.
The Parliamentarians therefore need to play a crucial role, namely, legislation, oversight and representation.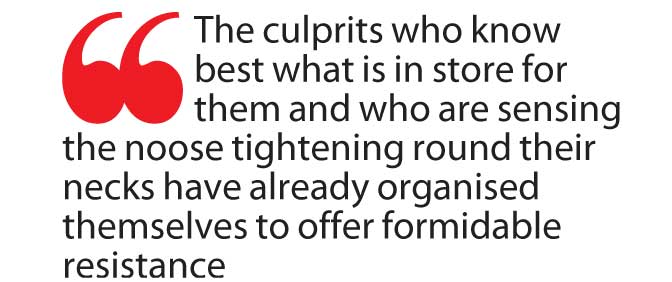 If our Parliamentarians could perform these key functions effectively and efficiently with sincerity, they would ensure effective governance which no doubt leads to State capability, accountability and responsiveness.
It has been revealed that a majority of Parliamentarians lack the skills, acumen, education or occupational background to play an effective role in legislation, oversight and representation. A majority of present MPs do not also show any interest at all to learn Parliamentary Practice and Procedure.

Their only aim is to retain their seat and to win the next election. It is sad that the majority simply do not understand their role as Parliamentarians and the role of Parliament for delivering good governance.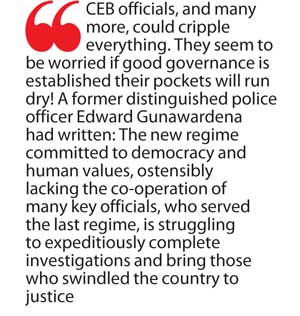 If the role of Parliament needs improvement, shouldn't MPs too support re-inventing the whole system? It is also not a cake-walk torepair most of the public sector institutions which are literally dysfunctional - the root cause of corruption, inefficiency and waste. Insufficient enforcement of laws have caused serious difficulties in promoting integrity and punishing those involved in corruption. It is common knowledge that some of the Parliamentarians have not taken steps to comply with the requirement of furnishing declaration of assets annually.

Surprisingly, thereafter, having finished the war–indiscipline, fraud, corruption and abuse of power became omnipresent and pandemic. What is indiscipline? Indiscipline can be defined as the breakdown of moral and ethical values bounded by law. Indiscipline in the public sector has caused serious problems in the country. COPE in several reports in 2007 and 2013 revealed frauds in the public sector institutions running in to billions.

The Auditor-General who was also severely constrained owing to lack of staff etc. unveiled a string of issues of massive fraud, corruption. The COPE also revealed that 51 percent of running water (NWSDB) was currently being wasted, the highest in the region, when in fact it was only 7 percent in Japan.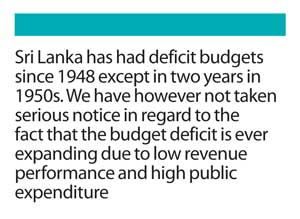 In addition, the CEB and the CPC, years ago, earned massive profits and had huge savings in their bank accounts. The SOEs' accounts became red and they now owe billions to banks since 1990s, due to corruption and mismanagement.

All these could be classified as mismanagement. No disciplinary action has yet been initiated against the perpetrators! A disgraceful culture of impunity! Nevertheless, the officers who took steps to highlight frauds, corruptions and even irregularities were dealt with and sent home.
The need of the hour is to enhance integrity and transparency in the entire public sector. The people need something tangible without being cheated.

The public sector should now ensure that they comply with procedures, rules and regulations. It is not necessary to enact more laws. What we need is to implement the laws in our law books without fear or favour.
I must say if a person does not follow the rules for lack of knowledge, such situations too are considered as lacking integrity. Transparency is therefore the right of the general public.
Sri Lanka has had deficit budgets since 1948 except in two years in 1950s. We have however not taken serious notice in regard to the fact that the budget deficit is ever expanding due to low revenue performance and high public expenditure.

Fiscal reforms therefore need to be urgently addressed for the purpose of enhancing revenue, curtailing unnecessary expenditure and maintaining public debt at a sustainable level – A MUST.
We must never forget we were one of the first developing countries who had been so well respected for our commitment to human resource development. Sri Lanka provided health and education services totally free to our citizens and Sri Lanka had therefore achieved high literacy, low infant mortality, and high life expectancy rates, far ahead of other low income countries and even better than many middle income countries elsewhere.

These are issues that need to be re-addressed by the Government without delay. Raising the living standards of our people seems to be impossible otherwise. Ours is a country which has been impoverished by choice.
The present leadership committed them to fight corruption, establish good governance and rule of law. However, whether UPFA or UNP, in positions of power – are they trying to sabotage the process?
CEB officials, and many more, could cripple everything. They seem to be worried that if good governance is established their pockets will run dry! A former distinguished Police officer Edward Gunawardena had written:

"The new regime committed to democracy and human values, ostensibly lacking the co-operation of many key officials, who served the last regime, is struggling to expeditiously complete investigations and bring those who swindled the country to justice. The culprits who know best what is in store for them and who are sensing the noose tightening round their necks have already organised themselves to offer formidable resistance. To escape from this certain predicament they have to bring this government down or weaken it to the extent that even their support will be sought by the government for their survival".

The unemployment, poverty and even crime rates are dangerously on an upward trend. Tax revenue in the country is fast on the decline and robbed. Custom duties embezzled. There are large sums of revenue that could be collected through parking in city limits if streamlined. Garbage could be converted to revenue as ewll.
This revenue go to various unauthorised gangs in relevant areas. Steps also need to be taken to expand the export growth related industries to generate more foreign exchange which has not been harnessed to its maximum potential.

We must also take note of excessive transport, electricity costs etc. if we need to take the country forward – stop playing politics. Shouldn't they be professional late than never?
Could we finally conclude that false-hearted vile politicos had been at the centre of promoting conditions of corruption, spread of indiscipline etc.? Shouldn't the present Government therefore take meaningful steps to ensure that everyone carries out his/her duties in accordance with the law, and with those lawful instructions and ethical standards. Public servants should particularly act in a politically neutral manner and should not attempt to frustrate lawful policies, decisions or actions.
They should also serve the country loyally. They should be honest, impartial, efficient and effective in the performance of their duties to the best of their ability, with skill and fairness. The poor had carried the baggage too long for no fault on their part. Shouldn't they be relieved in the name of justice?
Let me conclude my article, I quote:

"Let him abstain from taking anything in any place that has not been given to him, knowing it belongs to another, let him not cause anyone to take, not approve of those that take, let him avoid all sorts of theft" – Lord Buddha.