---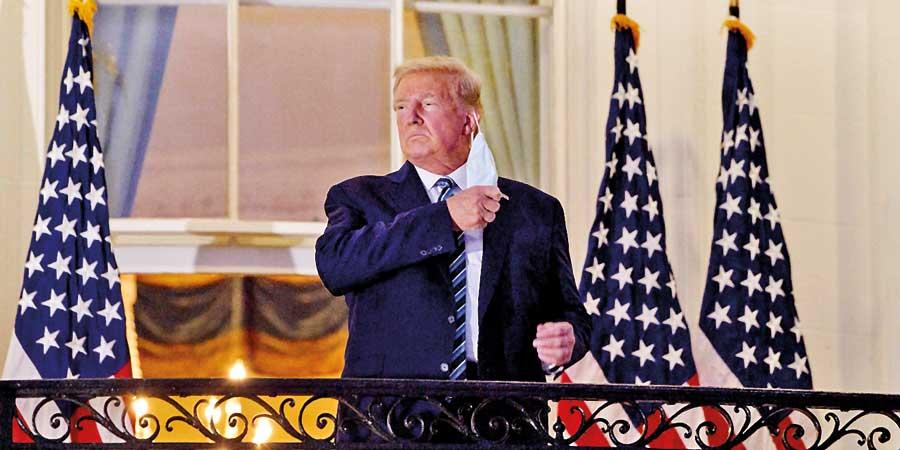 President Trump takes off his facemask on Monday as he arrives at the White House upon his return from Walter Reed Medical Center, where he underwent treatment for Covid-19. (Pic by Nicholas Kamm/AFP)
There are people who learn lessons not to make mistakes; there are people who learn lessons from their mistakes and there are people who won't learn a lesson from their mistakes even if they are hit hard or their action almost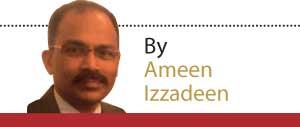 caused their deaths. United States President Donald Trump is one such person who does not believe in learning lessons from mistakes.

He is reckless. He is not fit to lead because he does not seem to care about those whom he leads. Knowing well he was a walking time bomb or, more precisely, a bio terror bomb, he set a bad example by removing his masks and saying a few words to the journalists gathered in the White House lawn no sooner he arrived there from the state-run Walter Reed Medial Centre on Monday.

Imagine the amount of virus that came from his breath and latched on to various objects in the White House as he walked past without a mask. He came to the White House without being given a Covid-19 negative certificate by the medical team. He seems not to care about the fact that he could be a super spreader. It is not that he does not know what he was doing. In his book Rage, award-winning investigative journalist Bob Woodward says Trump knew the gravity of the pandemic but he lied to the people. "This is deadly stuff. You just breathe the air, and that's how it's passed,"

Woodward quoted Trump as saying during an interview for the book.
By removing his masks in front of the camera this Monday despite the fact that more White House staff members were being afflicted with the virus, Trump was deliberately sending a wrong signal or showing green light to the people for mass suicide, while shirking his responsibility to ensure public health. Even before he tested positive for Covid-19 last Thursday, White House public events and his campaign meetings, which get telecast worldwide, were not known to be strictly following the basic Covid guidelines such as physical distancing and wearing facemasks. What's more, he even poked fun at his presidential race rival Joe Biden's habit of wearing face masks, calling it an attempt to hide a plastic surgery scar.

Trump's disdain for facemasks, which experts believe curtail the spread of the pandemic, is puerile. Probably it stems from a dimwitted desire to display irrational machismo and titillate alt-right power worshippers and evangelical nationalists who together form the bulk of his support base.

Back in the Oval Office on Wednesday, instead of quarantining in his White House suite, Trump in his usual hubris, bragged he was brave enough to expose himself to an experimental drug. "This was a blessing in disguise - I caught it, I heard about this drug, I said let me take it and it was incredible," he said, promising he would made this wonder drug produced by Regeneron Pharmaceuticals available to all Americans free of charge. The fact that he was no authority on virology or medicine is lost on the 'nobody knows better than me' president.

Trump is not unknown for improper conduct or irresponsible leadership, but he was sickening this week when his foolhardiness prompted him to remove his facemask, ignore Covid guidelines, utter or tweet balderdash and set a bad example.

Political power is thrust on people like Trump because of a flaw in democracy, which we defend as the worst form of government except all those other forms that have been tried from time to time. Even in a country of high democracy literacy, people can still make the mistake of choosing the wrong leaders who will work against the people's wellbeing. A democracy will remain a flawed democracy until such time its loose ends are tied up to prevent unfit dumbasses and unscrupulous politicos from making use of the people's franchise to come to power and then abuse power while ignoring their responsibilities.

The United States has been the worst hit by the pandemic with seven million people affected and more than 210,000 deaths. Besides, the US per capita death rate is the worst among the developed nations. These figures are a damning indictment on Trump's leadership or the lack of it, as pointed out by Democratic Party's vice presidential candidate Kamala Harris during Wednesday's vice-presidential debate.

Trump should have led from the front and given global leadership in the fight against the Covid pandemic. But what we saw was a bickering Trump often finding fault with China, calling the coronavirus as China virus and accusing China of deliberately spreading the outbreak. Even on Wednesday, in an ego-boosting message aimed at his reelection, Trump renewed his attacks on China, telling Americans: "You're not going to pay for it. It wasn't your fault that this happened. It was China's fault. And China is going to pay a big price. This was China's fault."
As the leader of the world's most scientifically advanced nation, Trump should have taken the responsibility upon himself to launch a coordinated global response to the pandemic. To date, world leaders have not held an international summit – virtual or otherwise – to defeat the virus through a binding COVID cooperation treaty. Rather, what is evident is a criminal geopolitical game where rival nations try to destroy each other during the pandemic or gain fame or immoral profits from a covid cure.

If Trump had felt it was an insult to join rivals China or Russia in an effort to find a vaccine for Covid, he should have at least supported the World Health Organisation's COVAX initiative to find a vaccine. On the contrary, he withdrew funds for the WHO. He failed to realize that the world is facing a situation where we will sink together unless we work together. What we are facing today is akin to an alien invasion, about which umpteen movies have been made and books written.

Sensible world leaders won't be thinking only about their own countries, when the planet is about to be destroyed by savage extraterrestrial beings. If they act in a selfish manner, they will be tolling the death knell for the human race. Unless the world leaders unite to fight the Covid pandemic, we cannot survive.