---
Since the detection of the first dengue case in 1962, this deadly mosquito-borne disease has spread rapidly in Sri Lanka and is reaching epidemic proportions this year with 27,731 cases reported up to the end of June 30.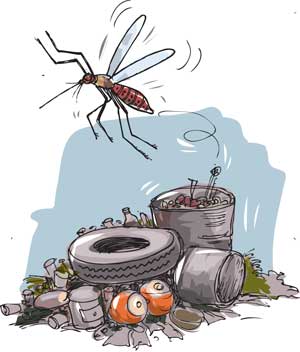 The number of cases last year was 21,500. In 2014 it was 46,584, the highest annual figure so far, but public health experts say this year is likely to be the worst unless effective counteraction is taken immediately.

The dengue crisis became worse after the major floods from May 15 this year and the Health Ministry has called in even the security forces to check whether there are mosquito breeding sites in schools, other institutions and home gardens. Red letters have been issued to several while others have been hauled to courts and fined. Local Councils which fail to clean drains effectively and regularly also need to be punished in some way or named and shamed. But the dengue mosquito keeps on breeding faster, therefore it appears there is a need to reconsider the thrust of the preventive measures.

One of the countries, which successfully overcame the dengue crisis is Cuba and we need to take the right lessons from it. Even more effective than the Bacillus Thuringiensis Serotype Israelensis (BTI) process -- which succeeded in Cuba but for some reason failed in Sri Lanka -- are social awareness, community responsibility and effective action by civic conscious citizens who need to be brought together for the battle against dengue. The crisis is so grave that the government needs to utilize the mass media to create and spread awareness of the need for the people to get proactively involved in this battle.

Most TV networks give about two hours of their prime time for teledramas which are largely in the entertainment sphere though critical social analysts have raised serious questions about the themes of most of these teledramas and ask whether they promote or degrade Sri Lanka's hallowed culture and tradition.

Whatever it is, in this emergency situation entertainment needs to be sacrificed and millions of people could be made aware at prime time as to what they should do or should not do to win this dengue war.

For instance the people need to be made aware—with facts and figures—that mosquito coils are not the best or safest way to keep the mosquito away. Millions of coils are sold daily with effective promotion by what social analysts described as the mosquito coil business mafia. Instead of keeping the mosquito away in most cases the regular or excessive use of coils is known to cause or aggravate breathing or lung problems. It seems that this so-called prevention process is often worse than the disease.

World health experts believe the safest, the best and least costly way is to use mosquito nets. Good quality medicated nets could be used for several years and in the long-run the cost will be less than buying coils for more than five years. At present the good market and other places sell mosquito coils made from leaves but this is done in a limited way.

The government needs to consider the possibility of making a valuable and productive investment of providing medicated mosquito nets at subsidised rates as an effective part of fighting the battle against dengue.

The once-powerful Lanka Samasamaja Party and other socialist movements headed by leaders such as Dr. N. M. Perera, Dr. Colvin R. de Silva, Dr. S. A. Wickremasinghe and even one of modern medicine prophets, Prof. Senaka Bibile rose beyond party politics and played a major role in battling and overcoming the malaria epidemic, with Sri Lanka this year asking the World Health Organisation to declare it a malaria-free country. We need to see an active role played by such socio-political activists in the battle against dengue. We hope Yahapalanaya government leaders and even the Janatha Vimukthi Peramuna, which seems to be giving the leadership to the socialist movement, will rise beyond party politics would come forward to play a more stinging role to defeat the little killer.