---

The first of his feature films was the path-breaking 'Rekava' or line of destiny in 1956. His final feature was 'Amma Waruney' or an elegy to a mother released in 2006

Lester James Peries became a national icon identified with the sphere of Sri Lankan cinema over the years. His work influenced several generations of film directors who followed him
By
D.B.S. Jeyaraj
Lester James Peries is regarded by many including this writer as Sri Lanka's greatest film director. The birth centenary of the master film maker born on April 5, 1919 will be commemorated this week. Lester as he was generally known passed away last year just 24 days after his ninety-ninth birthday. His first death anniversary falls on April 29 this year. It had been for long my hope and prayer that Sri Lanka would be able to celebrate the birth centenary of her foremost film maker while he was among the living. Alas! That was not to be. This article therefore intends celebrating the life and work of Lester James Peries as a form of tribute on his birth centenary.

In a filmmaking career spanning more than five decades Lester James Peries has made 20 feature films inclusive of the short feature 'Pinhamy'. The first of his feature films was the path-breaking 'Rekava' or line of destiny in 1956. His final feature was 'Amma Waruney' or an elegy to a mother released in 2006. Lester James Peries has also made 11 short films, most of them in documentary mode. The first of these short films was 'Soliloquy' made in 1949 and the last 'Kandy Perahera' filmed in 1973.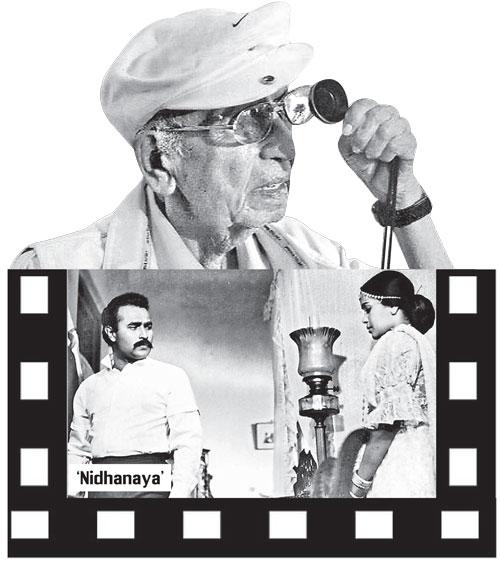 The greatness of Lester James Peries however cannot be measured by the quantity of his output. It is the qualitative nature of his films that elevated him to commendable heights. Lester James Peries is acknowledged as the pioneer of authentic Sinhala cinema. It was he who first created in every sense of the term an indigenous cinema in both substance and style. It was also Lester who first gained worldwide recognition for Sinhala cinema. Lester James Peries became a national icon identified with the sphere of Sri Lankan cinema over the years. His work influenced several generations of film directors who followed him.

Some of the Maestro's milestone movies are "Rekava" (Line of Destiny), "Sandesaya" (Message), "Gamperaliya" (Changes in the Village) "Delovak Athara" (Between Two Worlds), "Golu Hadawatha" (Silent Longing) "Ran Salu" (Golden Robe), "Akkara Paha" (Five Acres) "Nidhanaya" (Treasure) "Ahasin Polowata" (From Sky To Earth) "Beddagama" (Village In The Jungle). "Kaliyugaya" (Era of Kali or Kaliyug) and "Yuganthaya" (End of an Era). The only English film made by Peries was "God King", a Sri Lankan-German co-production. With a blend of foreign and local artistes, the film was shot in Sri Lanka.

The first Sinhala talkie "Kadawunu Poronduwa" (Broken Promise) was released in 1947. Sri Lanka celebrated the golden jubilee of Sinhala cinema in various ways in 1997. The Government headed by Chandrika Kumaratunga appointed a committee to select the best films made in fifty years of Sinhala cinema. The best ten selected were "Nidhanaya" (1970), "Gamperaliya" (1963), "Viragaya" (1987), "Bambaru Avith" (1978), "Sath Samudura" (1967), "Thun Mang Handiya"(1970), "Palangetiyo" (1979), "Dadayama" (1983), "Rekava" (1956), "Parasathumal" (1966), "Weli Kathara" (1970). Of these ten films, Lester directed three (Rekava,Gamperaliya and Nidhanaya) and Vasantha Obeyesekera directed two while Tissa Abeysekera, Dharmasena Pathiraja, Siri Gunasinghe, Mahagama Sekara and Gamini Fonseka directed one each. Lester's "Nidhanaya" was adjudged the best film in fifty years of Sri Lankan cinema. Incidentally it is well-known that Lester directed many scenes in Gamini Fonseka's maiden directorial venture "Parasathumal".

It could be seen therefore that "Rekava", "Gamperaliya" and "Nidhanaya" are widely recognized as the three finest films made by Lester James Peries. I have seen all three films and they are certainly path-breaking masterpieces of Sinhala cinema. It is against this backdrop therefore that I write specifically about the three films that could be described as the triple gems studded in the cinematic crown of Lester James Peries. Most of the facts that I rely upon for this narrative are from the horse's mouth itself via interviews given by Lester James Peries appearing in different books and journals. I, myself, have utilised these in some of my earlier writings and would now do the same for this article.

Line of Destiny
The first Sinhala movie "Kadawunu Poronduwa" (Broken Promise) was made in India and released in 1947. Most Sinhala films in the first decade were heavily influenced by Hindi and Tamil "masala" movies. It was said that the only things Sinhala about them were the actors, dialogue and the words in the songs. The pioneering departure from this trend was by Lester when his maiden feature film "Rekava" (Line of Destiny) was released on December 28th 1956. Shot entirely in Sri Lankan outdoor locations, the path-breaking film altered the destiny of Sinhala films. It was hailed as a turning point in the decade-long evolving history of Sinhala cinema.

"Rekava" was shot on location outside studios and filmed entirely in the Island. More important than these technicalities was the contribution made by "Rekava" to enhance Sinhala cinema and take it in a new direction via theme, content, style and impact. "Rekava" belonged to the realist cinema category. The actors and actresses in "Rekava" appeared on screen as real people whom one meets daily. They spoke simply and in a natural way, without stylised diction or expansive gestures. There were many shots where they did not speak at all with their expressions conveying emotions through the eloquence of silence. The greater part of the story was related to a very great extent by a number of images and scenes with minimal dialogue.
Rekava dubbed in English as "line of destiny" did not win but Lester James Peries won significant fame for Sri Lanka known as Ceylon then by gaining world exposure for a Sinhala film for the first time
After spending several years in London working as a journalist for the 'Times', Lester James Peries returned home and began work at the Government Film Unit (GFU) for one-fourth the salary he got in Britain. However, four years at GFU dampened his spirits as Lester felt rather stultified, presumably due to internal politics in office. Besides, the creative impulse in him wanted to make a fictional feature film. There was also this growing disdain for the melodramatic Sinhala films being churned out and the idealistic ambition of making a realistic Sinhala film.

It was at this juncture that destiny played a hand in the form of kinsman Christopher Peries, a successful businessman. Christopher made Lester an offer he could not declind. Lester was told that a group of entrepreneurs and professionals wanted to form a company and produce a Sinhala feature film. Lester was requested to quit GFU and come on board where he would be given a free hand. Lester would produce and direct the film. The script was to be of his choice. He could select the cast and crew.

Lester James Peries mulled over it and decided to grasp the offer. This was the opportunity he was waiting for. Two of his colleagues also opted to quit GFU and team up with Lester. One was the cinematographer William (Willie) Blake, and the other Editor Titus de Silva who was later known as Titus Thotawatte. The trio embarked on the challenging venture fired by the vision of making an authentic and realistic Sinhala film. The production company was duly formed and named Chitra Lanka. The company got down to work. Several potential stories and scripts were perused. Lester however resolved that his venture would have a contemporary theme set in a rural environment. After much pondering, Lester decided he himself must write the story and script for his first feature and not rely on an outside contributor. He wrote the story which was a simple narrative tinged with elements of a fairytale or fable. Lester wrote the script himself, aided by K.A.W. Perera who later became a successful director in his own right. There was however much improvisation as shooting went on with new lines and words of colloquial usage being introduced. Veteran actor D. R. Nanayakkara helped to add colloquial words in vogue.

Narrative In Essence
The story of "Rekava" takes place in a rural village (named in the movie as 'Siriyala'), where superstition reigns supreme. The narrative in essence is about two childhood friends – a boy Sena and a girl Anula. A stilt-walker cum soothsayer reads Sena's palm and predicts he would become a great healer. Later, Anula loses her sight by an accident and even the 'Vedamahathaya' (native physician) finds it unable to cure her. Anula however believes Sena could cure her by touching her eyes. She regains her sight later and is convinced it was due to Sena's healing powers.

The story of Sena's healing spreads, and the boy's father, together with a money lender, exploit this by promoting the son's powers in a bid to make money. When a wealthy landowner's son is brought for healing, Sena is unable to cure him and the boy dies. The village begins to turn against Sena. The monsoon rains fail and a drought sets in causing hardship and misery. The suffering villagers start believing that Sena is possessed by a devil and is bringing bad luck to the village.
A 'thovil' ceremony to exorcise the boy is held but the devil dancers fail to detect any evil spirits in the boy. The mass mood turns ugly and at one point, the landowner even tries to strangle and kill Sena. And then it begins to rain! As the torrential life-giving rain pours down, the evil hopeless mood of the people transforms into that of hope and happiness. Peace descends on Siriyala.

Lester wanted to skip studios and shoot the film outdoors on location. To be really authentic, he wanted to film it in an actual rural village. Thus began the shooting of "Rekava" on location for a period of eight months. There were two locations for the film, one in the hill country at Bandarawela and the other in the low country at Wewala near Alawwa.

The cast for "Rekava" was handpicked by Lester himself. Somapala Dharmapriya was picked to play Sena. The girl Anula was played by Myrtle Fernando. She had already acted in the Sinhala film 'Ahankara Sthriya.' The boy was a fresher. The role of the mother Kathrina was acted by Iranganie Serasinghe nee Meedeniya. Her husband in the film Kumetheris was played by her spouse in real life Winston Serasinghe. As is well-known, both Iranganie and Winston were from the elite English theatre, though they have acted in many Sinhala films. Sinhala stage actors of the time like D.R. Nanayakkara, N.R. Dias and Romulus de Silva played the parts of Sooty, Podi Mahathaya and the village headman respectively. The versatile Sesha Palihakkara acted as Miguel, the stilt-walker. The young couple Premawathie and Nimal was played by Mallika Pilapitiya and Ananda Weerakoon who did not act in films afterwards.

One of the difficulties Lester had in filming Rekava was to make the actors influenced heavily by the stage and melodramatic films break out from that mould and act naturally. They were asked to speak normally as in everyday life instead of adopting stylized diction and intonation along with sweeping mannerisms. As shooting progressed, more and more colloquial speech was introduced into the script written by K. A.W. Perera on the instructions of Lester. Actors were also made to adopt silence at times and convey emotions through expressions or lack of expressions.

Another remarkable feature of Rekava was the music score and songs.

The legendary Sunil Shanta composed the music while Catholic Priest, Rev. Fr. Marceline Jayakody, also known as the 'Pansale Piyathuma', wrote the lyrics. The singers were Indrani Wijebandara, Sisira Senaratne, Latha Walpola, Ivor Dennis and Tilakasiri Fernando. Subsequently Indrani and Sisira got married. The song sequences in Rekava are fabulous thanks to the lyrics of Fr. Marceline Jayakody, the music of Sunil Shantha and the renditions by the respective singers. The songs were all hits. The picturisation of songs by Lester was enhanced by the striking camera work of Willie Blake. Willie brought out the pastoral beauty of the rural hinterland through his expressive cinematography.
It could be seen therefore that "Rekava", "Gamperaliya" and "Nidhanaya" are widely recognized as the three finest films made by Lester James Peries. I have seen all three films and they are certainly path-breaking masterpieces of Sinhala cinema
Cannes Film Festival
As stated earlier, Rekava premiered to an invited audience at Regal Cinema on December 28, 1956. Thereafter it was screened in 16 theatres, including Elphinstone and Roxy Theatres in Colombo. The film evoked great expectations and ran well for the first week. Audiences began to dwindle from the second week and drop drastically in the third week. Rekava had flopped financially.The public mood had changed soon because this realistic film disappointed fans who were used to seeing melodramatic films of the formula variety. Also sections of the Sinhala media turned hostile to Rekava and conducted an anti-Rekava campaign.

What really helped Rekava, was an unexpected windfall. Austrian-born German film actress Maria Schell (sister of Oscar winner Maximilan Schell) was in Colombo for a vacation at the time Rekava was screened. She was staying at the Mt. Lavinia Hotel. Maria had wanted to see a Sinhala film and her guide had taken her to see Rekava at the Roxy. Maria loved the film and said so in an interview to the 'Observer'. She stated in the interview that she would recommend Rekava to be screened at the prestigious Cannes film festival.

Maria Schell kept her word and soon there was an invitation from the Cannes festival organizers. Lester along with Titus went first to London and edited the film again with sub -titles. The length was whittled down to 89 minutes.Thereafter they went to France with Rekava to screen the film at the 10th Cannes film festival. Rekava brought fame to the then Ceylon by becoming the first Sinhala film to compete by invitation for the Palme d'Or best film award at the prestigious Cannes Film festival. Rekava was screened by invitation at the festival held from May 2 -17, 1957. Rekava dubbed in English as "line of destiny" did not win but Lester James Peries won significant fame for Sri Lanka known as Ceylon then by gaining world exposure for a Sinhala film for the first time.

Rekava being shown at Cannes was a morale booster for Lester down in the doldrums after the film flopped. The film was received well and exhibitors bought screen rights for the Soviet Union, Poland, Germany, France and Britain.This international recognition had a positive impact back home. The film was again screened at outstation theatres for a few days at a time. Those days it was customary for cinema theatres to screen old Sinhala and Tamil films between the screening of new films. There were some theatres which screened only old films for two days at a time. Rekava got gradually popularised in this way. I too saw Rekava on screen for the first time at a theatre in Kurunegala in my early twenties.

The fate of Rekava and its maker may have been different if not for the chance for the film to be screened at the Cannes festival. It was that recognition which paved the way for a Rekava renaissance. Cannes proved to be the line of destiny in Lester's life in another sense too. It was enroute to Cannes via Paris that Lester met his wife Sumitra Peries nee Gunawardena for the first time in the city of light. The couple married in 1964 and celebrated their golden anniversary in 2014. That truly was for Lester and Sumitra their line of destiny!
Changes in the Village
'Gamperaliya' (Changes in the Village/Changement au Village) was the third feature film made by ace director Lester James Peries. The film was based on the famous novel of the same name written by the doyen of Sinhala writers, Martin Wickramasinghe. The movie hailed as a milepost in the evolution of Sinhala cinema remains an outstanding example of how a great novel could be made into a great film by a great director.

'Gamperaliya' written by the celebrated writer Martin Wickremasinghe is regarded as the greatest novel in Sinhala. It is the first of three novels known as the Koggala Trilogy the other two being 'Kaliyugaya' and 'Yuganthaya'. It was in 1944 that 'Gamperaliya' was first published. It was a departure from the prevailing trend of romantic novels ushered in by writers such as Piyadasa Sirisena and W.A. Silva.

Prof. Ediriweera Sarachchandra in his book 'The Sinhala Novel' first published in 1950 hailed Martin Wickramasinghe's masterpiece as realistic fiction and praised it for the authentic portrayal of rural society. He called it the first Sinhala realistic novel. Gamperaliya in essence outlined the changes in Sinhala society and class conflict through the fluctuating fortunes of a family and related characters.

Martin Wickramasinghe's novel is located in Koggala, his birthplace. Martin Wickramasinghe focuses on the fluctuating fortunes of a prominent family belonging to the landed gentry in Koggala. It is basically the story of Muhandiram Don Adrian Kaisaruwatte (Muhandiram was an honorary title bestowed by the British colonial rulers) and his wife, children, sons-in-law, neighbours and servants. The period depicted is the early 20th century. The transformation of society at large and values is reflected through the changes in the village which in turn are narrated through the family's experiences.

Since Lester James Peries himself excelled in relating stories of changes in society through the microcosm of the family, the novel 'Gamperaliya' provided ideal raw material for the type of film making desired by the director. Prof. A.J. Gunawardene in his book 'LJP: Lester James Peries – Life and Work' quotes Lester thus: "'Gamperaliya' had all the qualities I had been searching for – it rang so true in the depiction of characters, their relationships, their social background. It had insight a sense of compassion, a profound humanity. Its character leapt off the pages not as romanticised caricatures but as living human beings moulded by their social background… ……………In a sort of way, despite my Anglicised roots, my Roman Catholic isolation, I had discovered my roots through Martin Wickremasinghe. Filming 'Gamperaliya' became an obsession with me."

By this time a close relationship had blossomed between Lester James Peries and Sumitra Gunawardena. Sumitra was the niece of Sri Lanka's 'Father of Socialism' Philip Gunawardena and his brother Robert. Sumitra had met Lester first in Paris when he was going to Cannes to screen 'Rekava'. She was interested in films and treated Lester as a guide and mentor. After completing further studies in the UK and France, Sumitra returned to Sri Lanka. She worked as an assistant director on 'Sandesaya'. Now Lester and Sumitra wanted to make a film independently.

Lester thought of filming an original Sinhala novel or novella. After scouting around for a suitable literary work, Lester wanted to film 'Gamperaliya' for reasons which have been stated earlier.

Martin Wickramasinghe
Lester met Martin Wickramasinghe at his Nawala residence and sought his approval to film 'Gamperaliya'. Lester relates the essence of his encounter with Martin Wickramasinghe thus in A.J. Gunawardene's book: "Martin Wickramasinghe looked every inch the intellectual – the face as though chiselled by a sculptor, the forehead high domed, the hair leonine. A man of great dignity and courtesy. He confessed that his knowledge of cinema was very limited. He could only recall some Tarzan films from the days of his youth.

"When I mentioned that we were interested in filming 'Gamperaliya,' he looked genuinely puzzled. To him as to most literary men of his generation, the cinema meant simple, uncomplicated stories, action, heroics, romance and glamour. I suppose he was convinced that a serious novel, dealing sensitively with the complexities of human behaviour and human relationships, would be far beyond the resources of the cinema.

"Wickramasinghe proposed that we consider his 'Rohini,' a very popular historical adventure story, instead of 'Gamperaliya'. That I managed to persuade him that cinema had advanced to a point where it was capable of translating the greatest works of literature without castrating them was an achievement on my part. I wonder if I truly convinced him."

Peries also enlisted the services of renowned journalist, writer and literary critic Regi Siriwardena in this effort. Roping in Regi for the 'Gamperaliya' project was a master stroke on the part of Lester as Martin Wickramasinghe had a very good opinion of Siriwardena who was regarded as the finest interpreter of Martin Wickramasinghe's writings to English newspaper readers.

I had the good fortune of interacting closely with Regi Siriwardena during my stint at the International Centre of Ethnic Studies (ICES) between 1985-'88. Regi told me of how he wrote a synopsis first and later a preliminary screenplay of the novel to show Martin Wickramasinghe how the film would be made. The great man was pleased and gave the green light for 'Gamperaliya' to be filmed.

Ultimately 'Gamperaliya' proved to be a great film made from a great novel by a great director. But Lester James Peries had to surmount several obstacles before succeeding in his mission. Initially the biggest problem was a simple one which besets most creative film makers – finance! As Lester himself told A. J. Gunawardene later: "Filming 'Gamperaliya' became an obsession with me. But where was the money to come from? Sumitra and I had gone to every producer, every businessman with pretensions to art, but we had failed."

Anton Wickremasinghe
After repeated failures to find a producer to finance 'Gamperaliya,' Lester and Sumitra tasted success finally by finding a businessman ready able and willing to help produce 'Gamperaliya'. The commercial entrepreneur cum patron of the arts who was prepared to produce Gamperaliya was none other than the legendary Anton Wickremasinghe! Though Anton was willing to produce the film, he wanted Lester and Sumitra also to chip in with some funds. So Lester cashed an insurance policy while Sumitra sold some property in Avissawela. The Company Cinelanka was formed. The film was originally budgeted at 150,000 rupees. Ultimately the production cost was Rs 170,000.

While Regi wrote the script based on Martin's novel, Lester obtained the services of musical maestro W. D. Amaradeva to compose the music score though there were no song sequences in the film. Willie Blake was the cinematographer while Sumitra was the editor. The bulk of the film was shot in the Maha Kapina Walauwe belonging to the Rajapaksa family in Balapitiya. It was a 350 year old mansion constructed in Dutch architectural style. Another vintage bungalow in Cinnamon Gardens was also used for some shots.

Lester decided to cast Henry Jayasena as Piyal, Punya Heendeniya as Nanda, Trilicia Gunawardene as Anula and Wickrema Bogoda as Tissa. Punya Heendeniya gave an excellent performance portraying her character Nanda. There was also the character Jinadasa, the first spouse of Nanda who meets an untimely end in the novel. For the Jinadasa role, Lester thought of Gamini Fonseka. His performance in Lester's 'Sandeshaya' resulted in Gamini becoming a much-sought-after actor. The success of 'Ranmuthu Duwa' had turned Gamini into a star overnight. It was doubtful whether Gamini would agree to play a comparatively lesser role. But Fonseka was willing and what is more opted magnanimously to be a "guest actor" without taking a cent as payment.

Lester was elated but soon there was a hitch. The author Martin Wickremasinghe had seen Gamini on screen in 'Ranmuthu Duwa'. When he heard Gamini Fonseka was going to play Jinadasa, Wickremasinghe was aghast. The Jinadasa conceptualised by the author in the novel was a thin, weak, colourless, laidback type of person who was an incompetent failure in life. Martin Wickremasinghe had seen Gamini acting in 'Ranmuthu Duwa'. He felt Gamini's physique and personality was unsuitable to portray the Jinadasa he had envisaged in his novel. So Martin Wickremasinghe contacted Lester and voiced his objection strongly.

Referring to Gamini's screen appearance in 'Ranmuthu Duwa,' Wickremasinghe said: "My God, Lester, that is not my Jinadasa. He is supposed to be a thin and quiet man. This one is a boxer." Lester however was confident about his judgement that Gamini was the best choice to play Jinadasa. He assured Martin Wickremasinghe that Gamini could play any part and told the eminent man of letters from Koggala not to worry. "When it is on screen, you will see that although he (Gamini) is fatter than Jinadasa, he is not a boxer. He will be a laidback type of character you have in mind," Lester told Martin.

When Gamperaliya was completed and released, Lester was proven right. Gamini gave off a fantastic performance and earned more kudos than Henry Jayasena. He brought the Jinadasa of the book to life as a flesh and blood character on screen. The greatest compliment however came from the author. Martin Wickremasinghe was fully satisfied after seeing the film. He told Lester that in actual fact Jinadasa was a far more vivid character than in the book. What better praise could the director and actor receive?

Global Cinema Map
Gamperaliya was released on December 20, 1963. The film placed Sri Lanka then known as Ceylon on the global cinema map by winning gold at two international film festivals. The film won the 'Golden Peacock' award for Best Film at the third International Film Festival of India (IFFI) held from January 8 to 20, 1964 in New Delhi. It also won the Golden Head of Palanque award in 1965 at the Mexico International Film festival held in Acapulco. Gamperaliya won silver at the 1967 Cork Film festival in Ireland. Prior to its public release, 'Gamperaliya' also competed at the third Moscow International Film Festival in July 1963 and won a Merit certificate. 'Gamperaliya' also harvested many awards at home. The Sarasaviya awards are the Sri Lankan equivalent of the Oscars. The event was introduced by the Sarasaviya weekly published by the Associated Newspapers of Ceylon Ltd. (Lake House). The first Sarasaviya film festival was held on May 9, 1964 at the Asoka Theatre in Colombo.

All Sinhala films produced between 1960 and 1963 were up for awards. Only five awards were given, for Best Film, Best Director, Best Actor, Best Actress and Best Script Writer at this pioneering event. 'Gamperaliya' swept the boards, winning four out of five. Producer Anton Wickremasinghe accepted the award on behalf of 'Gamperaliya' for Best Film. Lester James Peries was Best Director. Regi Siriwardena was Best Script Writer and Punya Heendeniya Best Actress. Only the Best Actor prize eluded 'Gamperaliya'. It went to D.R. Nanayakkara for 'Sikuru Tharuwa'.

Gamini and Malani Fonseka
Nidhanaya(Treasure) was the eighth feature film made by Lester James Peries. It is in black and white and 108 minutes long. Gamini and Malani Fonseka play the lead roles and about 75% of the scenes revolve around the pair. Gamini plays Willie Abeynayake the superstitious scion of a rich family facing financial ruin. Malani plays Irene his trusting, devoted wife. Sinhala Cinema's foremost acting duo play their parts to perfection in 'Nidhanaya'.

K. L. Coranelis Appuhamy and J.R.L. Fernando act as Willie Abeynayake's elder brother and father respectively while Shanthi Lekha acts as Malani's mother. Other actors are Saman Bokalawala as Julius, Francis Perera as Juwanis, Trilicia Gunawardene as Dulcie, Thilakasiri Fernando as Diyonis, Kumarasinghe Appuhamy as Gurunanse, Mapa Gunaratne as the Doctor, Thalatha Gunasekara as the Nanny and Barry Whittington as the Government Agent.

Willie Abeynayake was one of the finest roles acted by Gamini Fonseka in his mercurial movie career. Willie living in an aristocratic mansion faces financial decline as his contractor business is a failure. He stands to lose the mansion he dwells in and is reluctant to let it go. Being superstitious he believes in an Ola leaf prediction which says a treasure would be in his hands if a virgin woman with four particular birthmarks is sacrificed atop a particular rock at a
particular time.

Willie comes across such a woman in Irene played by Malani Fonseka. He marries her but does not consummate the marriage as he wants her to retain her virginity. Willie falls ill and is nursed back to health by the loving wife. Nevertheless Abeynayake goes ahead with his original plan and kills his devoted wife at the opportune time and location because of his need and greed for the 'Nidhanaya' or treasure. Actually he does get a treasure in his good and devoted wife but does not realise it and is prepared to sacrifice the living treasure to gain material treasure. His hopes are dashed when the predicted treasure does not materialise. He returns disillusioned and commits suicide.

The film is structured as a narrative with Willie Abeynayake prior to his intended suicide writing in his diary explaining the chain of events in his life that leads to his taking his own life. The story then is related in a series of flashbacks and voice-overs. Finally Willie hangs himself to death.

Nidhanaya was based on an original short story by G.B. Senanayake the journalist, poet and writer who tragically went blind in the latter stages of his life. Peries apparently paid Rs. 10,000 for rights to the story. The story was then reworked into a film script by Tissa Abeysekera who had to make a two-hour-long film-script out of a five-page short story. Tissa won an OCIC award for best screenplay for 'Nidhanaya'.

Premasiri Khemadasa
The cinematography is by M.S. Anandan who used Ilford film instead of Kodak to bring out in sharp contrast to show the blacks and whites. 'Nidhanaya' is supposedly the only Sinhala film to be shot entirely in Ilford film. Premasiri Khemadasa does the music score the highlight of which is a Western waltz composed by the musical wizard. The waltz is danced by Gamini and Malani with seven costume changes.

The bulk of the shooting was done at the Obeyesekera-owned archaic mansion in Rajagiriya that had antique furniture and peacocks as pets in a cage. Lester would often go to Ratmalana and pick up Gamini and then proceed to Rajagiriya. The house itself can be perceived as a pivotal character in the film around which the story is woven.

The shooting of the film took over seven months as both Gamini and Malani being busy film stars could be available for only five days each month for 'Nidhanaya'. Usually Lester shoots his films at a stretch without breaks but here it was not possible. Despite the long breaks in shooting, the continuity was maintained with great intensity by both Gamini and Malani, who complemented each other. More than 70% of the film scenes featured only both the Fonsekas.

Some of the great sequences in 'Nidhanaya' relate to the acting skills of both. In the waltz sequence both had to enact the dancing steps in natural slow motion as there was no second camera available to shoot in slow motion. So both coached by Keerthi Sri Karunaratne practised the steps and then danced for the camera in exaggerated slow movements. This was a feat that required perfect coordination and both the Fonsekas rose to the occasion and did themselves proud.
'Nidhanaya' is a film about both the decay of the prevalent social order and the disintegration of an individual. It is a dark, moody film and is shot in a style evocative of the term "film noir". It is in a way different from most of the films directed by Lester James Peries. 'Nidhanaya' has been compared by some to 'Jalsaghar' by Satyajit Ray which is about the last days of a Zamindar or landlord in rural Bengal. Ray's film made in 1958 illustrates the decaying collapse of the old order. 'Nidhanaya' does likewise though Peries was not inspired in this instance by Jalsaghar.

Cinematic Treasure "Nidhanaya"
Nidhanaya' made earlier in 1970 was later entered for the 1972 Venice International Film Festival where the film won the Silver Lion of St. Mark award. It also received a certificate as one of the outstanding films of the year at the London Film Festival. 'Nidhanaya' was also included in the global list of 100 best films to be ever made that was compiled by the Cinematheque Institute of France to mark the World Film Centenary. The film won the award at Sri Lanka's Golden Jubilee of Independence for being the best Sinhala movie in 50 years.The creative effort of director Lester James Peries along with the collaborative efforts of cast and crew resulted in the film 'Nidhanaya' becoming a cinematic treasure.

D.B.S.Jeyaraj can be reached at dbsjeyaraj@yahoo.com