---
Our major religions tell us that the most important dimension of our greatness is not so much the power we have, but our care for others. This virtue is more important when it relates to how much we care for our mothers and fathers especially when they are elderly or ailing. In the West, a regular trend is to find a home for elderly parents and in Sri Lanka also it is happening to some extent. Some children may have practical reasons for this, yet they need to remember how much their mothers and fathers did for them when they were young. Therefore to put elderly or ailing parents in homes is an act of ingratitude.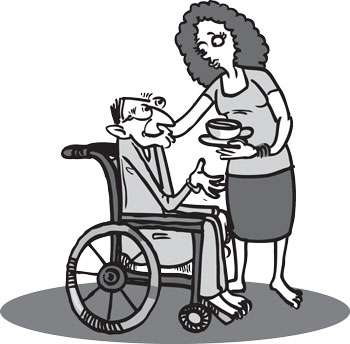 From the time of birth, our mothers breast feed us, their blood is turned into milk and most nutritionists say breastfeeding for one to two years strengthens the bonds of love between mother and child while also helping the child to be healthier.

Besides this in our early years it is our mothers and fathers who care for us and serve us in a selfless, sincere and sacrificial manner. In spiritual terms this is known as servant leadership. We are supposed to get it from our political, religious, social and other leaders. But what we get from them often is merely rhetoric. Genuine servant leadership often comes only from our parents. There maybe a few exceptions, but in most cases, this is true and a family built on parental love and care is the nucleus of a good society.

Sometimes children site economic factors as the reason why they send their elderly parents to homes. They say they need to go to work for the family to manage. There may be validity in some cases. But in most instances, it is the easy way out to put elderly parents in homes. The easy way is often not the best way or the deeply spiritual way.

Children need to realise that parents essentially do not grow old, but more mature. Precious is the guidance they could give children in taking decisions in important matters. Guidance from an elderly parent even if it be a few words is often more mature and important than long speeches from politicians or even messages from some religious leaders.

Thus children must not forget the virtue and importance of having their elderly parents at home. If they are ailing or bed-ridden, the situation will be more difficult. But life itself is an adventure and when we give a positive response to it instead of taking the easy way out, we also grow in character and could make a much bigger contribution towards building a better society. We need to leave our boats behind, leave them on familiar shores and take a leap into the deep. Then we will discover a higher vision and mission in life, with meaning, direction, drive, determination and dynamism.

According to the United Nations, which marks world elders' day on October first every year, elder abuse is a global social issue which affects millions of elderly people around the world and an issue which deserves the attention of the international community.

In a resolution, the UN General Assembly has designated June 15 as World Elder Abuse Awareness Day. It represents the one day in the year when the whole world voices its opposition to the abuse and suffering inflicted on some of our senior citizens.

Almost 700 million people are now more than 60. By 2050, 2 billion people, or more than 20 per cent of the world's population, will be 60 or more elderly. The increase will be the greatest and the most rapid in the developing world, with Asia as the region with the largest number of elderly people. With this in mind, enhanced attention to the particular needs and challenges faced by many elderly people is clearly required. Just as important, however, is the essential contribution the majority of elderly men and women can continue to make to the functioning of society if adequate guarantees are in place. Human rights lie at the core of all efforts in this regard.