---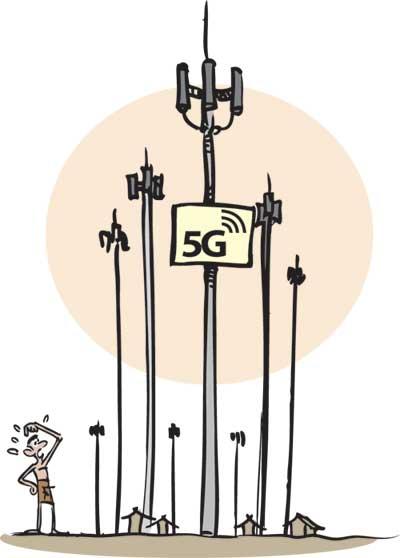 A recent story where some Jaffna residents opposed the work of a company to set up the infrastructure and provide 5G technology exposed the backward thinking of a section of these northerners.
According to a news report which was carried by a popular Sinhala weekend newspaper, these residents apposed the project fearing that the tower to be set up would cause health hazards to the people.
The residents claim that the rays generated by the tower would harm pregnant mothers and also contribute to cancer. Some of these claims have been supported by the opinion of doctors, the protesters claim. But much of these fears are deep-rooted in the people now, largely because they are self-embedded.

The issue had reached boiling point due to growing protests and the Governor of Jaffna had been forced to issue a directive to halt work for a period of 10 days. This was to check whether the service providing company had obtained legal clearance for the project.
This is just another story of how the backward mentality of people are stalling the progress of development work in villages. The protests against establishing Kandalama Hotel in Dambulla was once such instance. But finally the hotel was built because the protestors couldn't substantiate their claims.
There were also similar protests against the installing of solar powered units in Sri Lanka because the damage they'd cause to humans and nature. But such units have worked well and contributed significantly to the national grid.

This 5G technology story also shares similarities with the doctor's story from Kurunegala where there are unsubstantiated claims of pregnant mothers being sterilized. What has added to the issue is doctors having different opinions regarding the methods used in western medicine to sterilize mothers.
Coming back to the 5G technology issue in Jaffna, such a facility is essential given that two national asets-the Palali Airport and the Kankasanthurai Harbour- have been upgraded and needs such technology to look to the future.

Another solid reason that supports the efforts made to provide Jaffna with 5G technology is the government's efforts to make this place a 'Smart City'.
Premier Ranil Wickremesinghe has often spoken of the importance of the country embracing technology. Recently he had said that no one can predict where the country would be in terms of technology. Wickremesinghe had said that technology was undergoing a rapid change and that desktop computers may not exist in 30 years time. He had added that in a fast changing world it's important to prepare Sri Lanka to face the future.

These Jaffna residents have continued with their protests to date. As a result it is reported that there is a heap of protest letters that have pilled up at the office of the Governor of Jaffna.
It is reported that Muslims, who usually grab business opportunities that crop up through advances in technology, too have joined in the protests. They are reported to have thrown their weight behind these protests by closing their shops for business during the times of protests.
The upcoming elections make Jaffna an important vote base for all leading political parties. But the negative thinking of these residents might not augur well for their future. This is because they are kicking against advances to technology.

This is a time where people must embrace advances in technology and upgrade their lives and businesses. Questions need to be raised as to why the people of Jaffna who didn't oppose 3G and 4G technology are opposing the setting up of 5G technology?
It is apt here to recall a saying by writer, poet and journalist Kumaratunga Munidasa about a society's progress; "A society which shuns new inventions will never prosper".
This is food for thought for those who are opposing 5G technology in Jaffna.