---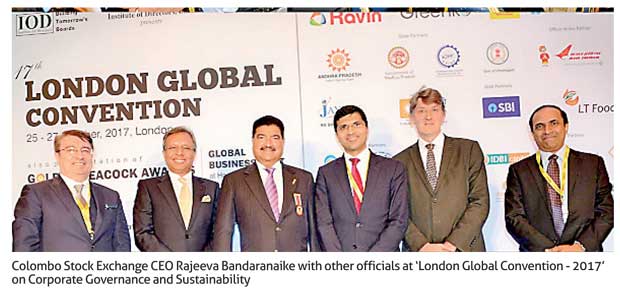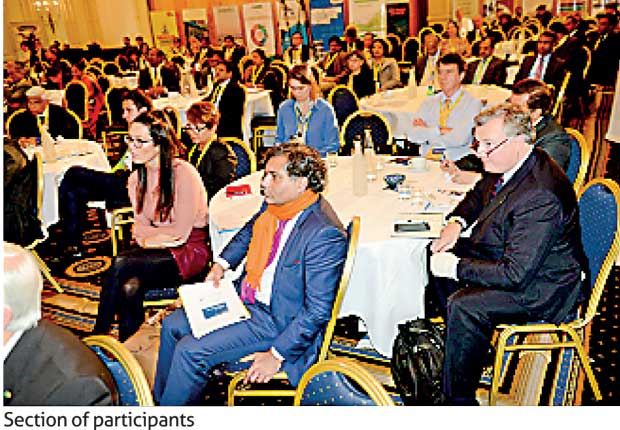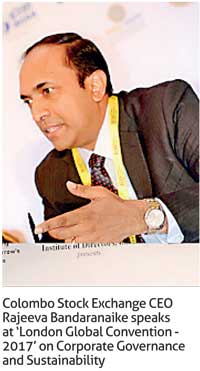 Colombo Stock Exchange CEO Rajeeva Bandaranaike recently joined the leaders from the global capital market and business fraternity at 'London Global Convention - 2017' on Corporate Governance and Sustainability, which was organised by the Institute Of Directors India.

The convention aimed to provide a deeper understanding of the individual elements that combine to create an effective corporate governance framework, as well as to provide thought leadership on a number of topical issues of governance and sustainability.

The event was attended by leaders, policy advisors, academicians, jurists, social thinkers and professionals in business, finance, corporate governance and sustainability, from across the world.

The 'Corporate Governance at Crossroads: Global Trends and Perspectives' segment at the convention featured thought leadership and perspective of Bandaranaike and London Stock Exchange CEO Nikhil Rathi, OECD Corporate Affairs Division Head Mats Isaksson, Ferro Alloys Corporation Joint Managing Director Ashish Saraf and Garanti Bank S.A. Turkey Board Member and Sustainability Committee Chairman Dr. M. Cuneyt Sezgin.

Bandaranaike spoke on the importance and relevance of promoting good corporate governance and reporting to foster investment, drawing reference to local and global companies.

Convergence of competing global corporate governance codes and challenges in a disparate world, effective professional governance for managing 'small and medium enterprises' (SMEs) and 'family enterprises' and managing governance in the era of engaged investors were among the topics discussed as part of the segment.

The convention also featured segments on other topics such as building better boards, boardroom strategies for managing risk and preventing frauds, dynamics of the board – stakeholder relationship and strategizing sustainability.