---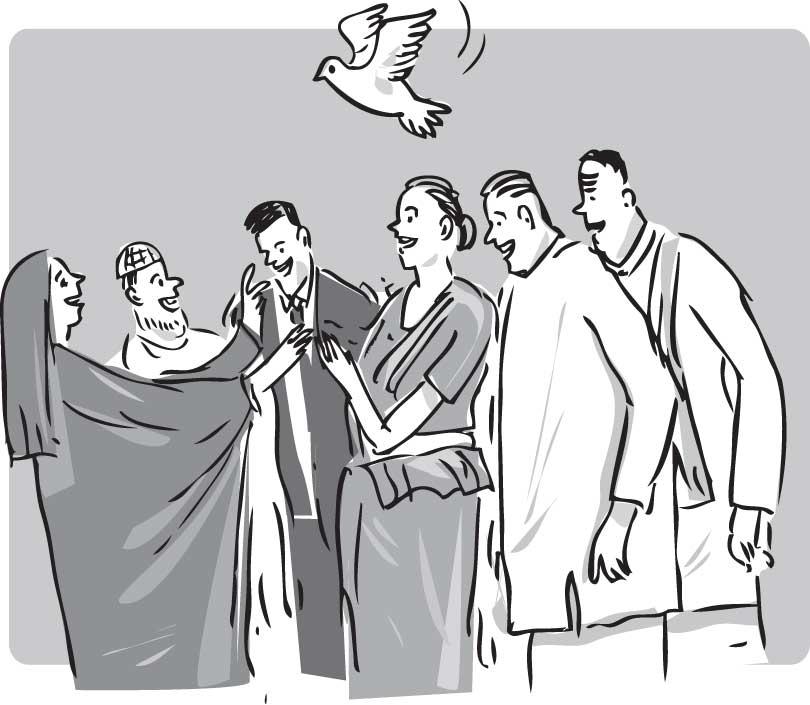 During this week of Vesak - when the focus this year was largely on religious ceremonies at temples and many prelates stressed the vital need to promote inter-religious unity in diversity - the United Nations tomorrow marks the World Day for Cultural Diversity for Dialogue and Development.
According to the UN three-quarters of the world's major conflicts have a cultural dimension. Bridging the gap between cultures is urgent and necessary for peace, stability and development. Cultural diversity is a driving force of development, not only with respect to economic growth, but also as a means of leading a more fulfilling intellectual, emotional, moral and spiritual life. This is captured in the seven culture conventions, which provide a solid basis for the promotion of cultural diversity. Cultural diversity is thus an asset that is indispensable for poverty reduction and the achievement of sustainable development, the UN says.
At the same time, acceptance and recognition of cultural diversity – in particular through innovative use of media and Information and Communications Technologies (ICTs) – are conducive to dialogue among civilizations and cultures, respect and mutual understanding, the UN adds. The day provides us with an opportunity to deepen our understanding of the values of cultural diversity and to advance the four goals of the UNESCO Convention on the Protection and Promotion of the Diversity of Cultural Expressions.
In Sri Lanka, we are facing one of our biggest national and international security crises in the aftermath of the April 21 Easter Sunday massacres at three churches, three five-star hotels and two other locations. One of the world's most dreaded terror groups the Islamic State (IS) has claimed responsibility for the slaughter in which more than 250 people were killed and about 500 injured. Three IS led terror groups have been banned and President Maithripala Sirisena has said the security forces have brought the situation to near normalcy with the arrest of about 95% of the suspects who support the terror groups or assisted them in various ways. But opposition groups and even United National Front government leaders have expressed doubt about the President's claim and are fearful of another attack. That is why on Vesak day, tightest security was maintained at temples with devotees being body-checked and asked to wear a sticker saying they had been checked.
On the positive side all major religious leaders have come together for a regular dialogue to promote the principles of sincere and selfless unity in diversity. The focus has been on inter-religious, interracial and intercultural dialogue where leaders and people of all religions could work together in tackling major issues such as poverty alleviation, global warming and disarmament.
The April 21 carnage has also exposed another major crisis. Sri Lanka has allowed itself to be dragged into a battle ground involving at least three major players - the United States, China and Britain. According to the Sunday Times' political correspondent President Sirisena was virtually persuaded by China's President Xi Jinping to attend the Beijing Conference relating to Asian civilizations. But the main purpose was a direct meeting between the two leaders and China is reported to have expressed grave concern over the growing US-SL military cooperation. Sri Lanka has already signed a major military agreement with the US. It runs into 80 pages covering various fields but even the Cabinet knows little about it and the people less, because it has not been tabled in Parliament, the Sunday Times says.
On the other hand our closest neighbour India has also expressed deep concern over Sri Lanka's growing ties with China with President Sirisena being reported to have signed a new defence agreement while he was in Beijing. India is also concerned that Sri Lanka virtually ignored the intelligence warnings New Delhi gave about the possible IS massacre in Sri Lanka. President Sirisena claims he was not aware of these warnings. Two former top officials - Defence Secretary Hemasiri Fernando and Police Chief Pujith Jayasundara are to be grilled by the CID on why they failed to act on the warnings.
In the context of this political turmoil where there is even growing friction between the President and the Prime Minister Ranil Wickremesinghe it is necessary for religious leaders to come together and work together on major socio-political and socio-economic issues. Then we will see the practical dimensions with the country being benefited from the principles of inter-religious, inter-racial and intercultural unity.