---

n what the government described as the mega development project of the development year 2016, President Maithripala Sirisena and Prime Minster Ranil Wickremesinghe, along with Minister Patali Champika Ranawaka presided at an Independence Square ceremony on Friday to launch a 15-year Western Province, and Megapolis Project.
Though some Opposition critics or cynics say that in several other countries such Megapolis projects have failed or backfired, we need to think positively, because it is being launched by a national government comprising the two major parties and has widespread support from people of all races and religions.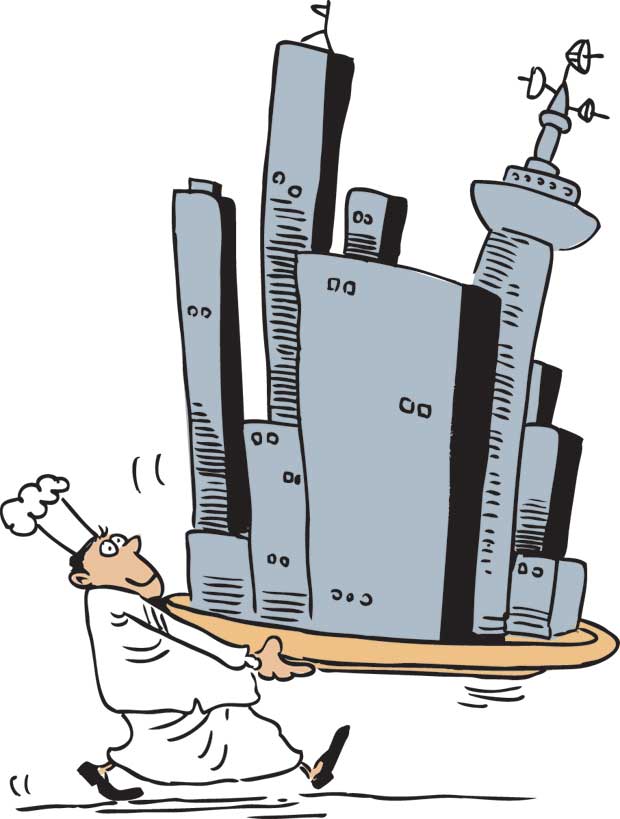 Mr. Ranawaka, who has emerged as one of the key players in the government's midterm strategy for sustainable eco-friendly and all inclusive development, has worked out comprehensive details to achieve the dream of making Sri Lanka a model State such as Singapore or Dubai.
According to the Minister, the Western Province—whose population is now about six million and is expected to rise to 8 million soon—will be transformed into an economically sustainable, eco-friendly state-of-the-art Megapolis with eleven zones.
Mr. Ranawaka says the urbanization so far, though the former regime had described it as beautifying of the city, had also produced more than 1,000 beggars, 2,000 stray cattle and 16,000 stray dogs.
In Colombo alone there are more than 68,000 slum dwelling families. In the entire Western Province more than 100,000 families live in shanties. These and related issues need to be addressed and a solution found by transforming the lives of these slum dwellers so that their human dignity would be restored and they could earn their own living without depending on doles or charity handouts.
Especially in recent years a major crisis in Colombo and urban areas has been the unprecedented traffic congestion.
Some veteran drivers have even given up driving, the traffic snarls cause extra air pollution, the waste of thousands of litres of imported fuel, and a waste of productive time. Mr. Ranawaka says the Megapolis Development Project will soon provide a greenlight.
According to the Minister, in 1950 Sri Lanka had about 5, 000 vehicles. In September 2015 alone, after the major reduction in the prices of diesel, petrol and kerosene, 60,000 vehicles were imported. This means there are about 2,000 new vehicles added on the roads every day.
Mr. Ranawaka says there are about five million vehicles operating today and the maximum possible speed is about 12 km an hour with the cost of transport amounting to about rupees one billion a day.
The Minister says the Megapolis Authority (MA) will be appointed soon and according to a recent report, one of the major proposals to reduce the traffic snarls is the setting up of elevated highways from Athurugiriya via Malabe, Koswatte and Rajagiriya to Galle Face and another one from the end of the Katunayake superhighway to Duplication Road.
Officials say a vehicle could then travel from Rajagiriya to the Galle Face within 10 minutes, even at peak hours.
Wonderful indeed. We hope it works out and we have every reason to hope it will work out without corruption or kickbacks—the vices that polluted the former regime's urban development projects and turned them into whitewashed sepulchers.
The Minister says other issues such as housing for the middle class, the garbage management including the crisis at Kolonnawa, pollution and flood problems will also be addressed effectively.
He believes the Megapolis Project will also lead to an increase in income levels and thereby poverty alleviation.
Added to this the government hopes to take the whole of Sri Lanka into the digital world by making the country investor friendly, in what has been described as a socialist-market economy.
This, the Minister says, will be like a fourth industrial revolution driven by technology.
We hope the goals of economic prosperity, social justice, environmental sustainability and people's quality of life will be achieved in the coming years to raise the living standards of all Sri Lankans.