---
In recent months, several parts of Sri Lanka had been battered and bruised by a series of catastrophic droughts, torrential rains, floods and landslides, which left tens of thousands of people homeless, their houses damaged or destroyed and housed in temporary shelters for weeks if not months. In the wake of so much pain and misery now comes the horrific news of a marauding caterpillar identified as 'Sena' destroying our farmlands, leaving our cultivators with their livelihood ruined and trapped in even more deprivation and destitution.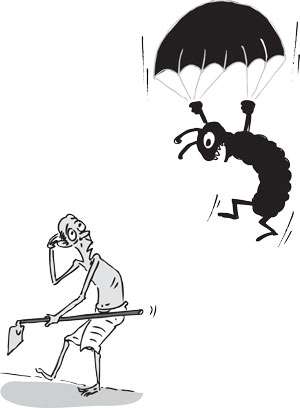 Against this background, we underline the need for Sri Lanka to be vigilant to counter any natural or man-made disasters that wreak havoc at regular intervals. We do not need experts' panels or high level committees or commissions to tell us what happened or how it happened. What we need, to a large extent, is to learn from our past mistakes and be prepared with ways and means of pre-empting such catastrophes or mitigating the resultant damage if and when they happen.

What action have the authorities taken to eradicate the 'Sena' caterpillar now fast spreading to several parts of the country? Were the authorities caught on the back foot or were they complacent hoping that ignoring the problem will make it disappear. Shouldn't we even deploy the Army to cordon off the affected areas and prevent infected produce being transported to other areas? First spotted in the Districts of Ampara, Anuradhapura and then in Polonnaruwa, it has now spread its destructive tentacles to several other districts including Hatton in the Nuwara Eliya District.

A few days ago the caterpillar was spotted at the Ruwanpura Estate in Hatton where agriculture is the mainstay of the residents there growing such crops as tea, corn, maize and other vegetables. Farmers are said to have discovered the destructive caterpillar when inspecting a cornfield which had been overrun by the pests and are concerned of the possibility of the' Sena' caterpillar spreading to vegetable cultivations and tea plantations.

The caterpillar had laid waste to more than 33,000 hectares of farmlands in Ampara last year and destroyed nearly 50% of the country's corn cultivations. Corn is not the only crop that is under siege, this insatiable pest is known to be drawn to 180 different plant varieties grown in Sri Lanka for agricultural purposes.

The Agriculture Department has taken steps to assess the situation and had even deployed new technology such as crop dusting through the use of drones in an attempt to curb the spread of 'Sena'. However, its efforts are yet to pay off fully. The main issue is that this invasive species has no predator in Sri Lanka to prevent it from multiplying so rapidly.

The Department is of the view that 'Sena' is capable of adapting to any climate and has warned against the excessive use of pesticides which could produce strains resistant to them.

The caterpillar is said to have originated in the United States and several years ago was detected in Africa before making its way early last year to immediate neighbour India from where it is said to have made its way to Sri Lanka.

The 'Sena' Caterpillar is the larvae stage of the Fall Armyworm moth or 'Sena' moth. In its moth form, the invasive species and at a time can fly some 100 kilometres helped by air currents, making it extremely difficult to contain, control or eradicate it.

The Agriculture Department has expressed concerns that the plants sprayed with chemicals in the war against 'Sena' may be used as animal fodder resulting in people consuming meat products and falling ill.

Instead of pointing fingers at various institutions, let us cooperate with them to overcome this calamity while urging them to be better equipped with a cadre of trained personnel and the knowledge and technology to handle such crises situations that continue to hound Sri Lanka at regular intervals and in this instance to eradicate the vicious and voracious 'Sena' caterpillar from our soil.

On Tuesday Opposition Leader Mahinda Rajapaksa had urged the government to declare the crisis as a national disaster. This is how vast the crisis we are entangled in.