---
Though the United States President Donald Trump is still insisting that climate change is a Chinese hoax, a bomb cyclone or a powerful blizzard battered the U.S. Northeast yesterday, knocking out power for tens of thousands of people and snarling travel amid a cold snap that has gripped much of the US for a week and killed more than a dozen people.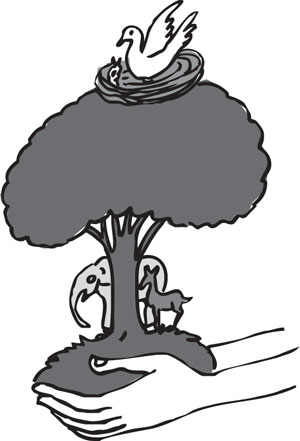 Mr. Trump embroiled in political controversy after controversy, with many psycho analysts even questioning his mental fitness to be the leader of the world's most powerful country was confronted by a climate change crisis where thousands of flights were cancelled, fire fighters scrambled to rescue motorists from flooded streets in Boston, National Guard troops were mobilized in the Northeast and New York City's two main airports halted flights because of whiteout conditions. Officials feared fast-dropping temperatures after the storm passed would turn snow on roadways to ice.

The widespread extinction of wildlife, deforestation and the excessive emission of carbon dioxide in most parts of the world are known to be three of the main human made causes of climate change or global warming and the catastrophic effects it could have especially on the new generation. One of the world's best known wild life crusaders is ninety one year old David Attenborough. "I remember one occasion in a remote part of northern Australia and I'll never forget -- it's just one of those odd instances -- but the sun came up, and there was this billabong, this lagoon in front of me full of the most fabulous birds" he told Christiane Amanpour in a wide-ranging interview on Cable News Network (CNN). His adventures began appearing on TV screens more than six decades ago, and have inspired entire generations to learn more about our planet.

He says, "young people, were not paying enough attention to how endangered our wildlife is. But now they're paying more attention than they did. And if you talk to young people today, they are passionate about wildlife. They are angry at what people are doing to the natural world, and they really want to care about it and do something".

David Attenborough's fascination with nature began as a boy collecting fossils, something that clearly still fascinates him and which he even describes as "romantic." David Attenborough, who had previously admitted to being skeptical about global warming, has long since converted to fervent believer and says there is no doubt that humans are responsible for it.

"We should stop burning carbon as simple as that. We need simply to refine the technology to make it cheaper than taking it from the ground" he adds.

Sir David has spent a lifetime raising awareness about the plight of animals and witnessed first-hand the impact humans have on the natural world. As the first ever continent-wide wildlife survey revealed recently poaching has caused thirty percent decline in the African elephant population. In Sri Lanka our majestic king of the jungle is facing the same crisis. What should governments be doing to prevent this?

"The sale of ivory, certainly of ivory collected no more than 100 years old, should be banned" he says.

Deforestation is taking place on such a huge scale that several United Nations organizations have come together in the battle against it. The UN Programme on Reducing Emissions from Deforestation and Forest Degradation ( UN-REDD Programme) is a collaborative programme of the Food and Agriculture Organization (FAO), the United Nations Development Programme (UNDP) and the United Nations Environment Programme (UNEP). The overall development goal of the Programme is to reduce forest emissions and enhance carbon stocks in forests while contributing to national sustainable development. The Programme has expanded steadily since it was set up and now has more than sixty official Partner Countries spanning Africa, the Asia-Pacific and Latin America-Caribbean.

In the third area more countries are now using new technology to develop renewable sources of energy including solar energy, wind energy and energy form the sea. Creativity, imagination and innovation are required for this and we hope that Sri Lanka also will cooperate fully in these and other areas to keep climate change under control.