---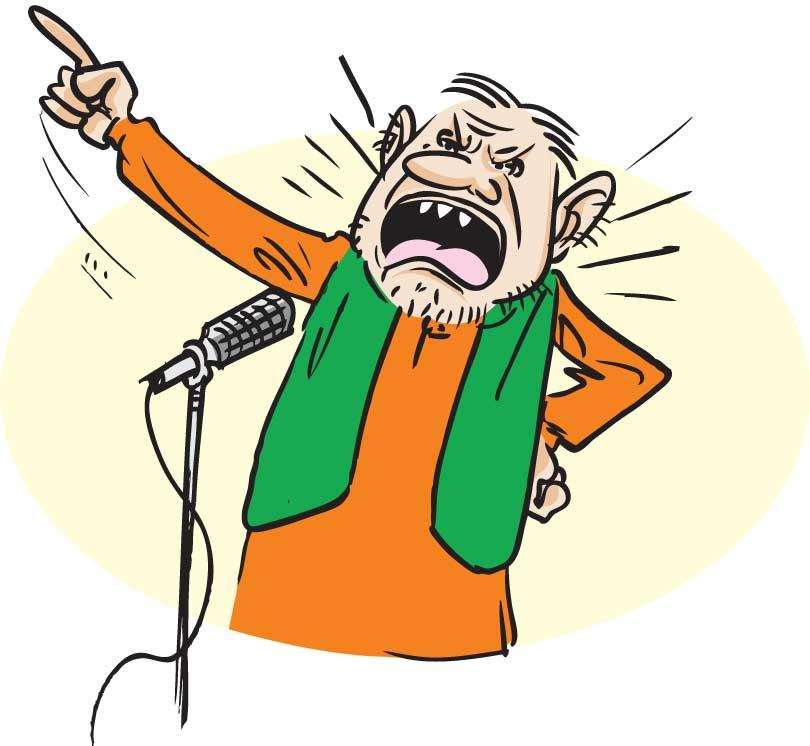 As a belligerent Congress and a beleaguered Bharatiya Janata Party (BJP) battle it out for the crucial general elections next month, political ethics have started hitting a new nadir in India. Taking on Congress over its comments on recent Indian air strikes in Pakistan, the BJP Minister of Energy in Uttar Pradesh government a few days back tweeted "The comments issued at the behest of coward eunuch Congress chief Rahul Gandhi are shameful".
Minister Srikant Sharma's tweet was met with an equally strong response by Congress ally in Bihar, the Rashtriya Janata Dal (RJD) party led by strongman Lalu Prasad Yadav. "Rahul Gandhi is impotent and Narendra Modi is not, how do they know? The public would like to know! When their chief's language is so objectionable and the track record is so controversial and covered in blood, expecting parliamentary language from his followers is stupidity in itself," RJD tweeted.
The war of words started with Congress demanding more evidence on government's claim on air strikes by the Indian Air Force on a "terrorist training camp" in Balakot in Pakistan. It was the first time that Indian air force entered Pakistan airspace since the war between two countries in 1971. The strikes were reportedly made in retaliation of the suicide attack in Kashmir on a convoy carrying Indian security personnel on February 14. Pakistan-based Islamist militant group Jaish-e-Mohammed (JeM) claimed responsibility for this attack while Pakistan government condemned the attack and denied any connection to the incident.
However Congress as well as several foreign media have cast doubts over the government reports on the air strikes and damage caused. The Chairman of the Overseas Indian National Congress Sam Pitroda recently queried "I would like to know a little more because I read reports in the New York Times and other newspapers. Did we really attack? We really killed 300 people? I don't know that. As a citizen, I am entitled to know and if I ask it is my duty to ask, that doesn't mean I'm not a nationalist….. If you say 300 people were killed, I need to know that. We all need to know that, people of India need to know that and then comes global media which says nobody was killed. I look bad as an Indian citizen,".
While Congress and Pakistan accused Narendra Modi for launching airstrikes for electoral purposes, Modi hit back at the Congress last Friday with a tweet that read "The Opposition insults our forces time and again. I appeal to my fellow Indians -- question Opposition leaders on their statements. Tell them 130 crore Indians will not forgive or forget the Opposition for their antics. India stands firmly with our forces". The PM in his tweet had referred to Pitroda as a "loyal courtier of Congress' royal dynasty".
Meanwhile, another BJP legislator from Surendra Singh had come under heavy attack for making derogatory comments on Sonia Gandhi and a singer/dancer from Haryana Sapna Chaudhary who he had thought had crossed over to Congress. "Rahul's mother was also in the same profession in Italy and his father made her his own. He (Rahul Gandhi) should also take the family tradition forward and make Sapna his own". Denying any decision of joining hands with Congress Chaudhary launched a scathing counter-attack. "This BJP legislator's cheap thought has got me thinking. The statement from the legislator of a national party is highly disgraceful and condemnable. Is insulting women his culture?" she asked.
Singh's statement was also condemned by a slew of parties. The Aam Aadmi Party (AAP) senior leader and national spokesman Sanjay Singh has tweeted, "If you have rivalry with Sonia Gandhi, then win by fighting the election. Why do you stoop to offensive comments?"
Former Chief Minister of Jammu and Kashmir and leader of People's Democratic Party (PDP), Mehbooba Mufti tweeted "Repugnant comments. We need a special brand of Phenyl disinfectant to clean such dirty minds. When a ruling party MLA has the audacity to speak such garbage, you know it has been sanctioned at the top. Nowadays Indian political discourse has become crass, misogynistic and personal."
One cannot help but wholeheartedly agree with Mufti. Unless Prime Minister Modi reins in his party men they are likely to do more damage to BJP's image in the days to come.