---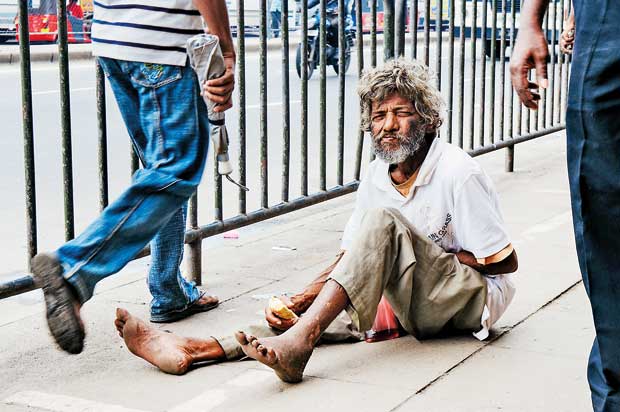 Megapolis and Western Development Minister Patali Champika Ranawaka stated in April that beggars in Colombo city will be removed within the next three months to facilitate the development of the city. While this decision may have the potential to bring a permanent solution to the beggars' menace, this can metaphorically mean that 'Saturn will be landing on the beggar's bowl'. The Daily Mirror left no stone unturned in its attempts to obtain the views of all parties involved in this issue, so that readers see the large picture.
An elderly woman-wearing worn, but respectable clothing-standing outside a big pharmacy in Colombo, asks for twenty rupees from passersby. She has a medical condition where she needs regular medication. Her children aren't giving her the money, hence she has to depend on the charity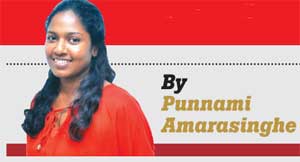 doled out by lion hearted people to purchase medicine. She reminds us of our own grandmothers for an instance, melting our hearts.
A lady boards the train at Maradana. She has an infant at her hip, and a bag in her arms which contains baby paraphinalia. She relates us a sad story of how her husband passed away one year ago following an accident. She was then pregnant with the baby. She rattles away how none of her relatives is offering helping, and asks for our assistance to 'buy a milk packet for the baby'. People who are parents themselves, who have experienced the struggle of rearing children, are generous. However, some mothers wonder aloud if the baby's age tallies with the story she is relating.
You are struck in traffic near the Kelani Bridge. An old man on a crutch comes and knocks on your window. He is persistent in his begging and you may sometimes give him some money just to get rid of him. If you ignore him at the start, his begging becomes obscene and he hobbles away, holding the crutch like a weapon.
Doing it as their profession
"There are spies tracking thieves and other criminals who pretend to be beggars"
This point has been subjected to many a debate. The Ministry of Megapolis states that out of around 3600 beggars, only 600 are 'genuine'. The ministry officials believe that those who aren't genuine have made begging their 'profession'. They claim the beggars who do it as their profession return to their homes in the evening. Prof. Nandasena Rathnapala, in his critically acclaimed book ' Beggar in Sri Lanka', -based on personal research- claims that beggary is an organized trade as any other profession. The more piteous they look, it's more beneficial to them. But at the same time, he says that not all beggars are con men. Many of them are truly in a desperate state.
According to Prof. Mayura Samarakoon, Head of the Department of Sociology and anthropology at the University of Sri Jayawardenapura, in today's society, begging is used as a cover for various illegal activities. "There are spies tracking thieves and other criminals who pretend to be beggars. There are beggars who act as middlemen for drug dealers. But, among these there are genuine beggars too," he states.
Is refusing to give money to beggars the correct way to minimize the number of people who beg? This is the opinion of Prof. Rathnapala, who spent close to 11/2 years of his life living among beggars, as one of their own. "You shouldn't refuse giving something to the beggars. There may be liars among them, but why do they come to that stage? Who will offer them employment? How many understand the pain and suffering that beggars undergo daily?" Prof. Ratnapala queries.

What is the plan?
"Rounding up of beggars is done by the Police"
When we contacted the Western Province Social Services Department, their response was that even though they were initially involved in the planing, along with the Ministry of Megapolis and Western Development, they were only involved in the proceedings until the Social Development Institute was assigned to conduct a research on the beggars in the city. According to their knowledge, the implementation of the plan is strictly under the Megapolice Ministry at this point.
We try to obtain information on the project from the Ministry of Megapolis and Western Development. However, at the time of making contact with them, we are told that the person in charge of the project was on medical leave and the receiver refuses to comment. Director Development B.M.K.S Dissanayake says that the ministry currently doesn't have a place to relocate the beggars, so renovations are being done in the Ridiyagama Detention Facility to facilitate around five hundred more inmates. He further states that any proceedings that are presently taking place, involving the rounding up of beggars , doesn't come under the Ministry's purview and is done by the Police.
When we contact the Social Development Institute, the Director General, Dr. Riddley Jayasinghe says that no research has been done by the institute regarding beggars since 2007. Unofficial sources reveal that the research carried out by the ministry was stopped shortly after its initiation due to institutional matters.
National Child Protection Authority (NCPA) Chairperson Marini De Livera, responding to a query about the authority's involvement with underaged beggars, says that it has identified areas of mutual interest and is in the process of implementing a programme, even though it's in a preliminary stage.

What after relocation?
"According to a source from the Western Province Social Service Department(SSD)"

So what exactly happens to these street people after they are 'removed from the city'? Though we don't know what will happen in the future, let us take a look at the present strategies. According to a source from the Western Province Social Service Department(SSD), the department is regularly involved in arranging for the care of the elderly and physically handicapped. Since a considerable percentage of the beggar community belongs to one or both these groups, these beggars come under their care regularly.
The Police has to take them into custody under the vagrancy act and direct them under the care of the SSD first. This procedure takes place through a court order. The spokesperson explains that in the past they have been unsuccessful in their attempts to send elderly street people to a facility that offers care. "Our experience reveals that these elderly beggars don't like to be institutionalized because that will result in a loss of their income through mendicancy," the spokesperson states.
"Our experience reveals that these elderly beggars don't like to be institutionalized because that will result in a loss of their income through mendicancy," the spokesperson states"

Out of the beggar population, those who are over the age of sixty years come under the care of the DSS. All the males and some of the females in this category are sent to the Ridiyagama Detention Center in the Southern Province. The remaining females are sent to Gangodawila Detention Center, which is under the control of Western Province SSD, which currently provides for around 180 inmates including the beggars.
In response to a question regarding its involvement with underaged beggars, the chairperson of NCPA says that the Police usually carries out these operations and get information on their helpline 1929 too. According to Livera, there should be a network of Public Officials and Private Entities who provide socio-economic support to this type of child. "The NCPA also has psychosocial Officers in every GA's Office who coordinate and provide this kind of rehabilitation", she remarks.
Rehabilitation
"These citizens have gotten used to a certain street culture and are inclined towards continuing their practices"

Mahinda Wijesinghe, the Inspector General of the Ridiyagama Government Detention Centre states that the centre currently has around 500 inmates and that he is not aware of a recent plan to increase the number of inmates. Responding to questions, he says that the institute is currently full and can't accommodate more inmates.
He denies the accusation that it's just a holding facility, saying that it has multiple rehabilitation programmes for the inmates involving in begging and others caught under the vagrant act; including fields such as carpentry and agriculture.
According to the source from the Western Province DSS , these citizens have gotten used to a certain street culture and are inclined towards continuing their practices. This is despite the attempts taken to rehabilitate them. "They are more prone to quarrels as well as some of them have the habit of bothering the people who are offering alms to elders' homes, by demanding money from them. Therefore the administration is reluctant to admit them to elders' homes, for the sake of other inmates," he explains.
On inquiring about reintroducing them to the society following rehabilitation, Daily Mirror learns that this has to be done through recommendations from the social services director to the provincial minister. "But this process is different from releasing a prisoner where the gates are opened for the latter after the sentence concludes. We release our inmates to the care of a guardian or if not, to a company where they are employed based on their skills", the DSS spokesperson further adds.
"There are people with no guardians. Some are suffering from mental illnesses and are unable to earn a living. They are forced to remain in the homes and have become a big problem. As a result inmates are accumulating inside the institutes," he further states, shedding light on another matter that needs to be addressed with regards to the situation of beggars.
When we inquire about the rehabilitation of those disabled, he states that they have never received disabled young people from the streets, because most of the time, they were under the care of 'guardians'.



How should the Govt. proceed?
"Beggary has been commercialized as well as exploited using various illegal avenues such as drug dealings"

We contact Prof. Mayura Samarakoon, Head of the Department of Sociology and anthropology at the University of Sri Jayawardenapura, to obtain the view of a professional on how to relocate beggars and he responds by stating that putting a stop to beggary is a very good thing. But he cautions that this matter should be approached with much care and after spending much time on strategic planing based on academic research.
"What the plans involving beggars have done up to now is trying to fit them into a pre-made programme designed by officials without proper research and understanding. The best example is the Ridiyagama holding facility where street people including, but not limited to beggars, were taken and dumped into. They did not have proper rehabilitation programmes to reintroduce them in to the society and became a huge failure," said Prof. Samarakoon.
He further observed that beggary has been commercialized as well as exploited using various illegal avenues such as drug dealings. He adds that whether they are truly the victims of poverty or are involved in begging as a business, should be investigated in to deeply through a research. He stresses that this can't be achieved through 'traditional' research methodology where officials take a head count of the beggars. " 'live in research' where the researchers live among the beggar community, identifying and relating to their true condition is ideal in a situation like this," he states.
Prof. Samarakoon recommends that this should be carried out by an academic institute since the ministry officials have neither the resources nor the expertise to carry out this sort of procedure.
People are forced into beggary due to various reasons. Homelessness, poverty, disability are some of them. The professor stresses the need for actions, which should address the cause for the matter, rather than the problem. "If the causes for their begging on the streets are addressed first, they won't have to return to begging when they are released," he opines.
"Begging is a sub culture, and when these people are suddenly returned to the main culture, there will be problems. 'Normal' people belonging to the main culture wouldn't accept them the way they are now. Therefore extensive rehabilitation should be carried out gradually, the ultimate objective being instating them in to the said 'main culture' without causing them unnecessary distress," Prof. Samarakoon adds.
Pics by Kushan Pathiraja
Where do we stand now?
"Finally, there is this biggest question that begs an answer. Will the ministry be able to produce a permanent solution for the situation of beggars in Colombo city"
Even though many parties are in agreement when it comes to the need of getting rid of beggars through rehabilitation, the current strategies aimed at realizing the said objective don't sound very promising.
However, despite our attempts, we find that there are no answers for some of the questions associated with the beggar issue.
Despite of the Minister's statement in April where he said that the city would be cleaned of beggars, within three months, no visible plan of any action being taken exists.
It's clear that relocating these citizens should be done after an extensive research done on their lifestyles while considering how best to rehabilitate them and reinstate them in 'normal' society. This should be done in a way that they won't return to their earlier endevours. Is this possible with no current ongoing research?
Regarding the statement of the person who stated that he witnessed beggars being taken in to custody, the Megapolis Ministry spokesperson clearly states that they aren't involved in any action where panhandlers are seized. Our attempts at contacting the Police media unit yielded no results. Though if this was true, to where would they be directed, since according to the superintendent, the facility at Ridiyagama was already full?
How should these people be rehabilitated and reinstalled in society? Is the ongoing plan at Ridiyagama sufficient or does it need improvement, as the professor of sociology suggests?
Finally, there is this biggest question that begs an answer. Will the ministry be able to produce a permanent solution for the situation of beggars in Colombo city, as stated under their objectives? During the time that Sri Lanka hosted CHOGM in 2013, the city was 'cleaned' of beggars by rounding them up and carting them off to Ridiyagama.
This facility had neither the space nor the resources to rehabilitate the incomers. We can only hope that the most recent attempt by the ministry will be more than just another attempt to 'clean' the city by merely shifting the 'eyesore' to another province and conveniently forgetting about it; aka covering the rash with a pretty bandage, instead of ensuring a permanent cure .
Voice of mendicants
A tree provides Gunadasa with shelter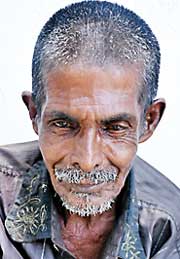 Gunadasa (71) used to work at the market as a labourer for 14 yrs, but with ageing can't engage in hard labour. His is found near a tree, which he turned in to the place he begs from, 3 years ago. He says that he sleeps in front of a closed shop at night. He isn't married and doesn't have anyone to look after him.

When we inquire about the possibility of him being evicted, his answer is philosophical. "My last day on earth isn't so far away. It doesn't make a difference where I get to sleep."
The story of *Kamala and *Nishantha .
According to Kamala and Nishantha, they come to the city only about two to three days per week to beg and rest on other days. They have a small place in Kolupitiya "It's the citizens who give us alms, so we are thankful to them. The Government so far hasn't done anything for our benefit," was Kamala's reply when asked about the govt.'s decision to evict them from the city.
Krishna supports a daughter
Krishna, an 80-year-old, whose usual 'spot' is in front of the railway station. He was a 'naataami' (A labourer) for most of his life. However an accident that took place 10 years left him with a fractured leg. The incident also brought an end to him finding employment as a labourer. Since then he has been depending on alms given to him by kindhearted people. His story is a different one compared to the old people who were abandoned by children. He says that he lives with one daughter whose husband abandoned her with a child. She works as a maid at a house for a meager salary. He supports her whenever he can from the money he earns from panhandling.
Responding to a query about the possible ban for beggary, he says that it would put them in a piteous state because this is the only thing that he is able to do given his age and his physical state.
What the people say
What is the society's view on clearing beggars from the city? Rather than obtaining opinions from people randomly, we now focus more on shop owners and people who live in areas where beggars are found in abundance. We thereby justify our efforts since shop owners usually see another side to this beggars' issue compared to passersby who come in to contact with beggars just for a few minutes.
"Police rounded up beggars" Weerasooriya
I live in Gampaha and travel to Colombo Fort on a regular basis. Today I witnessed some beggars around this area being taken away in a police vehicle, where the officers were in civil clothes. There were around 8 or 10 of them.
Samaraweera sees less beggars now
It's a very good thing that they are being removed. But they should be directed to places that would care for them, like homes for the elders. Some of these beggars are so unsanitary that they have made places like bus halts unsuitable for other people. Some of these people are sent as beggars by their children to earn money through panhandling.
(When asked about the alleged raid of the beggars, he denied being a witness to this incident, but said that there was lesser number of beggars than in the past in the surrounding area.)
"They can be very persistent" Vineetha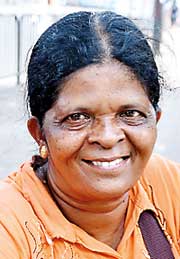 I think removing them is a good thing. They are a nuisance to both passersby and us, who engage in business. They can be very persistent when asking for money. In the past too they have been carried away. Some of them didn't return while others resumed begging after some time, at the same places.
"It's a good thing they're taken away"

- Jayasinghe

There was this young guy who was begging from passersby and seemed crippled. But once when he heard that the Police was coming, he ran down the stairs and disappeared in the streets. So I think it's a good thing that they are taken away.
"All humans should be treated equally"

- Rastha
I think they should be left in peace. The society treats people in two ways. The same person who would walk scot-free when driving a car would be fined if he drove a three-wheeler. All of us are human and should be treated equally.