---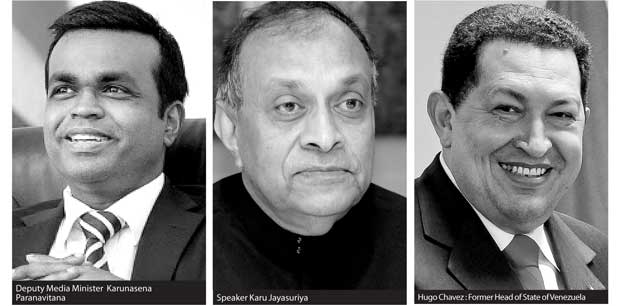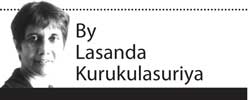 Recent media reports revealing that a $13.7 million USAID programme for 'democracy and accountability' is to be implemented by a private US company alleged to have links to the CIA, raise several questions regarding the nature of the government's relationship with the US.
A leading newspaper cited on its January 2, 2017 edition that the US Embassy in Colombo confirming that the company Development Alternatives Inc. (DAI) 'would work closely with the Parliament, Independent Commissions and related ministries' to carry out the project. Another leading TV channel bulletins of 2, 3 and 4 Jan. 2017 also exposed the company's alleged links with the CIA.
An alarming aspect of the expose is that so few parliamentarians are even aware of the project's existence, leave alone details of the bilateral agreement signed by Speaker Karu Jayasuriya last September in Washington, with a government delegation. The 'Strengthening Democratic Governance and Accountability Project' (SDGAP) as it is described, is not subject to Sri Lankan law but to the laws and regulations of the US, under the terms of the agreement. It does not come under the purview of Sri Lanka's Auditor General - the Auditor General's Department itself is apparently under scrutiny under another USAID (US Agency for International Development) project. It would be relevant to ask whether there has not been a serious dereliction of responsibility by political leaders, in allowing politically sensitive internal reforms to be 'outsourced' in this manner to foreign agencies. The fact that the contractor has alleged links with funding the country's intelligence agency makes matters worse.

The US embassy has said that USAID also has projects working with "Parliamentary Committees on Public Accounts and Public Enterprises, the National Procurement Commission, and others to support transparency, accountability, and capacity development."

Ironically, interviews by the said TV channel news showed how uninformed government ministers were about this project meant to promote 'transparency and accountability.' Minister of Public Administration and Management Ranjith Madduma Bandara denied the involvement of any American Company 'to train our officials,' while Speaker Jayasuriya said he was unaware of DAI's alleged CIA links. Deputy Media Minister Karunasena Paranavitana at a press conference said that USAID was the implementing agency, and that 'maybe they were looking for a subcontractor.' When a journalist persisted with questioning he agreed to 'look into the matter.'

DAI is said to be one of the largest US government contractors in the world, particularly active in Latin America. Its subversive role in Venezuelan politics has been thoroughly documented by Eva Golinger in her 2005 book 'The Chavez Code – Cracking US Intervention in Venezuela.' Golinger calls on Venezuela to expel DAI, which she describes as a CIA front and 'an organization dedicated to destabilizing governments unfavourable to US interests.'

"DAI was awarded a multi-million dollar budget from the USAID in Venezuela to "assist civil society and the transition to democracy" writes Golinger. "More than 2,000 documents partially declassified from the USAID regarding the agency's activities in Venezuela reveal the relationship between the DAI and sectors of the Venezuelan opposition that have actively been involved in coup d'etats, violent demonstrations and other destabilization attempts against President Chávez" (Chavezcode.com).

Explaining how the CIA operates abroad Golinger writes: "The use of a chain of entities and agencies is a mechanism employed by the Central Intelligence Agency (CIA) to channel and filter funding and strategic political support to groups and individuals that support US agenda abroad. The pretext of "promoting democracy" is a modern form of CIA subversion tactics, seeking to infiltrate and penetrate civil society groups and provide funding to encourage "regime change" in strategically important nations, such as Venezuela, with governments unwilling to subcomb (sic) to US dominance."
The role of the USAID in Sri Lanka today has undergone considerable change since it started operations in the1950's with the 'PL-480' food aid programme, with humanitarian overtones. With geographic location assuming importance in the power-games being played out in the region today, it would appear that strategic considerations have entered the equation in the US's engagement with the island.

USAID's Asia Bureau Asst. Director Jonathan Strivers outlining budget priorities for 2017 opened his address to a US Congress Foreign Affairs subcommittee last year by referring to the role of the USAID in advancing US foreign policy goals in South Asia. In Sri Lanka he said that US support helped advance the 'reform, accountability and reconciliation agenda' and that the USAID would be working with key institutions, including Parliament, the Judiciary, the Elections Commission and Auditor General.

These remarks show how USAID's focus has shifted away from economic development. It is in the context of these changes that the aid agency's alleged collaboration with the CIA in Sri Lankan would need to be investigated. There have been numerous instances documented where the USAID projects were found to have had links with the CIA. 'Foreign Policy' magazine of April 3, 2013 cites an explosive 'Associated Press' investigation that revealed how the US covertly launched a fake Twitter platform in Cuba called 'ZunZuneo' (referring to the Cuban hummingbird's tweet) with a view to sparking a 'Cuban Spring' and bringing about the collapse of the island's communist government ('U.S. Secretly Created 'Cuban Twitter' to Stir Unrest'- AP April 4, 2014).

Here's what FP further has to say about the murky side of USAID's activities: "Though better known for administering humanitarian aid around the world; the USAID has a long history of engaging in intelligence work and meddling in the domestic politics of aid recipients. Throughout the 1960s and 1970s, the agency often partnered with the CIA's now-shuttered Office of Public Safety, a department beset by allegations that it trained foreign police in "terror and torture techniques" and encouraged official brutality, according to a 1976 Government Accountability Office report. The USAID officials have always denied these accusations but in 1973, Congress directed the USAID to phase out its public safety programme - which worked with the CIA to train foreign police forces - in large part because the accusations were hurting America's public image."

"USAID is perhaps the new CIA" said Peter Kornbluh, Director of the Cuba Documentation Project at George Washington University. Talking to 'Democracy Now' about USAID's fake Twitter operation he described how it was part of a broader US effort to use the Internet and social media to create a communications vehicle that could be used to spur unrest. And it was funded under a programme to 'promote democracy.'
Does this all sound familiar…?