---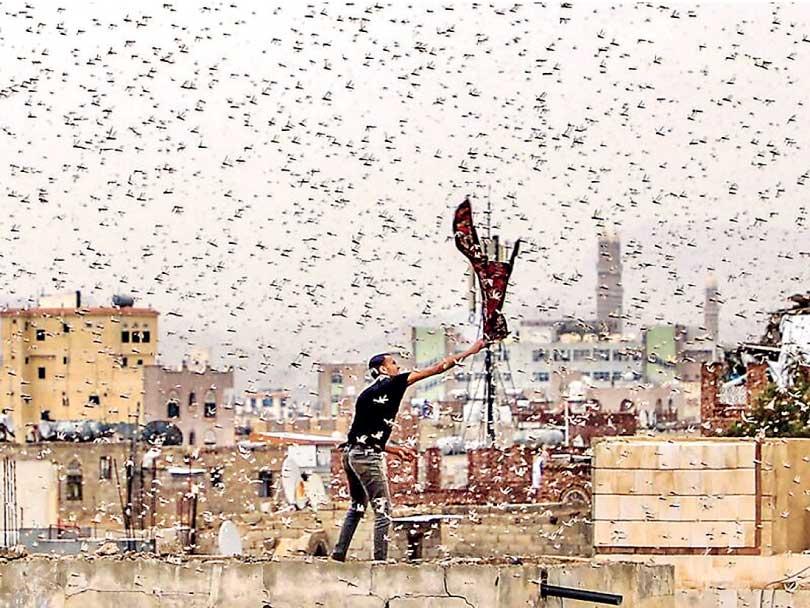 With Pakistan and Somalia both declaring national emergency over locust attacks on crops while a host of East African nations, Iran, Yemen, Egypt, Saudi Arabia, Oman and the western states of India going through one of the worst locust episodes in history, speculations are rife whether locust is becoming the biggest threat to the global food security.
The devastation of 50% of country's crops by the insect saw Pakistan Prime Minister Imran Khan declaring a state of emergency a few days back and calling for a National Action Plan (NAP) while disbursing some 7.3 billion Pakistan rupees to fight the crisis. Some 400,000 hectares of crop lands in the Indian States of Rajasthan and Gujarat, which border Pakistan, too have been destroyed by locusts during the past years or so.
It is estimated that some 360 billion locusts making a swarm of some 40 miles are destroying the crops in poverty stricken East Africa jeopardizing the already-fragile food situation in the region. The numbers are only expected to grow in leaps and bounds as each female lays some 150 eggs at a time.
They have already laid billions of eggs in Africa alone and predictions are that eggs are likely to hatch this month creating new swarms by April. The Food and Agriculture Organization (FAO) last week declared that the situation in East Africa is unprecedented and extremely alarming. While Somalia, Kenya and Ethiopia are among the worst affected, locusts are already attacking farmlands in Sudan as well. The FAO warns of potential threats to neighbouring countries where swarms have already been detected.
Meanwhile Saudi Arabia is going through its worst locust attack in 25 years and south-west coast between Makkah and Jazan witnessed their strongest presence. A few days back, a video footage showing as to how a swarm of locusts descended on the Saudi city of Najran spurred alarms. In the war-torn Yemen which is subjected to a bigger attack by the insect, locusts are a delicacy among the locals.
Interestingly the swarms that play havoc in Eastern Africa and parts of Asia had found their breeding grounds in Saudi Arabia and Yemen following the cyclones that had hit the arid parts of Arab peninsula last year. The climatic change that created moist grounds provided ideal condition for desert locusts to lay eggs. These eggs have hatched billions of locusts.
As the locust episodes are spiralling into a full blown crisis, the United Nations has warned of a possible threat of famine in East Africa and severe food security issues in West and part of South Asian regions in the months to come.
It's high time the world found more effective means of tackling the locust menace.