---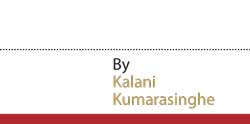 There appears to be an increased interest in the status and changeability of social roles of both men and women across cultures. By and large, research indicates that traditional patterns of social behaviour persist where gender specific roles are concerned. There is also evidence that despite certain shifts in public perception in society, the establishment of conventional roles in Asian cultures begins almost from infancy and continues into old age. So why would this norm be an exception in the orders of Buddhism?
A modest monk with a large but unsurprising base of followers is attempting to challenge this norm, for the second time. Venerable Ajahn Brahmvanso, fondly known as Ven. Ajahn Brahm is better known for his unpretentious ways, friendly demeanour and his ability to simplify the depths of Dhamma to lay persons across the globe.

Most Sri Lankans recognise Ven. Ajahn Brahm as the charismatic meditation teacher from Australia. Born Peter Betts in London, United Kingdom in August 7, 1951 he won a scholarship to study Theoretical Physics at Cambridge University in the late 1960s. He joined the university's Buddhist Society where he developed an interest in the teachings of the Buddha. After graduating from Cambridge he taught in a school for one year before travelling to Thailand to become a monk where he spent the next nine years studying and training under Venerable Ajahn Chah.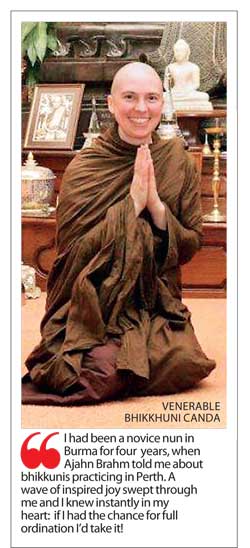 His teacher belonged to the Kammaṭṭhāna Forest Tradition of Thailand commonly known in the West as the Thai Forest Tradition; a lineage of Theravada Buddhist monasticism. The tradition is distinguished from other Buddhist traditions by its doctrinal emphasis of the notion that the mind precedes the world. Its description of the Buddhist path as a training regimen for the mind, proficiency in a diverse range of both meditative techniques and aspects of conduct that will eradicate keles — in order to attain awakening, has grabbed the attention of those seeking solace in an increasingly competitive world.

Ordained as a Buddhist monk more than thirty years ago, Ven. Ajahn Brahm's roots in a more mindful approach to Buddhism has resulted in his active engagement in teaching Buddhism here and around the world. He is also the author of many well-known Buddhist titles. Today he attempts to use Buddhism to challenge precedents in the religion and to advance the social justice issue of gender equality and the empowerment of women.

Bhikkuni ordination thus far
The Buddha, following numerous requests from Maha Prajapati Gotami, allowed the formation of a Bhikkuni order with five hundred women, perhaps in the first monastic order for women. In the 3rd century BC Arahant Sangamitta, daughter of Indian Emperor Asoka arrives in Sri Lanka with the sacred Bo sapling, one of the most revered Buddhist relics of the country. History narrates that 11 Bhikkunis arrived in the island along with Arahant Sangamitta, who pioneered the Bhikkuni ordination in Sri Lanka. A number of invasions however saw the decline in the Bhikkuni order. At present, with no ordination sanctioned, women voluntarily take limited vows to live as renunciants and are not as privileged to receive higher ordination as Bhikkus.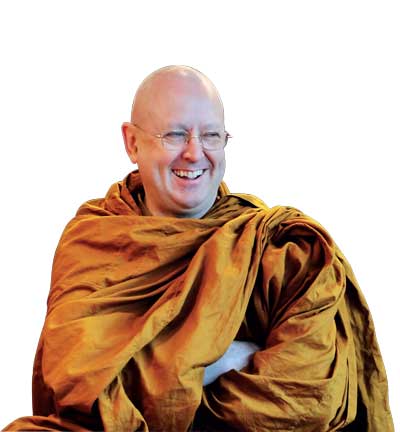 Groups such as the Sakyadhita International Association of Buddhist Women, attempted to revive the Theravada Bhikkuni order, when 11 Sri Lankan women received full ordination in Saranath, India, presided by Dodangoda Revata Mahāthera and the late Mapalagama Vipulasāra Mahāthera of the Maha Bodhi Society of India.

In 2001 a Thai scholar now known as Dhammananda Bhikkuni, took Bhikkuni ordination in Sri Lanka and returned to Thailand, where Bhikkuni ordination is forbidden and warrants arrest, to spearhead a growing movement of Bhikkuni 'rebels.'

There is no consensus in the wider tradition that bhikkuni ordinations could be valid, having last been performed in Theravada communities over 1,000 years ago, though the matter has been under active discussion for some time. Amidst the debate that continues to argue the opportunities and obstacles of establishing a Bhikkuni order, Ven. Ajahn Brahm, on October 22, 2009 along with Ven. Bhante Sujato facilitated an ordination ceremony for bhikkhunis where four female Buddhists, Ven. Ajahn Vayama, and Venerables Nirodha, Seri and Hasapanna, were ordained into the Western Theravada Bhikkuni Sangha. The ordination ceremony took place at Ven. Ajahn Brahm's Bodhinyana Monastery in Perth, Australia. He claims that there is no valid historical basis for denying ordination to bhikkunis.

"I thought too when I was a young monk in Thailand that the problem was a legal problem, that the bhikkuni order couldn't be revived. But having investigated and studied, I've found out that many of the obstacles we thought were there aren't there at all. Someone like Bhikku Bodhi [a respected Theravada scholar-monk] has researched the Pali Vinaya and his paper is one of the most eloquent I've seen – fair, balanced, comes out on the side of "It's possible, why don't we do this?" questions Ven. Ajahn Brahm.

A Bhikkuni presence in the UK
Seven years since the first Western Theravada Bhikkuni Oridination, Ven. Ajahn Brahm is now engaged in a Dhamma tour delivering talks and guiding meditation retreats in and around London. The objective of this Dhamma tour is to support the establishment of a Bhikkuni presence in the United Kingdom. The mission titled the Anukampa Bhikkuni project arises from Ven. Brahm's sense of gratitude to his birthplace where he first learned of Buddhism.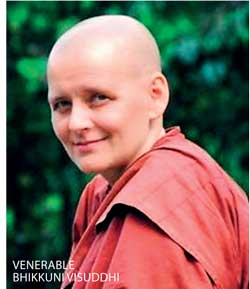 One of the notable participants of this movement, Venerable Bhikkuni Visuddhi is a fully ordained bhikkhunī, a rarity in Europe as only three or four ordained bhikkunīs live there. Bhikkunī Visuddhi lives according to tradition of relying only on offerings (dāna) from her lay followers and she provides her teaching in the form of dhammadāna. Meanwhile Venerable Bhikkuni Canda, born Lucie Stephens in England, came into contact with the Buddha's teachings in India in 1996 at the age of twenty, through the Vipassana tradition. During her first retreat she decided to devote the rest of her life to ending suffering through practising the Buddha's teachings.

In October 2015 Ven. Ajahn Brahm requested Bhikkuni Canda to consider the formulation of a programme to establish a monastery in UK, in order to increase equality in practice and ordination opportunities for women. He believes the availability of Theravadi Buddhism is important as Buddhist nuns are far more capable of teaching and inspiring people.

"I support the equity of full ordination to Bhikkunis so that they can walk with their heads held high, so that Theravadi Buddhist women in England can realise that their religion gives equality to people of all genders and races. I think as Buddhists we should show the way and take leadership in this" Ven. Brahm opines.

The group's aspiration is to develop a monastery with a harmonious and meditative atmosphere, for women who wish to train towards full ordination. At present, there are many Bhikku monasteries worldwide, but very few for Bhikkunis and even fewer for those who wish undertake training towards Bhikkuni ordination. Thus the need arises to encourage equality in terms of practice and ordination opportunities for women, for Buddhism to thrive and remain relevant in the 21st century. As Bhikkhuni Canda relates; "I had been a novice nun in Burma for four years, when Ajahn Brahm told me about bhikkunis practicing in Perth. A wave of inspired joy swept through me and I knew instantly in my heart: if I had the chance for full ordination I'd take it!"

The Buddha's initial reluctance in ordaining Bhikkunis that is still upheld in Vinaya rules among the local Theravada traditions may have resulted from precaution. Nevertheless women were not barred from ordination and the establishment of an order for women was only sanctioned with the subsequent 'garudhammas' imposed on the Bhikkunis. Today, even with general acceptance about the emerging importance of the matriarchal role of women in society, this mission is evidence that there remains one last bastion forbidden to women in religion. Nonetheless as Ven. Ajahn Brahm opines it is far more fruitful to light a candle than curse the darkness.