---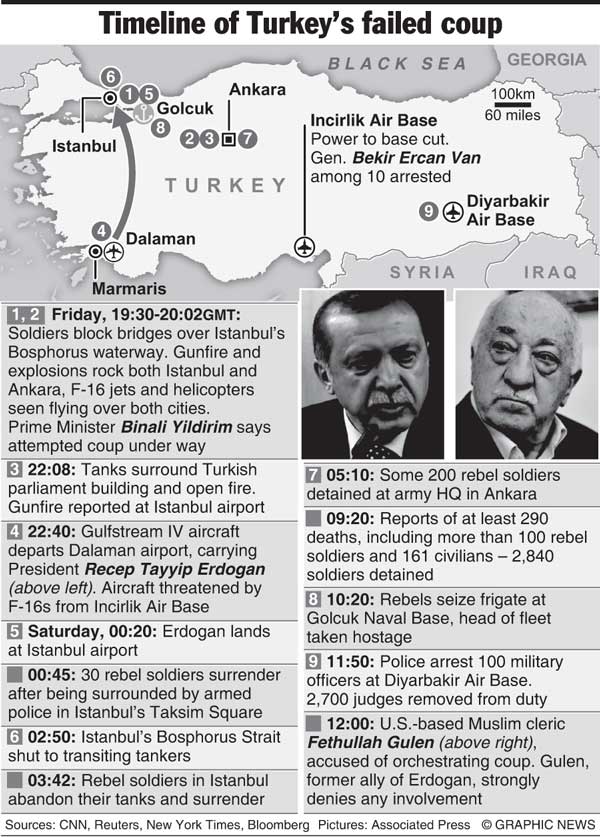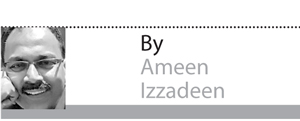 An elderly gentleman was preparing our breakfast in an Ankara hostel. My friend and fellow journalist Latheef Farook and I greeted him as we walked into the kitchen. Leaning against the pantry cupboard, we watched him make a special omelet for us. Then we saw a few ants moving towards some food items he had prepared for us and kept on the pantry table. When someone tried to wipe the table with a piece of cloth, the old man stopped him and read out a Quranic verse, which meant, "Whatever is in the heavens and on earth, glorifies Allah." Turning towards us, he said: "Let the creature live so that it can continue to sing the praises of its Lord."

This incident happened six years ago, when we were the guests of the Hizmet movement headed by Fethullah Gulen, the man Turkish President Recep Tayyib Erdogan is accusing of launching last Saturday's failed military coup. At a time when terror groups have hijacked Islam and are turning it into violent satanism, the Gulen movement is an organization that is rediscovering Islam and its spirit which has long gone missing under the influence of various distorted interpretations steeped in political shenanigans. The ISIS, al Qaeda and the Taliban do not represent Islam, but the Gulen movement does. Practitioners of Wahhabism – a type of Islam practised in Saudi Arabia – may claim that theirs is the purest form of Islam. But critics say their statement is only partially true. This is because Wahhabism focuses more on ritualistic purity than on the spiritual essence of Islam. Then there are Thareeqas (paths) and sufi schools of thought. They claim to be spiritualists. But their exegeses are largely distortions.

The Gulen movement, on the other hand, sees the worship of one God as a liberative experience to serve humanity. Its members are encouraged to gain knowledge and impart it to others or use it in the service of humanity. They are encouraged to do business, but told to spend the surplus profit in charity. Today, the Gulen movement, also known as the Hizmet movement – Hizmet means service – runs schools and charities in 170 countries, including Sri Lanka.

The movement has its origins in the struggles of Sa'id Nursi, who stood as a bulwark against Kemalist secularism. With Islam being wiped out from public life in Turkey under the reforms of Mustafa Kemal Ataturk, the secular visionary who founded modern Turkey from what remained of the Ottoman Empire after World War 1, Nursi, also known as Badi-uz-zaman, tried to show that Islam and democracy were not incompatible and that Islam was in harmony with modern sciences. Nursi declared: "I shall prove and demonstrate to the world that the Quran is an undying, inexhaustible Sun, by updating it to meet modern life requirements!"
After Nursi's death, Gulen revived the movement to keep Islam alive in secular Turkey, where under Kemalist reforms, the hijab was banned from public life and Friday sermons became a script-writing affair of the state. The movement survived throughout the repressive regimes that captured power in military coups claiming that democratically elected governments were veering away from the state principle of secularism. Since Turkey was a key member of the NATO alliance during the Cold War, the United States supported the military regimes despite their atrocious human rights records. One of the undemocratic acts of every military regime was to ban political parties, especially those parties inclined towards Islam. But every time a party was banned for suspected Islamic inclinations, it reemerged under a different name. Erdogan's Justice and Development (AK) Party also evolved in such a manner.

The AK Party's owes it rise to power in 2002 to the Gulen movement which by then had emerged as a powerful religious movement or cemaat (pronounced jemaat). Gulen and Erdogan were the best of allies. The military which often had its way in politics, thanks to the existence of a Kemalist deep state in the Turkish administration, appeared helpless to defeat the Gulen-Erdogan alliance. But the alliance fell apart in 2013 when Erdogan, who as a poor schoolboy sold lemonade at traffic lights, faced corruption allegations. He and his son were accused of amassing billions of dollars through corrupt deals. In February 2014, the Turks were shocked when Erdogan in leaked recordings of phone conversations was heard instructing his 33-year-old son, Bilal, to dispose of large amounts of hidden funds from their private home. He and his son also allegedly had links with Iranian billionaire Babak Zanjani who was sentenced to death in March by a Teheran court for fraudulently pocketing US$ 2.8 billion of state funds. Bilal was also accused of profiteering from oil deals with ISIS.

During our visit to Turkey in 2010, we noticed the fast return of Islam into Turkish public life. With the wives of Erdogan and the then President Abdullah Gul sporting Hijab, many women began to emulate them. In our conversations with Gulen movement Turks, we asked them whether there would be another military coup, since Erdogan appeared to be violating the state principle of secularism. Their response was: "We will take to the streets, if that happens."

Turkey saw this happening this week when tens of thousands of people braved military tanks and low-flying aircraft to defeat an attempt by a small group of ill prepared military officers to capture power. But the coup had all the makings of a mercenary job, though it may not be so. This is because it had the support of only 3,000 soldiers. Besides, the coup plotters made no effort to arrest Erdogan or the Prime Minister or take over the state-run television. Rumours doing the rounds in opposition circles say the soldiers who took part in the coup did not know they were launching a coup. Many thought it was a military exercise. It is also rumoured that the coup soldiers were those who had got their jobs back after their release from jail. They were jailed for their role in a 2013 anti-government conspiracy by a clandestine group called Ergenekon.

And what's more, it provided Erdogan the opportunity he was waiting for to strengthen his hold on power. Yesterday, he declared a state of emergency for three months. The move, which Erdogan described as a bid to root out the virus behind the coup, came after the police acting under orders from him arrested nearly 10,000 military personnel. So far some 50,000 state sector officials, including top judges and university dons, have lost their jobs, while nearly 600 schools run by the Gulen movement have been closed. The purge has helped Erdogan, who is being accused of acting like an Ottoman sultan, to remove civic-conscious bureaucrats who are not Gulenists.
Gulen has denied any role in the coup and said if the United States wants to extradite him to Turkey, he was ready to face trial.

Erdogan's post-coup moves have raised international concerns. Even before the coup, Erdogan came under international criticism for his lack of respect for democratic norms such as freedom of expression and the independence of the judiciary. In recent months and years, he has nationlised opposition run media groups, arrested some 20 journalists and removed judges. Just prior to the botched coup, Erdogan's popularity was at all-time low, with the country being devastated by regular suicide attacks, a renewed war with Kurdish separatists, the Syrian refugee crisis and a stagnant economy. The coup has helped him to take control of affairs for a while. But how long is the question.