---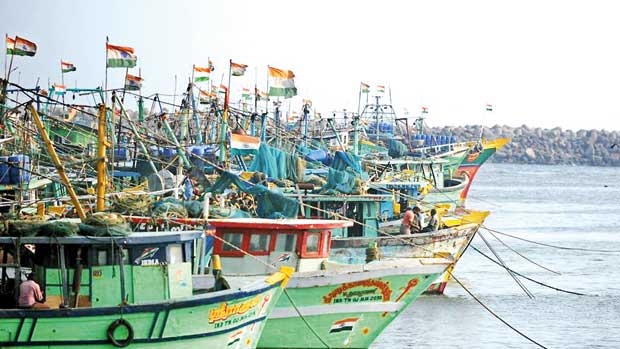 Many of our recent problems stemmed from our inability to accept our geographic reality- that is our immutable placement a few dozen miles from India. That presence has not always been a blessing. But, if we appreciated out existential reality, and also the capabilities and sensitivities of our northern neighbour that harm could have been lessened and even some benefits might have been accrued. Obviously, had it not been for the Indian involvement, we would not have a terrorist problem, though we could still have an ethnic problem. Also, the JVP's second insurgency was enabled by the lax security in the South while the government's security apparatus was focused on fighting Indian-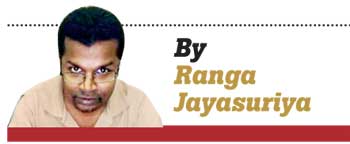 trained Tamil militancy in the North. (That was how the Bolsheviks managed to hijack the state power through the October revolution in 1917 while the armies of the Russian State were locked in bitter trench battles of World War I.) Perhaps though overlooked, the biggest contribution of the Indo-Lanka Peace Accord was that it enabled the government to prevail over an egregious enemy in the South. Without that momentary hiatus in the North, we in the South could have been condemned to our own Nandikadal.

However, much of our recent peril was a result of arrogance with which J.R. Jayawardene dealt with India and its equally arrogant then Prime Minister Indira Gandhi (who by virtue of size and clout of her country had the luxury to be arrogant, whereas J.R did not have any of that leverage). He in private likened old Ms. Gandhi to a sacred old cow, courted Americans in an open contempt to India's geopolitical sensitivities and Ms. Gandhi in return destabilized this country, funding and training Tamil militants. However, this was not how the Indo-Lanka relationship had been until J.R's advent to power. New Delhi besieged with precarious land neighbours strived for good relations with Sri Lanka -- also there was good personal rapport between leaders in New Delhi and Colombo.
Indo-Sri Lanka Maritime Boundary Agreement of 1974 was a classic case of personal friendship translating to a bilateral agreement. Ms. Gandhi and her Sri Lankan counterpart Sirima Bandaranaike were such good friends that they did not want any discord over a desolate island and allow it to be a thorn in bilateral relationship. Mrs Gandhi overlooked concerns raised by Tamil Nadu political elite and went ahead with her decision to concede Kachchativu island to Sri Lanka. However, in order to assuage Tamil Nadu concerns, measures were included in the 1974 agreement that "Indian fishermen and pilgrims will enjoy access to visit Kachchativu as hitherto, and will not be required by Sri Lanka to obtain travel documents or visas for these purposes".

Kachchativu agreement was also viewed as a personal favour by Ms. Gandhi to Ms. Bandaranaike to make her political life easier at a time she was at the receiving end of her leftist allies of the United Front government and the public in general over the spiraling cost of living. Not surprisingly, Kachchativu is still portrayed as a diplomatic triumph of Ms. Bandaranaike.
Interestingly, at the time, Ms. Gandhi was so invincible in Indian politics that then Tamil Nadu Chief Minister Karunanidhi who in private raised objections to seceding Kachchativu to Sri Lanka did not dare challenge her decision in Court. That was in contrast to an earlier precedent when the chief minister of West Bengal, B.C. Roy sought judicial intervention against Prime Minister Jawaharlal Nehru's decision to cede Beru Bari to Pakistan in 1960. (The Supreme Court in its advisory opinion held that Parliament of India is not competent to make a law for the implementation of the Agreement)
"Kachchativu agreement was also viewed as a personal favour by Ms. Gandhi to Ms. Bandaranaike to make her political life easier at a time she was at the receiving end of her leftist allies of the United Front government and the public in general "

Kachchativu remains an emotive topic in Tamil Nadu politics not just due to the concerns of its fishing folks but also because it is one of those topics that unify the vetti-wearing Tamil nationalists there in their inherent adversity to the Sri Lankan State. It is foolhardy on us to help reignite another wave of that invective, which is however sadly the case after the allegations that the Navy firing has killed a Tamil Nadu fisherman and injured another. The Navy has denied allegations and called for GSP coordinates of the locality where the incident had reportedly happened. The fishermen have reportedly produced a GSP device which has recent coordinates deleted. Various versions of the event are given. One was that the fishermen poaching inside the Sri Lankan waters have allegedly rammed their boat on the Navy vessel that went to intercept them. Tamil Nadu fishermen boycotted the annual feast of the Kachchativu Island held in the weekend in protest of the alleged shooting.
That Tamil Nadu fishermen who have over fished their part of the sea are now poaching in Sri Lankan waters is as conclusive as Jayalalitha's assets case. Tampering with evidence would not help. However, such intrusions should be dealt with restraint. Highhandedness could fuel far more consequential ethno-political posturing in Tamil Nadu. India's centre cannot act in isolation from the political compulsions of its states.

The standard practice has so far been to arrest the poaching fishermen and produce them before the court -- and deport enmasse once in every couple of months on the request of New Delhi. That approach may not have banished the poachers from Sri Lankan waters, but has contained poaching and appears to be the most cost effective strategy. On the contrary overacting to minor irritants such as this, especially at a time Sri Lanka is facing scrutiny at the UNHRC is not the most sensible strategy. Equally important is the Hindutva nationalists of Prime Minister Modi's BJP may not react with the same restraint as more cosmopolitan Congress leadership did in the past.
Interestingly before the rise of Tamil militancy (and later terrorism) in this country, the primary duty of the Sri Lankan Navy was to combat smuggling of contraband across the Palk Straits and rein in illegal migration from Tamil Nadu. Now that terrorism is defeated, the Navy has returned to its traditional duties of the 1960s. That is umpteenth time better than combating suicide terrorists and arms smuggling. Maintaining this status quo would be in our interest.

Follow RangaJayasuriya @RangaJayasuriya on Twitter