---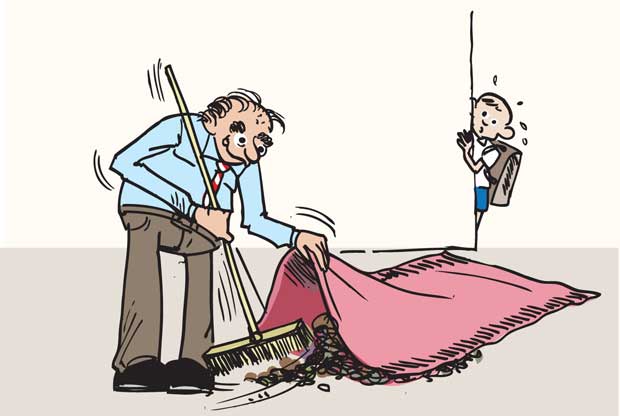 Dust unto dust, ashes to ashes. All things in life are transient and impermanent. Religious leaders have stressed this reality but from what we see in the world most people appear to be suffering from the self-inflicted delusion that earthly possessions, positions and power will last forever.

In the globalised capitalist market economic world that we survive in, subtle ways are used to promote selfishness or self-centredness, greed jealousy and resentment, rivalry and cut-throat competition. Tragically the vice instead of wisdom starts in school. Most parents pay or are forced to pay a sophisticated bribe of more than half a million rupees for their child to enter a private school. Some parents even give false addresses to comply with the area rules. When the children grow up to learn how their parents indulged in corruption, deception and other vices, it is not surprising that they also indulge in such vices later in their work and professional life. Who taught them to do this? God forbid it was the parents. The National Unity Government, aware that it is education that makes or breaks the character of the children, is taking some steps to stop this dangerous trend. Last month life and health insurance policies were provided to children in all schools, and there is a long-term plan to make the nearest school the best school, though it is easier said than done and needs a paradigm shift in society.
We know that when the One Great Scorer comes to write against our name, He will write not whether we won or lost but how we played the game. This is the motto of the once great Olympic games also. But today match-fixing, betting and gambling are rampant in sport and so is it in education. The competitive nature is such that students who go to school early in the morning are forced to go to tuition classes till late in the evening. Their play time and childhood are lost in the process. Tuition has become big business, but the Inland Revenue Department says tuition business owners do not give receipts to children and therefore do not pay taxes. The children are forced into a system where they presume that if they cannot pass examination by fair ways, they could do so in foul ways because the elders are doing it. Ultimately the lessons taught are that money wealth possessions give us security and success, power and prestige. Children are not taught that with nothing we came and with nothing we shall leave. When these false lessons are taught in schools, the young adults enter their professional lives with false values. This takes place even in the home, in work places, professional groups and elsewhere. During the past few decades especially, we saw how it grew to cancerous proportions in political life where important decisions were taken.

Billions of rupees is alleged to have been plundered by the former Rajapaksa regime leaders, including family members, top officials and close associates. Recently the former presidential secretary Lalith Weeratunga was arrested and remanded on charges of misusing public funds for party propaganda purposes at the 2015 presidential election. Somehow influence was used to have him remanded and not placed in jail but in the prison hospital. He was given bail after one week. In any event even the few political corruption cases brought before courts since January 2015 have been dragging on for months with most people reported to be sick and tired of the long delays in the legal process. Justice delayed is justice denied.

In Parliament this week draft bills were proposed for the appointment of several new High Courts, High Court judges and a special High Court to hear corruption-related cases on a trial-at-bar basis. It was also proposed in Parliament that the Attorney General's Department should recruit additional staff to expedite corruption related cases. We hope this will be done and also hope that President Maithripala Sirisena will keep his election promise that those who come into mainstream politics will serve the people instead of doing business. If they cannot do this they need to go into some other area and allow honest and responsible citizens to come into politics so that we could build a peaceful, just and all-inclusive society where there is religious and racial unity in diversity.