---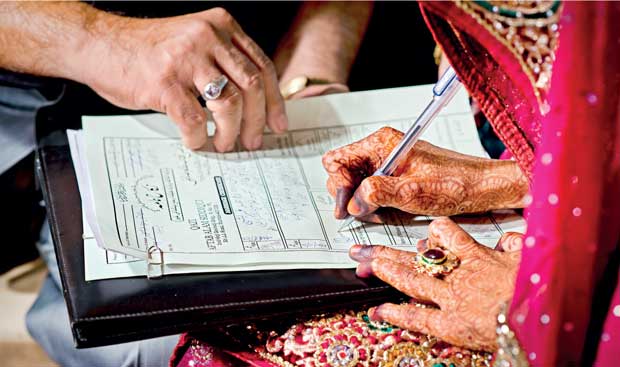 Featured image is of my friend Sineen's nikah signing in India. The registrar, and two witnesses approach the groom in his section. The registrar says the brides name and asks him for his consent to marry her. He says khabool hai three times, and signs the certificate. Then they go to women's section and approach the bride. They ask her whether she consents to marry the groom. She replies khabool hai three times and signs the certificate.

The pending reforms to the Muslim Marriage and Divorce Act (MMDA) have resulted in both interest and controversy from within and outside the Muslim community in Sri Lanka. Some members of the community, perceive the reforms to be a result of 'western/NGO' pressure, whilst others believe that the reform is long overdue. In the ensuing debate there have been many perceptions and misconceptions regarding the process, of which some I intend addressing.

Assalamu'Alaikum Warahmathullahi Wabarakatuh
In the name of God, the most Compassionate, the Most Merciful.
Dear Muslims,
The first misconception is that the reforms have to do with pressure from the EU and foreign agencies. This rhetoric is being used to misinform Muslims into believing that pressure is being exerted externally. Since the 1970's attempts have been made to amend the MMDA to make it comply to international Shariah standards and to address local problems. Currently divorce is on the rise in the Muslim community, and women with children are the most vulnerable.

Secondly, reform is being requested from within the Muslim community. Dr. H.M.Z. Farouque, a close family friend, who led the reforms in the 1970's, is a pious Muslim and scholar of law, who understood changes had to be made to the MMDA, 47 years ago. He says, "In 1970, I was part of the Muslim Law Research Committee comprising of a number of Muslim lawyers and an Alim, and we handed over our recommendations to then Home Affairs Minister to take action."

In 1990, the Dr. Shahabdeen Committee was set up to propose reforms. They submitted a report and again, the reforms did not materialize due to political inaction. The current reform committee was set up in 2009 and is led by Justice Saleem Marsoof, much before the GSP+ issue came about. The 30-year civil war and unstable politics in the country resulted in the reforms taking a back seat in political discussion until last year.

Most importantly, the reforms being asked for are within the rulings of the Quran and Sunna'h. Islamic marriage laws are practical, liberal and cover a range of relationships that even secular laws barely grasp. It does not force people to be with each other if they do not want to, and ensures everyone's sexual, emotional and economic needs. It also lets couples negotiate the terms of a marriage contract. Learning about it by looking at everyone's arguments has been very enlightening. I only wish the MMDA upheld these fair rulings.

In Islam there are several perspectives on an issue, and all must be explored to find the best solution. Sticking to only one school of thought may not provide all the solutions, which is why even other countries that have been traditionally Shafi or Hanafi are slowly seeing the wisdom in Ijma (scholarly consensus) and Ijtihad (reasoning).

The reforms ask for better training of Qazis (Judges) and a crackdown on corrupt Qazis.All Ceylon Jamiyyathul Ulema (ACJU) acknowledges that Qazis have been causing problems due to lack of knowledge and resources. Qazis are arbitrarily selected and now are usually lawyers or moulanas. As one lawyer and Shariah researcher said, "The problem lies in that the lawyers do not know the religion and the moulanas do not know Fiqh (jurisprudence)."

Qazis have also been caught taking bribes to delay or deliver fast divorces. There is a redressal system in place, but it needs to be more transparent so inept Qazis can be held responsible for their verdicts. Justice Saleem Marsoof has compiled a report called "The Qazi Court System in Sri Lanka and it's Impact on Women." According to the report, Qazi courts were created to help Muslim women seek justice easily as district courts took a long time and were more expensive. Quite often, Qazi courts were more liberal in their attitudes towards dispensing justice than district courts. However, even good systems need to be checked and administered properly or would be exploited. If the reforms don't go ahead, this system, which everyone agrees needs attention, may not get the proper support to be updated.

The biggest debate seems to be over the legal age of marriage. I understand age is a social construct. I know a number doesn't define maturity. However, our current social construct is defined by the education system, which has helped eradicate illiteracy, elevate poverty, and create opportunities for a stable life. Currently the minimum marriage is set at 12, and girls can be legally taken out of school and given in marriage without a thought given to their right to education. This is more common so that people realize and by asking for a higher minimum age, they are ensuring that girls can complete school education. Exceptions are being considered for pre-marital pregnancies, but poverty is not an excuse.

I know poor families who have ensured their daughters finished school/religious education (madrasa) till 18, and this has helped the family as a whole. And also helped them find a better groom for marriage. We live in an unpredictable world, and as citizens and parents, we must first ensure the safety and security of our children providing them with food, clothing, shelter and education.
What has been discovered, in the countless narratives of women I have interacted with is that in the event a woman who has married young (thereby unable to complete formal education) and is faced with divorce or widowhood, and comes from a disadvantaged situation, she automatically plunges into a state of poverty, and will have to support herself with low paid unskilled work. She may have to leave the country for migrant work, and if she has children, leave them to make a living.

This is the story of my own maid, who was an orphan from a poor family. Her family got her married at 15 to a man who turned out to be abusive and an alcoholic. She managed to leave her oppressive husband after having five children. She moved to Kuwait for work and her extended family lived off her money. When she came back, her children were scattered, and she died while in our care, with not a single relative attending her funeral.

Just because we come from privileged families or have connections, it is easy to turn a blind eye to the plight of others. I only urge you to think carefully and wisely, and read up about the problems in the community before making an opinion. Remember the Prophet (peace be upon him) stood up for the underprivileged and exploited, and questioned the traditions
of his time.

The Prophet (peace be upon him) consulted and respected the opinions of his female companions. The Qazi board should do the same. This is because when men monopolize decisions regarding women, they inadvertently fail to realize the impact their decisions can have on women's lives. In Shariah courts in Birmingham and Malaysia, a tribunal system is in place which includes women, who make a joint decision regarding an issue. Having a qualified woman to relay the case will preserve the honour of the female plaintiff and will make her feel comfortable in relating her side of the story, especially if there are intimate issues to be discussed.

I cannot stress the importance of a woman being able to sign the same document as her husband and listen to the marriage khutbah (sermon). This ensures all players in a marriage i.e groom, bride, wali and witnesses have their presence on the same document. All parties of the formally verbal contract are now represented in writing. Provisions have been made in other countries for Muslim women to sign the nikah (marriage) certificate in a segregated environment if desired. If you look at nikah certificates worldwide, it is astounding as to how comprehensive they are in upholding Islamic rulings unlike in Sri Lanka.

The people who are opposing reform are doing so because the issue has only recently come to their notice, so they assume it's some modern western conspiracy to damage the community. They also come from privileged and sheltered backgrounds so they are unaware of the plight of poor women and men in Qazi courts and the impact of a lost education on them. For those who have been following the reforms for the last 50 years know that the men and women behind them are Muslims that have the best interests of the community and want the reforms to be Shariah compliant.

Women are facing genuine social problems, families are being broken and children are not cared for. I visited an orphanage two weeks ago and many of the little girls had parents, who were both alive, but because of divorce and separation, no one was there to care for them, and they had been left at a home. Some say the solution is to marry them off young, but that brings with it another cycle of poverty and potential hazards as illustrated above. If we can be responsible about our own family members, shouldn't we extend the same opportunities to others?

Does it make sense then to ask that women give written consent like their husbands? That they finish school? That the Qazis system is improved? That men and women are taught to be responsible parents and spouses? That all wives are treated fairly? That reconciliation is sought before divorce?

Since Islam calls for its people to uphold justice, even if those in power forget, the common people have to come forward in the spirit of their faith. There are members in the community who are afraid, or ambivalent about the reforms. They think that other communities also have unfair laws related to women and children, but only the Muslims are getting all the attention. Even if they do, we do not need to wait for other communities to reform their laws to start on ours. Everyone has social problems, but we can be the precedent for fighting for injustice.

They are worried that the women asking for reforms are not in hijab, or the men do not have long enough beards. Or to question ulema is a crime. Or that Sri Lankan Muslim culture is not ready for this. The core of the Islamic spirit is to question injustice. For all the clothes we wear, charity we give, pilgrimages we go on and number of prayers we perform. How can we fail this basic Islamic tenet to stand up for social justice?

I want everyone to understand that this has been an ongoing debate for almost 50 years and it is time it needs to be dealt with responsibly. Instead of blindly looking at it as an issue that divides the community, let it be one that unites us. By making these changes we will be securing for our children a stable family life and
fair treatment.

"O you who have believed, let not a people ridicule [another] people; perhaps they may be better than them; nor let women ridicule [other] women; perhaps they may be better than them. And do not insult one another and do not call each other by [offensive] nicknames. Wretched is the name of disobedience after [one's] faith. And whoever does not repent - then it is those who are the wrongdoers." (Qu'ran, 49:11)

So Insha Allah let's work together for the best and most inclusive solution.
Ultimately we are all human and only Allah knows best.