---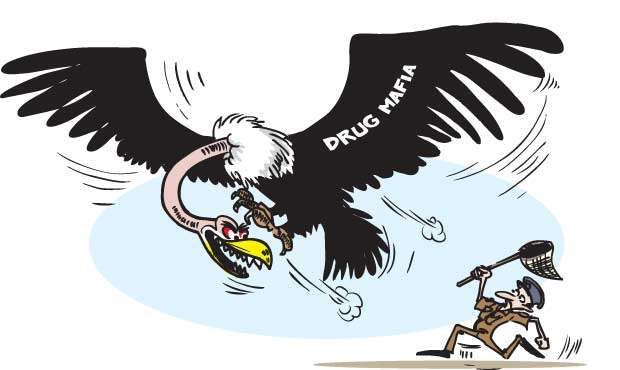 Sri Lanka is a country that's blessed four times over with the hallowed teachings and tenets of Buddhism, Christianity, Hinduism and Islam. But sadly though, these four major world religions have not had that much of an impact when it came to liberating this country from the clutches of narcotics.
There have been several awareness programmes and anti-narcotic marches organised by religious leaders while Narcotic Bureau officials assisted by Police, STF and Navy personnel continue to crack down hard on the smuggling, trafficking and distributing of narcotics such as Heroin, Marijuana, Cocaine, Ice and Ecstasy, but the use of these deadly drugs is seemingly spreading at an alarming rate making one wonder whether enough is being done to eliminate this menace.
The following is a cross section of recent drug detections culled from media reports: Up to July 27 this year, 48,129 suspects, including 22 foreigners from India, Pakistan, Nepal, Maldives, Bolivia, and Germany were arrested and 173 kilograms of heroin and 2,975 kilograms of cannabis seized;two suspects were arrested on December 12 and 231 kilograms of heroin worth Rs.2,778 billion seized on the seas off Beruwala;two Bangladeshis were arrested on December 31 and 200 kilograms of heroin and five kilograms of cocaine worth more than Rs.3 billion seized and on the same day 988 Ecstasy pills worth more than Rs.3.5 million meant for party goers on New Year's Eve seized.
On January 22this year, five suspects among whom were two Americans, an Afghan and two Sri Lankans were arrested and 95 kilograms of heroin worth more than Rs.1,141 million seized at Kollupitiya; on January 31, an Iranian woman was arrested at the BIA while attempting to smuggle some 400 grams of a narcotic known as 'KUSH' into the country while two suspects transporting 41.530 kilograms of Kerala Ganja were arrested in Jaffna and on February 2, six suspects were arrested in Mirigama and Veyangoda and 14 mobile phones and 402 grams of heroin worth more than Rs.5 million seized.
The foregoing clearly indicates the gravity of the situation Sri Lanka is faced with and that a concerted effort needs to be made to eliminate this menace from spreading its tentacles and ensnaring the vulnerable.
In such a scenario, an important question that needs to be asked is what happens to the narcotics which are regularly seized by law enforcement agencies? Is it necessary to await the conclusion of court cases to destroy the drugs? We have rarely if at all seen reports of the drugs seized being publicly destroyed after a proper and efficient system of accounting and auditing so as to prevent them seeping back into circulation proving true the proverbial, 'many a slip 'twixt the cup and the lip' and nullifying all the hard work done by our valiant drug busters.
There is no doubt that the spread of narcotics is gathering momentum in Sri Lanka and is not too far-fetched to assume that while on the one hand,a large quantity of narcotics entering and circulating in the country are detected and seized, on the other hand there may be similar quantities reaching the addicts, who are craving for a few moments of escape and in the process ruining themselves.
It must have been with the intention of underscoring the need for increased vigilance at all entry points that Aviation Minister Arjuna Ranatunga last week obtained Cabinet approval to import 20 specially trained sniffer dogs at a cost of Rs.46 million to be deployed at the Airport to thwart narcotics being smuggled into the country.
It also goes without saying that we also need an elite unit of committed personnel, well trained in anti-narcotic operations to gather drug-related information from all available sources and neutralise and deactivate the drug cartels and their remote-controllers,who are directly or indirectly linked to bribery, corruption and money laundering.
Meanwhile,let us also point out that no worthwhile purpose will be served by killing narcotic distributors and addicts while the kingpins remain ensconced beyond the long arm of the law and roaming around disfiguring and despoiling our beloved country.
Spewing out empty rhetoric will not get us anywhere, what we need and need right now is action and uncompromising action at that. There is no time to waste.