---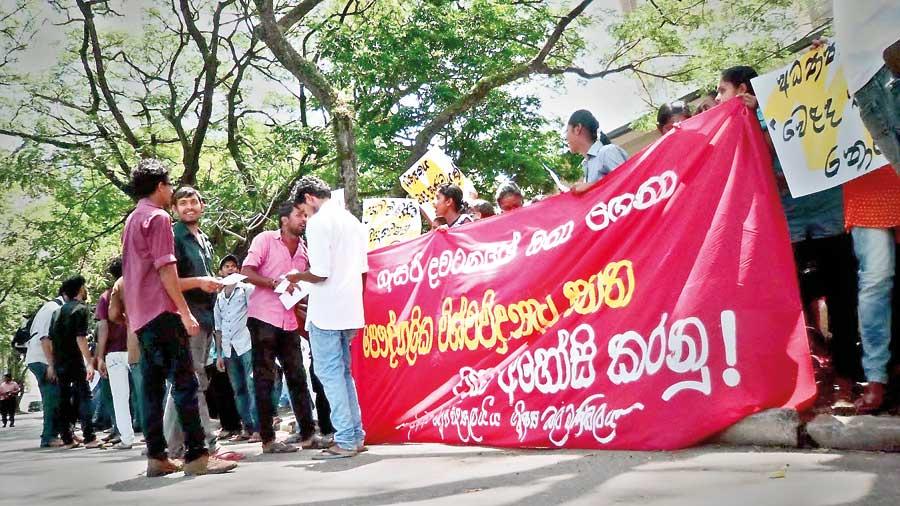 While the upcoming presidential poll has left major and minor political parties in a dilemma in deciding their "winnable" candidate, the "price" of most tiny registered political parties have soared to some Rs. 5 million said one political party activist, explaining there were several individuals searching for a political party to contest from.
The presidential election leaves no room for an independent candidate unless an ex-MP. This shows how bankrupt mainstream political parties are.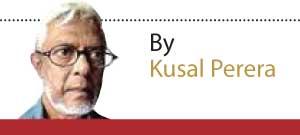 They cannot provide people with a development programme worth a vote at elections. The whole political system has gone insane and derailed.
That compels different individuals and groups to come up with their slogans and proposals. The little hype they seem to gain, especially on social media, would die off; post-elections and the little alternate chapter will be over.
Within this shivering election fever, vital issues have lost their due shelf space and visibility – lost within promises from aspiring candidates and in society submerged in the election tide. One is that of the workforce both formal and informal that has narratives read out by experts for policymakers where workers have no voice.
"As soon as Maheel Bandara resigned from the post of IUSF Convener, another undergrad, Bhikkhu Rathkarauwe Jinarathana Thera filled the vacancy. The question is, who appointed the Bhikkhu, as convener?"

It is a crisis with a draft Single Labour Law done with USAID assistance being touted for by employers. No aspiring presidential candidate pays attention to labour rights and industrial relations.
Another is the crisis in education with universities in focus without even the academics interested in looking for serious answers.
Allegations of ragging by political perverts were at times blamed on the authorities for lack of preventive measures.
Academics are also blamed for avoiding the issue. There are allegations of JVP/FSP complicity through the Inter-University Student Federation (IUSF) where brutal ragging had taken place in residences outside universities and by the youth who are not undergrads.
Now, there is a conflict in the IUSF and allegations of a political clan controlling every decision of the IUSF.
An accusation against the Frontline Socialist Party (FSP) though not often named. Maheel Bandara Dehideniya, the IUSF Convener till the first week of September, left the federation challenging virtually the whole structure and its agitational approach.

Deconstruction of the IUSF and its politics by this Peradeniya undergrad allow for serious discussion on university education and the role of student movements within universities.
By default, it also drags into discourse the academics who in general avoid serious discussions on education and the future of this country. The discourse on education, especially on universities and the role of students and academics, need attention while presidential election campaigns are getting more into their organised form.
As soon as Maheel Bandara resigned from the post of IUSF Convener, another undergrad, Bhikkhu Rathkarauwe Jinarathana Thera filled the vacancy. The question is, who appointed the Bhikkhu, as convener? Along with its history, it was the JVP and then the FSP that decided on the IUSF Convener.
In all probability, it is the FSP that Maheel Bandara accuses of taking decisions on behalf of IUSF that appointed Jinarathana Thera as convener. There is no democratic tradition in the IUSF where students convene to elect their leadership.

This young undergrad seems to raise fundamental issues on university education and the freedom universities should have in opening up to the world of new information, knowledge and debates with student participation. In a video clip available on YouTube, he was very clear he despised ragging and that needs to stop, a position the JVP and the FSP do not favour.
For the JVP that once controlled the IUSF, and for the FSP now, ragging is one form of recruiting cadres; one crude and brutal way of taking control of IUSF.
Their competition for organisational dominance in IUSF perhaps leads to more and more violent forms of ragging. There was ragging in universities from the early times university education began in Sri Lanka.
Then it was fun enjoyed and remembered by the raggers and the ragged. Then it was not in any way used as a tool for political dominance. The LSSP had its Ceylon Students' Federation in Universities and so did the CP with its Lanka Jathika Shishya Sangamaya.
Later, the SLFP organised its own student front and the UNP began its student association much later.
A positive feature in all these developments was that they vied by standing for student rights and demands on improving facilities in universities. Their politics was discussed in fora open to all academics and students.
"Within this shivering election fever, vital issues have lost their due shelf space and visibility"


There was also a rapport between most academics and students in those old days. This tradition continued until the decade of '70 was over.
This seemingly-healthy and democratic life in universities came to be overturned after the JVP entered open politics and began organising university students in early '80s. Thereafter, for the JVP, proscribed in 1983 and going underground, it needed to take control of universities to recruit young cadres for its front organisations and to launch numerous agitations in challenging the government.
It introduced a rough and strong-arm approach in suppressing other student unions to form its inter-university student federation. This was strongly opposed by a group of Colombo University students led by Daya Pathirana that came to be identified as the Independent Students Union (ISU). Pathirana was a charismatic student leader and a serious threat to JVP in the ColomboUniversityand also because his ISU entered other universities like Kelaniya and Peradeniya.
When universities began after a long closure disrupted by JVP-led protests and violence, all other political parties had left university students at the mercy of pro-JVP activists. Regrouping and controlling of IUSF was thus no difficult task for the JVP that came out into open politics once again.

Breaking away from the JVP, FSP continues with that same crude tradition of overpowering opposition.
In this context of degraded and heavily-polluted student politics now controlled by FSP, Maheel Bandara says, university student unions should not be allowed to go under any political party. He stands for open politics with different positions allowed free debate within universities. "One political clan should not be allowed to dominate student politics."
"University should be a place where universal knowledge is available for students to freely engage in. It should be a place for research and a platform where professionals and academics from other universities and countries can share their knowledge and experience," he says in his resignation.
In a scathing attack on how the FSP block such broad participation in universities through its control over IUSF, Maheel Bandara goes on to say: "Universities should be turned into vibrant intellectual hubs that reach out to the future, not stick to debates about the '80s and the past."
"Entire political system has gone insane and derailed"

Although confused about what "free education" is and what SAITM issue was all about, though confused over the responsibility of the Sri Lanka Medical Council (SLMC) and how it played along with the GMOA leadership in ruining itself and its credibility, ex-Convener of IUSF Maheel Bandara has a valid critique about university education and student politics in universities.
With his departure, IUSF and FSP will get back to their dictates on students. But the issue of opening up universities for diverse thinking that Maheel Bandara has tabled is one the academics and FUTA can and should seriously take up. As a beginning, FUTA should takeover Maheel Bandara's proposal to have all presidential candidates present their proposals for education. It is their academic and social responsibility FUTA should not dodge from. But will they stand taller than the Peradeniya undergrad?