---

The government appears to be indulging in some revolutionary new thinking which is heartening; it is indeed time we took stock of our important state institutions such as the Foreign Affairs Ministry which was established sixty years ago and see whether they should be restructured to meet the challenges we face in the world of today. The Ministry of Foreign Affairs must be restructured to further strengthen our foreign relations and to advance its role to promote not only our security but also our economic development. Today economic and commercial diplomacy has become most important and we would need to have a professional service to achieve our goals. This government appears to be taking Singapore as an example to establish an administrative structure on the lines of its Foreign Affairs Ministry.
I hope it meets our needs and secures our national interests. According to Deputy Foreign Minister Harsha de Silva, the Government has directed Sri Lankan diplomats in foreign missions, to focus their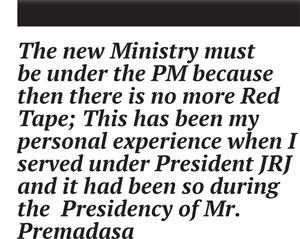 efforts, energies and resources to improving the country's commercial interests worldwide; that certainly is the need of the hour. Singapore has 50 overseas missions including seven High Commissions, twenty one Missions/ Embassies,(quite a few heads of Mission based in Singapore itself), two Permanent Missions to the United Nations and seventeen Consulates. Singapore has appointed 31 Honorary Consul-Generals abroad; Sri Lanka has 40 overseas missions including 13 High Commissions in Commonwealth countries and Embassies in 27 countries, two Permanent Representations to the United Nations, 14 consulates and representative offices. which provide consular assistance to Sri Lankans travelling, working and studying overseas. Malaysia where I last served, had a network of 155 Missions; incidentally one of their most distinguished Malaysian Diplomats was Sri Lankan born Asoka Kumaraseri, who after retirement headed their prestigious Diplomatic Training Institute. He has written quite a few books including the Classic "Professional Diplomacy and Foreign Affairs Management", the Introduction to which was written by no less a person than former Malaysian Prime Minister Dr. Mahathir Mohamed. We should consider inviting Dato Kumaraseri to help us with our restructuring.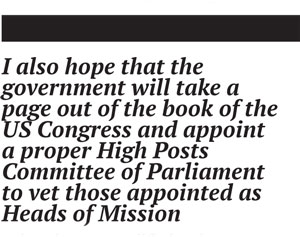 A new strategic direction needs to be laid out for the country's Foreign Service and the Ministry through "economic diplomacy". It must be designed to put Trade, Commerce and Investment Promotion including Tourism Promotion at the helm of foreign policy along with our country's security of course. The aim must be to improve the country's image and reverse the declining trade and investment performance, which is the key to the future prosperity of the people. Sri Lanka will be using economic diplomacy to expand exports, bring in investments, boost growth and take local firms abroad. I have on three occasions written to the government requesting that it establishes a new Ministry directly under the Prime Minister to achieve our goal. The Prime Minister controls many key Ministries including Policy Planning, Economic Affairs and Finance and International Trade and Investment Promotion, Law and Order and virtually controls Foreign Affairs and most important of all National Development. Yes, a new Ministry MUST be established under the Prime Minister himself since the government has placed economic development as its main platform, we need to seek the support of the world to achieve this objective.
The government must now work out a plan using the best multi disciplinary talent available in the country and perhaps even invite Lankans living abroad to help to work out a strategy; we must also establish the machinery to achieve these goals and also have a Committee such as the one envisaged with Charitha Ratwatte to oversee the implementation of the government's decisions. The new Ministry must be under the PM because then there is no more Red Tape; This has been my personal experience when I served under President JRJ and it had been so during the Presidency of Mr. Premadasa, (Mr. Paskeralingam would testify to that). As stated earlier, considering the fact that this new government is giving the highest priority to Economic Development and has made it its principal goal, it should establish the mechanism to achieve that goal.
Considering the fact that 'Economic Development' encompasses many different areas of governance, the need for proper coordination becomes vital; and the importance of foreign relations for the achievement of the national goal becomes obvious. The PM should therefore make his Ministry, 'the coordinating ministry' and also bring the restructured Foreign Affairs under his wing and designate the present Minister as "Senior Minister of Foreign Affairs'. Yes, the present Minister should be elevated to the rank of 'Senior Minister of Foreign Relations' and be required to supervise the implantation of this most important national project and work with Charitha Ratwatte and the new Global Affairs Committee.
My mind goes back to the time I was the principal Secretary of the first Board of Investment, working under President JR Jayawardene, the word 'NO' was unknown when a request was made to any government department or institution from our 'One Stop Shop', the GCEC; that was how we attracted foreign investment and created more than 3,400 jobs in three years; it is because of this experience that I advocate the placement of the Ministry and the new Committee under the PM; untill 1978 'Foreign Affairs' was under the 'Ministry of Defence and Foreign Affairs', when governments considered the combination of 'Defence and Foreign Affairs' as being vital in our national interest. Another very important matter in the conduct of international relations is the perception of the foreign country as to who has the final say on any issue which affects their interests; it is therefore in our interest to perch the new "Ministry of Economic Development and Foreign Affairs" under the Prime Minister himself and enshrine Meritocracy; and recruit staff of proved competence. In this regards I do hope that this government will not appoint friends and relations, unlike the previous government, unless they are qualified and competent to represent our country to take us forward.
I also hope that the government will take a page out of the book of the US Congress and appoint a proper High Posts Committee of Parliament to vet those appointed as Heads of Mission. There is also the need to expand and professionalize the Foreign Service and to also protect it through an Act of Parliament. I prepared a draft of an Act after much research, (during Chandrika's Presidency), as many countries have such legislation, but could not have it 'pushed' through Parliament as there were objections from 'aspirants' who would not have been able to go abroad to our Missions as they were not a part of the professional service. I was given to understand that Minister Mangala Samaraweera has recently revived this initiative to establish a Professional Service. I wish him luck. We hope that with the dawn of a new era, we will see real change in our country, this government has the capacity to effect that change in this new globalized world.