---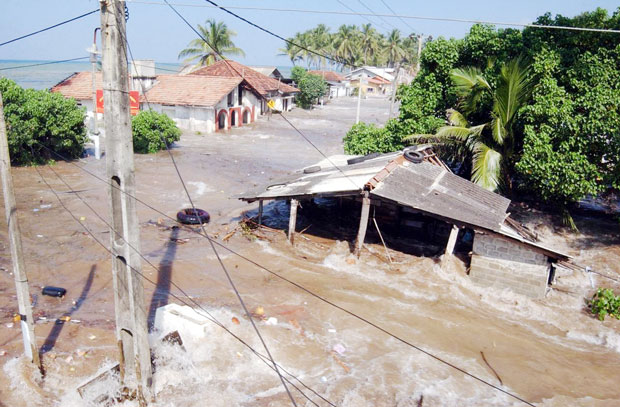 I am writing this article because December 26th brings great grief to me. This is because of the deaths of several thousands of innocent people caused by the tsunami, which happened 13 years ago. I managed to escape that devastation and tell my story.

On the 26 of December 2004, I being an ex-employee of an institution, joined its employees to go to Galle to attend the funeral of the father of a colleague. As the bus that had been organised for the journey did not turn up an A/C bus was hired from Pettah. We left Fort around 9.30 a.m. As we had to pick up two of our friends from Panadura, we stopped there. While one of the friends was boarding the bus, an outsider, carrying bags in the hand, tried to enter the bus.

Our conductor said that ours was a 'special bus'. But he pleased saying that his house had been destroyed by the sea water and that the fate of his family was unknown. Nobody gave much attention to what he said and the bus resumed its journey. A few yards away we had to again stop the bus to pick another friend who was late and the same person rushed to our bus and stated the same story. This time very innocently he pleaded to be allowed in. His request was turned down again and the bus moved on.
When we were closer to Waskaduwa the bus radio was turned on and then we heard that Galle road was submerged by sea water

Having travelled a long distant, we saw some people gathered on a bridge and I said jokingly that someone had jumped into a river and committed suicide. Then we came across another bridge and there too people were looking at something. I then said that since the boy had committed suicide the girl too had attempted to end her life in that river. My latter remark generated a lot of laughter.

After we covered more distance, we saw some people running here and there and we thought that some people were still enjoying and celebrating Christmas. When we were closer to Waskaduwa the bus radio was turned on and then we heard that Galle road was submerged by sea water. As a result traffic was being diverted. A few minutes later an announcement was made that about 30 navy personnel were drowned in Galle. It was only then that we took the matter seriously. We were not allowed to proceed from Waskaduwa. Though a few among us wanted to proceed through to Mathugama the others discouraged us.

In the meantime, our families had tried in vain to contact us on our mobile phones and we too could not contact them.

It was on the following day that we learned of the complete devastation that had taken place by what was known as the 'tsunami'. The cancellation of the bus had saved us from the tsunami and even now when we think of that person who frantically tried to board our bus we feel very, very sorry for we did not know at all what had been happening on the coastal belt of the south. Still, the pathetic scenes of him flash before my eyes when the subject of tsunami is mentioned.

Oh, you tsunami, the greatest enemy of the world!
156/40/A, Mahavidyala Mw,
Colombo.13.
NAZLY CASSIM