---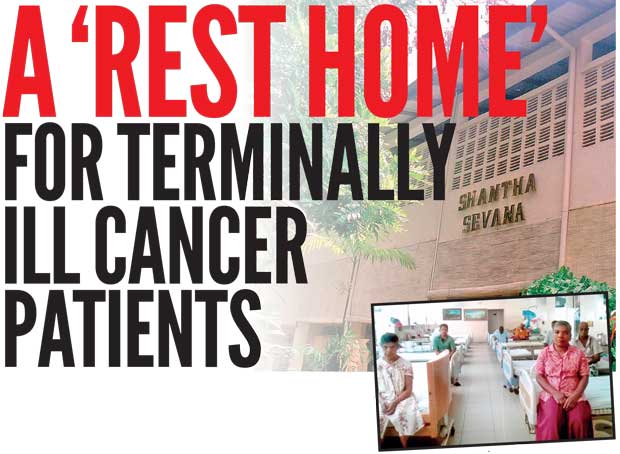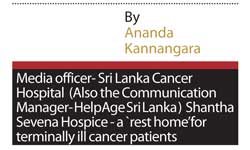 The greatest ever English poet and playwright William Shakespeare has mentioned in a play that it is the paramount duty of all human beings to give a patient hearing to sick people as many of us do not focus any attention towards them.

This quote reminds us of the invaluable service rendered by one of our own institutions` Shantha Sevena Hospice' at Maharagama. It is located near the Cancer Hospital (now called Apeksha Hospital).

A Hospice is a place where terminally ill cancer patients could live happily during their twilight days.
Even the `International Hospice and Palliative Care Day' which falls on October 8 is celebrated by cancer patients worldwide.

According to World Health Organization (WHO) reports millions of people Top of Form
Bottom of Form worldwide suffer from cancer and other chronic life-limiting conditions. The 'International Hospice and Palliative Care Day' is conducted to create an awareness about these cancer patients to give a message that we have not forgotten them.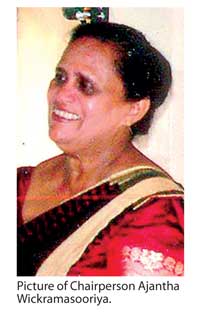 When we read Newspapers or watch television news, our eyes always focus towards the pathetic stories of people who undergo hardships, meet with accidents or other similar incidents.

A recent news telecast highlighted a pathetic living condition of a middle-aged person by the name of Sumanasiri Talwatta who was confined to a bed due to prolonged cancer for nearly three months.
His health condition became worst and even family members were helpless as they were not in a a sound financial background to help him. Ultimately they found the place `Shantha Sevena Hospice' for him to live forever.

Shantha Sevena Hospice was established in 1996 and maintained by the Sri Lanka Cancer Society under the guidance of Sohli Captain, the founder of the Hospice and his sister Perin Captain. This was declared open by the then Prime Minister Sirimavo Bandaranaike.

The hospice offers free palliative care to terminally ill cancer patients. It takes pride in providing care to the patients while easing the emotional and financial strain placed upon their loved ones.

The peaceful environment at Shantha Sevena Hospice coupled with professional care, pain alleviation expertise, love, compassion and emotional support, the staff members are renowned for ensures that the patients are kept as comfortable as possible.

Shantha Sevena Hospice has both male and female wards with 34 beds each and in addition it has two private air-conditioned rooms. All meals served are nutritious and the services and facilities are entirely free of charge. Admissions of patients are also free of charge. Any medical specialist can refer a terminally ill cancer patient to Shantha Sevena by calling 0112840312.

The Hospice has a staff of 30 including two doctors, a sister in-charge, eight nurses, 12 aides and four cooks. The Hospice also had voluntary services of trained counsellors and physiotherapists. Shantha Sevena always encourages the interaction between the patients and their family.

Speaking to `Daily Mirror' Shantha Sevena Hospice, Chairperson Ajantha Wickramasooriya said the hospice has 34 beds and many patients are at an advanced stage of the disease. The staff is making a sacrifice to give them the maximum protection and the comfort.

According to Shantha Sevena authorities the International Hospice and Palliative Care Day is on October 8. The day is celebrated by Shantha Sevena Hospice on October 13. This year too the Hospice in collaboration with the Sri Lanka Cancer Society has organized many events to celebrate the date.

The Chariperson said the Hospice was an important Medicare benefit that provided palliative care for patients with serious illnesses. Palliative medicine is a medical sub-speciality provided by doctors who offer palliative care for people who are seriously ill. Palliative care relieves suffering and improves quality of life for people of any age and at any stage in a serious illness, whether that illness is curable, chronic or life-threatening. Hospice care and palliative care are very similar when it comes to the most important issue of dying . We know terminally ill patients may have only a few months to live.

Both palliative care and hospice care provide comfort, but palliative care can begin at diagnosis and at the same time as treatment.