---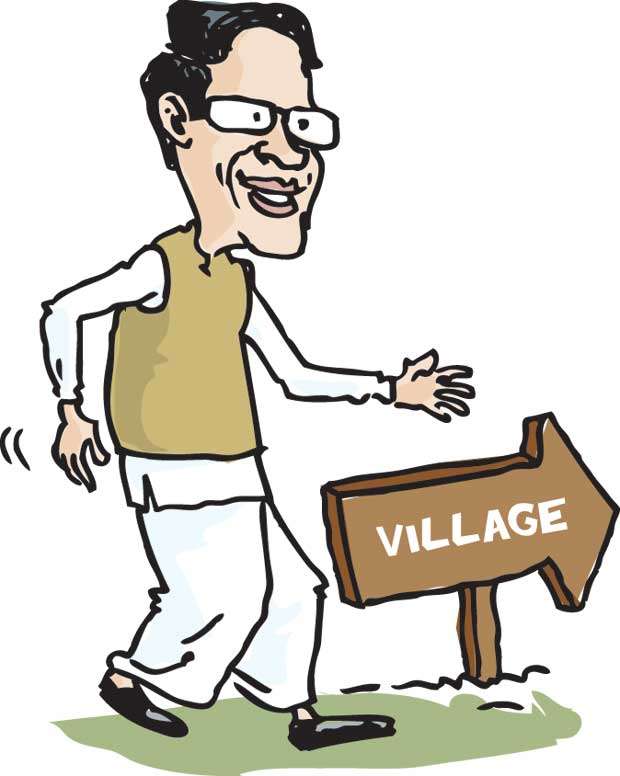 he efforts taken by President Maithripala Sirisena to take development to the villages reminds us of the time of the Late President Ranasinghe Premadasa. President Sirisena was quoted in in newspapers recently saying that people are happy with the development programmes carried out in the hamlets.
His latest efforts in this type of endeavour was the building of a hostel for the priests at Hingurakdamana Kashyapa Pirivena under the 'Pibidemu Polonnaruwa Programme'.
Sirisena is from Pollonaruwa and it's natural that he has a soft corner for this village. But with this type of programme he also kills two birds with one stone. In terms of obtaining millage for his efforts this programme takes the message to other villages that this country has a president whose vision in politics includes the villager.
When Colombo complains that this Yahapalana Government has done little for its citizens, this is the president's way of telling his detractors that he knows where his priorities are. For the record as many as 180 development projects have been scheduled under the 'Pibidemu
Polonnaruwa Programme'.

What's important in this development drive is that the present Government expects cooperation and advice for it from intellectuals, something that the Rajapaksa regime didn't do or never fancied. It's this attitude of the president wanting to keep the ends warm with the Colombo business community that gives hope that all are included in his plans in the country's journey till 2020.
State Minister of Finance Eran Wickremaratne has said that most of the people who flock to the Finance Ministry are businessmen, hence their businesses need to be protected. This is an assurance that the private sector needs, especially when goods and services are heavily taxed. Wickremaratne was quoted in an interview with the Daily Mirror recently saying that the tax which people pay is 14%.

The president saying that people in the hamlets are happy has a catch. Happiness is one key indicator of how people are treated by their regime. This statement also conveys the message that happiness can't be acquired through money. When the president declared open the Moragahkanda Reservoir in July this year he said that it was the happiest day of his life. Happiness is a vital key and supersedes all pleasures in life. When a politician brings this word to the minds of the people it tends to be a much talked about topic. Now we have to ask ourselves whether we are happy with the manner in which we have been ruled by this Government?
We have some sort of democracy now. Citizens are enjoying to the maximum one of the main characteristic of democracy which is civil liberties, under which comes the freedom of expression and speech. All this freedom however doesn't mean much if people can't afford three square healthy meals a day!

President Sirisena is a simple man; talks simple and dresses simple. He even declared his salary recently which amazingly is below six figures. And he also knows quite well that Colombo's vociferous public has been grumbling about the cost of living shooting up to unbearable heights. However, Government allies still point out that fuel prices have not reached the figures which were present during the Rajapaksa regime.

Sirisena knows how to defuse a 'fire'. People were boiling with anger just a few days ago when they came to know that the perks of ministers were to be raised by over 200%. But he calmed an agitating nation by declaring his salary and also by promising not to increase the salaries of government ministers by even five cents.
Despite the present uncertainty that prevails over the Unity Government, Sirisena remembers to smile when he is under the spotlight. It's a smile that for a moment reminds us of a choice that people can in the future make between having a president who loves peace or one who loves power.