---
''Hard to find is the thoroughbred man - he is not born everywhere Where such a wise man is born - that clan thrives happily''
- Dhammapada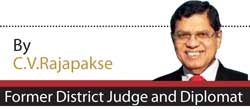 A fearless man, who never feared anybody or anything, always stood by the correct thing and above all, he had a human heart. He was so courageous that he was ready to fight and to fight, even when hope is out of site.

As a politician, he never wanted to retire he said, and wanted to live his life, forgetting his age and never to retire from living. Above all, he enjoyed living like a humble villager and enjoyed being himself. Simplicity and patience, we have observed to a very great extent in his life. Those qualities were his greatest treasures.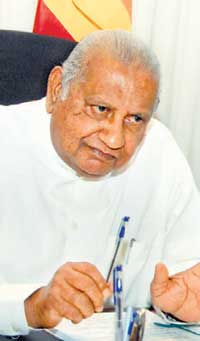 His achievements were born of great sacrifice. He had good faith, and positive thinking, confidence in himself, and devotion to hard work. These excellent qualities, enabled him to do a remarkably great service to the nation and to the Sri Lanka Freedom Party(SLFP) as its' General Secretary over the years. One of his biggest contributions to the country was during the last few years of the separatist war – mainly from 2006 to 2009, when he was the Premier. He never knew about fear and he was so brave and fearless. His brave speeches helped to boost the morale of our armed forces on the one hand, and helped the campaign to attract urgently needed new recruits to our armed forces on the other.

He was never a racist, but a Sinhala Buddhist at heart and always respected all religions and ethnic groups without any difference. We have never seen any occasion, where he has shown, any difference under whatever the circumstances - all were Sri Lankans for him.

After passing out as a young lawyer, at the party reforms, I was selected as the SLFP organizer for Balapitiya in 1979. Since then, I became fairly close to this gentleman, who was our General Secretary of the party. We continued our friendship for nearly 40 years.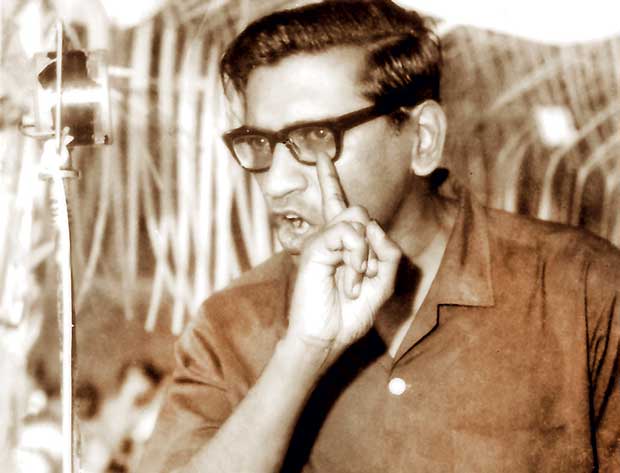 In the early eighties, at least once a week, we used to meet and discuss political matters at Mr. Rathna Deshapriya Senanayake's residence at Castle Street, Borella.All sorts of arguments regarding various subjects were taken up, with their deep knowledge on men and matters, where we were lucky to enrich our political knowledge with Mr. Wickramanayake's great contributions, especially to me as I was the youngest in that circle. Again, around 1995 when I was the District Judge of Hambantota, early one morning, he rang me to say that he was coming there for a public function, but will not visit me, even for a cup of tea. To that extent, he was conscious and concerned about the members of the judiciary.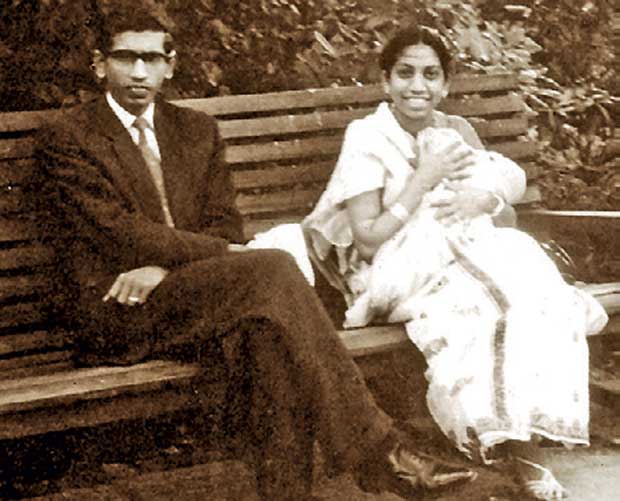 Young Ratnasiri Wickremanayake with his wife

He was a humble and genuine gentleman, with noble qualities. Money was never his God. He cared very little for money and during election times, he sold a few acres of his ancestral land to do the campaign. But never uttered a word about his loss. He had boundless enthusiasm, and worked with resolution.He had been a man who had honour, and one who would not lie. A man that the spoils of his office could not buy, as he had a strong mind and a great heart. He believed, in persistence and determination as the most important factors.

He appeared rough and ruthless and a vociferous speaker, who was inspiring for the supporters, but gentle, gracious, kind and humane, and where his conduct is concerned, he was most dignified and eminent without pomp, but a very vibrant person who always was prompt.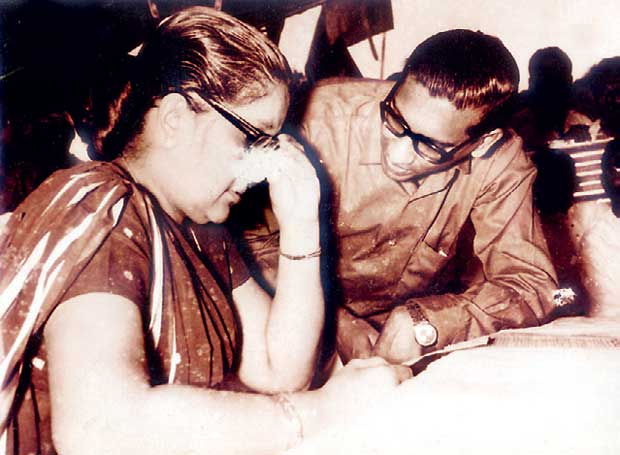 Young Ratnasiri Wickremanayake with former Prime Minister Sirimavo Bandaranaike

He told me that he was not going to Parliament, with pleasure. He was the Prime Minister then. He said, 'just see the people there, in Parliament, compared to people like N.M, Colvin, Keuneman, Philip, Dudley & JR etc.'

All his good qualities and trustworthiness, helped him to be the Prime Minister with President Chandrika and also equally, with President Mahinda. Finally, he was selected as the Senior Advisor to President Maithripala Sirisena.

''DullabhoPurisajanno – na so sabbaththajayati Yattha so jayathidhiro – tam kulamsukhamedhati''
- Dhammapada