---
This collection of essays and articles, written and mostly published previously covering various issues of the Constitution-making process in Sri Lanka, focuses on ethnic reconciliation and democratisation of the political system.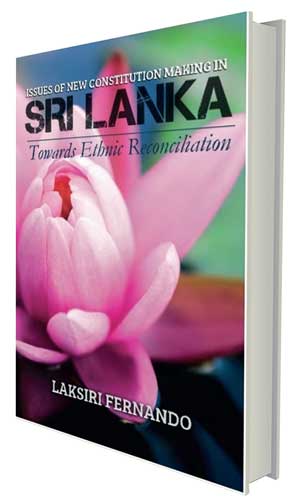 The submissions made to the Public Representation Committee (PRC) on Constitutional Reform in Part II are however completely new. The timing of this publication is the ongoing efforts in Parliament in consultation with the public and various stakeholders in drafting a new Constitution and adopting it in Parliament subsequently endorsed by a referendum, according to the provisions of the present Constitution.

This 206-page book is a CreateSpace publication (Charleston, Southern Carolina, USA) of an Amazon company with necessary empirical data and tables. The publication emphasises the need for a new Constitution, reforming many of the institutional and legal anomalies of the present constitutional system, and creating a balance between divergent political views in order that a workable 'Constitutional equilibrium' is created for a foreseeable future.

The book is composed in three parts. Part I covers the 'general concerns on constitutional issues' ranging from 'why do we need a new Constitution' to 'questions and answers on devolution' and 'a suitable electoral system.'

Part II consists of proposals made by the author to the PRC on Constitutional Reform running into twenty topics and a draft chapter on 'fundamental human rights and freedoms' and a proposed chapter on the 'local government system.'

Part III places the process of the new Constitution-making within a broader political perspective, analysing the 'democratic political change in 2015' and emphasising the importance of 'ethnic reconciliation' among other topics. The 'building of inter-ethnic social capital for reconciliation' is much emphasised. The selected bibliography at the end gives wide-ranging theoretical and empirical studies relevant to the subject of new Constitution-making process in Sri Lanka.

It should be mentioned that while some of the chapters are of popular/educational nature, the others are more of academic disposition. The substance in all of them, however, is based on independent research or observations without any partisan bias or personal/group interest. The book is available in Sri Lanka at a subsidised price (Rs. 1,500) at the Lake House Bookshop in Colombo. However, those who can afford the sales price (US$ 15) are requested to order direct from CreateSpace via the following link: https://www.createspace.com/6645051

ABOUT THE AUTHOR
Laksiri Fernando (BA, Ceylon; MA, New Brunswick; and Ph. D, Sydney) is a published author with a long-standing experience locally and internationally. He has held the positions of Senior Professor in Political Science and Public Policy, Colombo University; Dean of the Faculty of Graduate Studies (FGS), Colombo University; Director of the Centre for the Study of Human Rights (CSHR), Colombo University; Chairperson and Director, Sri Lanka National Centre for Advanced Studies (NCAS); Director of the Sri Lanka Foundation Institute (SLFI); Secretary for Asia/Pacific of the World University Service (WUS Geneva); and Executive Director, Diplomacy Training Program (DTP), University of New South Wales, Australia, among others.

He is mainly a product of the Peradeniya University who served as the Lecturer in-charge of Political Science at the then Dumbara Campus, after also serving at the Sri Jayewardenepura University. He has been a Japan Foundation Scholar and served as Visiting Scholar/Professor at the University of New South Wales, Australia; University of Heidelberg, Germany; Ryukoku University, Japan; and the University of Sydney, Australia.

He has published many scholarly reviewed articles in journals, nationally and internationally. He now lives in Sydney, Australia, on retirement. He contributes regularly to local and foreign printed and electronic newspapers and journals that include the Sri Lanka Guardian, The Island newspaper and the Colombo Telegraph.

OTHER BOOKS BY THE AUTHOR
Thomas Moore's Socialist Utopia and Ceylon (Sri Lanka); Sri Lanka: Challenges of a Society in Transition (Edited); Sri Lanka's Ethnic Conflict in the Global Context (Edited); Political Science Approach to Human Rights; A New Electoral System for Sri Lanka (Edited); Police-Civil Relations for Good Governance; Human Rights, Politics and States: Burma, Cambodia and Sri Lanka; Academic Freedom 1990: A Human Rights Report (Edited); and Jathika Viyaparaya, Viyawastha Wardanaya and Vamansika Viyaparaye Upatha.
Publisher: CreateSpcae, USA (Amazon)
Date of Publication: 16 October 2016
ISBN/EAN13: 1539546799/9781539546795
Pages: 206
Category: Political Science
Price: US$ 15; SLR. 1,500