---
Within a few months Cogent became immensely popular in Sri Lanka; not only the lay diabetics, but medical consultants rushed for it within a short period. The first consignment was sold like 'hot cakes'
If there was one COVID infected patient present at the Hettipola queue, hundreds including Army personnel would have got contaminated creating a worse pandemic— Call it Hettipola cluster or 'Kali pokura?'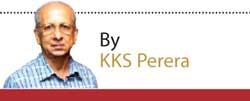 Three health ministers, both Allopathic and Indigenous [a professor of pharmacology & two lawyers] apparently encourage the producer and the anxious Public, while the newly appointed Covid Minister had warned users. While the officials led by Dr Sudath Samaraweera, Chief Epidemiologist are doing their utmost with dedication to stop the spread of virus, thousands of people, including police and army personnel queued up ignoring guidelines, for free samples of a preparation produced by one Dhammika Bandara claiming a cure and offer immunity to the Corona virus. The concoction had been processed based on a recipe granted by Goddess Kali [Kali Maniyo]!
If there was one Covid infected patient present at the Hettipola queue, hundreds including Army would have got contaminated creating a worst epidemic— Call it Hettipola cluster or 'Kali pokura?'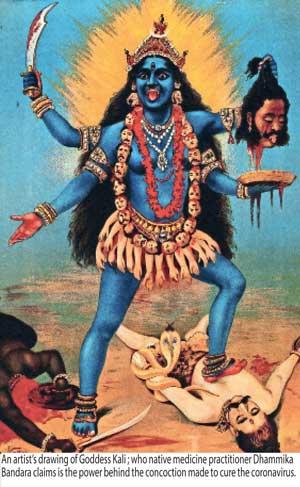 It is not only the busy health authorities, but an expert committee that is currently wasting their precious time and energy looking into the efficacy of concoction blessed by Kaliamma. Sisira Jayakody, State Minister for Indigenous Medicine says, that the clinical trials done at Wathupitiwala hospital has "proved" its efficacy as Covid patients were cured after receiving this mixture. It has been established that the virus lasted in the system of an affected only for a few days.

In Hindu religious literature, Kali is the goddess of time, death, and doomsday and is associated with violence and sexuality. Kali, a symbol of wholeness and healing, is an incarnation of Parvati, the wife of the great Hindu god Shiva. Represented in art as a fearful figure with a necklace of human heads, lolling tongue, skirt of arms, and brandishing a knife dripping with blood, she destroys the evil in order to protect the innocent. The stuck-out tongue of Kali inspired 'The Rolling Stones' in 1971 to create their tongue and lips logo. Did the popular Indian art Kali, black in colour, eyes red with intoxication and in absolute rage made quite a few of our politicians to have faith in the Concoction?

Plight of Cogent; Writer's own Experience--the 'Wonder' Diabetic Cure

Twenty years ago, the writer served in the pharmaceutical field. We introduced the Indian herbal dietary supplement called COGENT db+ , "a 100% cure for diabetes". Let me relate a good example of the Placebo effect, or the idea that brain can persuade the body a fake treatment as genuine. It stimulates healing and has been around for millennia. They have found that under the correct circumstances, a placebo can be as effective as conventional treatments.

The principals claimed that each tablet contained Azadirachta indica, Trigonella foenum graecum, Curcuma longa, Phyllanthus emblica, in a medical system which dates back to 5,000 years. The formula said to be in use for the prevention and control of type 2 diabetes mellitus was made up with herbs purported to have been wonderful over time and hound a solution to all the complications ascribed to diabetes mellitus. The ingredient Phyllanthus emblica is rich in vitamin C, and was considered best cardiac, neurohormonal. It has gained acceptance that it supports the blood vessels, improving the smooth circulation and condition of impulses. The mystery recipe were usually passed down within a family –there were Aryuvedic scholars in India who recorded their information of traditional prescriptions on palm leaves to be perused by a chosen few, habitually their own children and grandchildren, which is an undisputed reality.

As there is no Western remedy for the illness, Cogent received unprecedented response in the region, when one such secret original copy became uncovered. It was one Balaram, an industrialist who met a gentleman wearing robes [sannasi] at the Sri Krishna Temple, Guruvayoor. Like Kalli, he gave Balaram a pile of palm leaf writings containing ample formulae – essentially for illnesses up to the time thought about hopeless. The Cogent recipe agreed to by from these was an adversary of diabetic medication – a home grown drug, a hundred percent secure plant-inferred formula. Balaram tried out with his diabetic dad, and within seven days his dad's glucose had fallen normal. An elated Balaram set up a little lab at his manufacturing plant and for over 10 years he and his team of 'scientists' discovered what was observed as a solution for diabetes, and took his prescription to New Delhi's Indian Council of Medical Research, who referred him to Amala Research Center in Thrissur and Sree Chitra Institute in Thiruvananthapuram.

Tests and Trials

Dr. Ramadasan Kuttan, at Amala found the creature first round which took one and a half years that the formula brought down the glucose and vitalised the kidney and the liver. It was increasingly sensational the way that the medicine really controlled the harm caused to the pancreas; an amazing discovery. Dr. Kuttan selected ten willing diabetic cases and put them on a strict diet routine. He found zero effect. Glucose levels, capacities of kidney and liver were checked and in half year all ten the patients enlisted a remarkable improvement. However, the preliminaries did not end here. The medication was checked and rechecked until Cogent db was conceived.
Within a few months Cogent became immensely popular in Sri Lanka; not only the lay diabetics, but medical consultants rushed for it within a short period. The first consignment was sold like 'hot cakes'. The scrupulous Indian supplier, who was thorough with the product's placebo effects [complex neurobiological reactions that includes increases in feel-good neurotransmitters, to enhance activity in certain brain linked to emotional reactions, which can have temporary healing powers]. He insisted on a huge order [two- forty-foot containers] which created doubts. We rejected the offer, though quite a large number of Western qualified doctors assured the efficacy of the Aryuvedic formula and many local businesses, including non-pharmaceutical entrepreneurs approached us for the transfer of agency. Finally, it was Hon Udaya Gammannpila, the then GM of a company who successfully negotiated the deal; I remember the meeting we had with him at our Dehiwala office two decades ago. They spend lavishly on promotional activities—all were in vain.

Those who are positive about Mr Dhammika Bandara's Kali prescription must rush to WHO for approval and win the international market to beat Pfizer/BioNTech vaccine.

As we rightly cautioned last Wednesday, already two Health staff in UK after receiving it have suffered allergies, compelling the parties to warn people with allergies to refrain from obtaining the vaccine. Stunning 44% of British now suffer from at least one allergy and the number is on the rise, adding around 2 million a year. Almost 48% of sufferers have more than one allergy.

Writer can be contacted at – kksperera1@gmail.com