---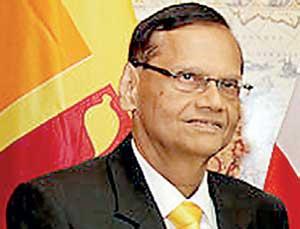 By Kelum Bandara
Education Minister Prof. G.L. Peiris said it was a myth to say that the jettisoning of the 19th Amendment would be an affront to the rule or law, democracy and judicial independence.

Addressing a seminar in Kandy during the last weekend, he said there was great excitement in the country about the move to enact the 20th Amendment to the Constitution in place of the 19th Amendment. He said it was all the more important to educate the public in advance in that respect.

Prof. Peiris said it was a myth to say that the 19th Amendment was a sine-qua-non for the country on the basis that it ensured the rule of law, clear demarcation of power and judicial independence. He said some elements even tried to misinterpret the move to change the 19th Amendment as a treacherous act.

However, the Minister, in his speech, stressed that the constitution of a country should fundamentally ensure national security for citizens.

"There is no use of a Constitution unless there are provisions to guarantee security. What is envisaged in the 19th Amendment? It is clearly stated that the President cannot hold ministerial posts. Who is the President? He is someone elected by people exercising their franchise. As a result, his primary duty is to guarantee public and national security. Yet, it is impossible for him to be the Defence Minister in terms of the 19th Amendment. There was a transitional provision in it enabling only then President Maithripala Sirisena to hold the defence, Mahaweli development an environment portfolios. It is an individual-centric provision," he said.

The Minister said Article 4 of the Constitution spelled out executive powers inclusive of defence. According to Article 3, executive powers were vested with the President elected by people.

The Minister said the 19th Amendment created a contradictory situation making it impossible for the President to hold the defence portfolio in the exercise of his executive powers.
Also, he said the 19th Amendment had done away with the provisions for the enactment of urgent bills by presenting them to Parliament within a matter of seven days.
"It is a long procedure to enact a bill in Parliament under normal circumstances," he said.
It is a long procedure to enact a bill in Parliament under normal circumstances

Asserting that the 19th Amendment created two power centres conflicting with each other, he said it eventually resulted in the carnage of 265 innocent lives.
"The 19th Amendment created institutions that function above the President. The President was deprived of power to make appointments to them," he said.
After taking away such authority from the President, he said it was vested in the hands of the Constitutional Council with NGO activists.

Prof. Peiris said the Independent Commissions established under the 19th Amendment had been politicised more than the parties across the political divide in Parliament.