---
By T. Farook Thajudeen
Appeal Court Judges A. W. A. Salaam (President) H.N. J. Perera and Sunil Rajapaksa regretted their failure to dispose the appeal earlier than they had, which had resulted in a mother of two being imprisoned for nine years while awaiting the outcome of her appeal.
They noted that it was a classic case that illustrated the legal maxim "Justice delayed is Justice denied." They further noted that if the convict had selected to serve the s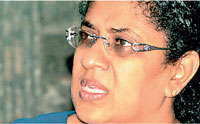 entence imposed upon her in the first place she might have already served the sentence and been freed by this time or even earlier.
However, they noted that shortcomings in the system of justice, particularly in the disposal of criminal appeals, had undoubtly undermined the liberty of the subjects and infringed on the right of citizens to have justice meted out without delay.
The Judges made these observations while acquitting the accused appellant Karuppiah Pungkudy of Kimbula Ela, who was charged in the Colombo High Court for possessing 45.3 grammes of heroin on December 12, 1998 and was convicted by it on June 9, 2005 and given a life sentence.
During the hearing, prosecution witness, IP Priyantha Liyanage of the Police Narcotic Bureau, giving evidence, had stated that he along with Sergeant Senaratne were sent to the house of Pungkudy to arrest her sequel to information received by IP Basnayake of the Police Narcotic Bureau that she was in possession of drugs. He testified that the suspect, Pungkudy, who was seated on the steps of her house, having spotted the police, had rushed into her house and came out carrying a nickel coloured box in which they had found heroin.
During the trial the defence alleged that the prosecution's case was improbable and fabricated and had not been proven beyond reasonable doubt, and asked the court to acquit the appellant – Pungkudy.
Defence Counsel Rienzie Arsekularatne PC argued that the High Court Judge had accepted the version put forward by the prosecution as being without any contradictions, yet he had failed to apply the same yardstick to the evidence put forward by the defence, which too had no contradictions.
The Appeal Court Judges upheld the defence standpoint and acquitted the accused, Pungkudy, from all charges. The Judges remarked that that the trial judge had forgotten to give effect to the idiomatic expression, "What is sauce for the Goose must be sauce for the Gander."
Deputy Solicitor General S. Thurairajah Appeared for the Attorney General while President's Counsel, Rienzie Arsekularatne with Thejitha Koralage, Namal Karunaratne, Nimeshika Patabendige, Sasheen Arsekulartne and Udara Muhandiramge appeared for Karuppiah Pungkudy, the appellant.