---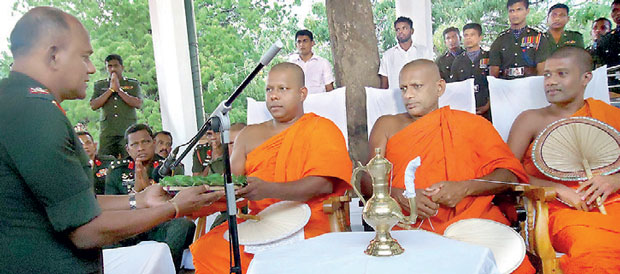 By Nelson Piyaratne and M.K. Nandasena
A Kanchuka Pooja and the blessing of regimental flags, the Buddhist flag and the National flag were held at Kirivehera on Monday (6) under the patronage of Army Commander Daya Ratnayake to commemorate the 65th anniversary of the Army.
Incumbent of the Kirivehera Rajamaha Viharaya Ven. Kobawaka Dhamminda conducted the religious programme to bless the flags. After the religious programmes at the Kirivehera the commander paid homage to the Ashtapala Bodhi where Kirivehera Viharadhikari Ven.Thalagala Gnaninda Thera conducted the
religious rituals.
The commander then participated in a Deva Pooja at Kataragama Maha Devalaya. Nearly one thousand soldiers including high officials of the Army participated at this occasion.