---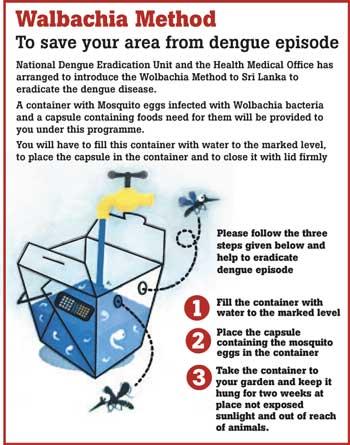 By Sheain Fernandopulle
Wolbachia, a naturally occurring bacterium, which can stop mosquitoes from transmitting an infection to humans, would be introduced to Sri Lanka in February as a mean to curb spread of dengue virus, National Dengue Control Unit Director, Specialist

Dr. Aruna Jayasekara told Daily Mirror. He said Wolbachia is found in up to 60% of insects, but not usually in Aedes aegypti mosquitoes, the primary vector of dengue.

"This will be to inject Wolbachia to Aedes aegypti mosquito eggs, which make it harder for viruses to reproduce inside the mosquitoes and the mosquitoes are much less likely to spread viruses from person to person, Dr. Jayasekara said.

He said this would be carried out in February as a pilot project and added would continue depending on the progress of the programme.

"This is an advantageous prevention method because it does not require genetic modification, is not toxic and is self-sustaining, making it cost-effective," Dr. Jayasekara said.
"Cases of dengue infection have declined significantly in areas of Australia, Brazil, Indonesia and Vietnam where lab-grown mosquitos carrying Wolbachia were released, he added. Dr. Jayasekara said it was absolutely fitting to find immediate solutions to curb the spread of dengue as the dengue outbreak is on the rise. "We are hoping to launch several programs this year to reduce dengue cases and in a special manner, we have compiled a special strategic plan to address this issue considering the increasing trend of dengue cases over the last 10 years.
The second highest dengue outbreak for the past ten years was recorded last year with 102,952 cases and more than 100 deaths.

Meanwhile, the dengue eradication program that was in effect for nearly seven days all across the Western province in line with the new school term ended recently.
Western province National Dengue Eradication Unit Director, Dr. W. A. Y. Wedisinghe said that under the program, 96,351 places were inspected.