---
Union alleges protesters were attacked with garbage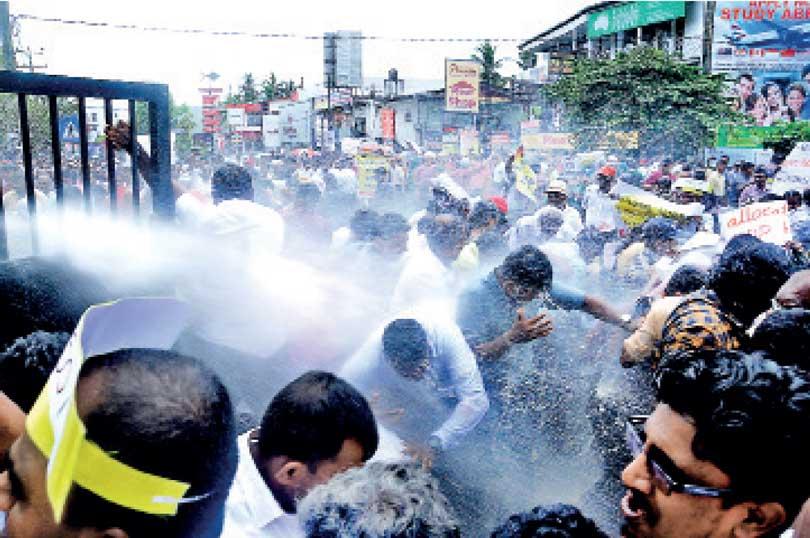 Police used teargas and water cannons to disperse a protest staged by members of the Ceylon Teacher's Union and Principal Services Union opposite the Education Ministry yesterday.
Pic by Nimalsiri Edirisinghe
By Chaturanga Samarawickrama
The Ceylon Teachers' Services Union yesterday said two of their members were injured during the protest held in front of the Education Ministry, Isurupaya when the police attempted to disperse them by using water cannons and tear gas.

Union Secretary Mahinda Jayasinghe told the Daily Mirror that they gathered at the Ministry not to create any tense situations but to talk with the Education Ministry Secretary.
We held a peaceful protest and later some persons from the ministry hit us with garbage parcels.

"We did not come there to fight with the ministry officials, later the police had used water cannons and tear gas to disperse us. They also baton-charged us. During the incident, Weligama and Matugama zonal education organisers were injured and rushed to the National Hospital.

Hospital sources said one teacher was admitted with minor injuries to his head after being hit by a canister and the other was admitted for hearing problems after he was hit by water cannons.

"We demanded the Ministry Secretary to come forward and make a statement over our demands. We also requested him to let us inside the ministry and hold a discussion peacefully," Mr Jayasinghe said.

"We received garbage parcels as answers to our demands. We suspect the garbage parcels were thrown by some henchmen sent
by the Minister," he said.

Education Ministry Secretary Padmasiri Jayamanne said he was not aware of the incident as he was in parliament attending to some ministerial work.
He said he had come to know about the incident as soon as he came to his office and by that time all had happened.