---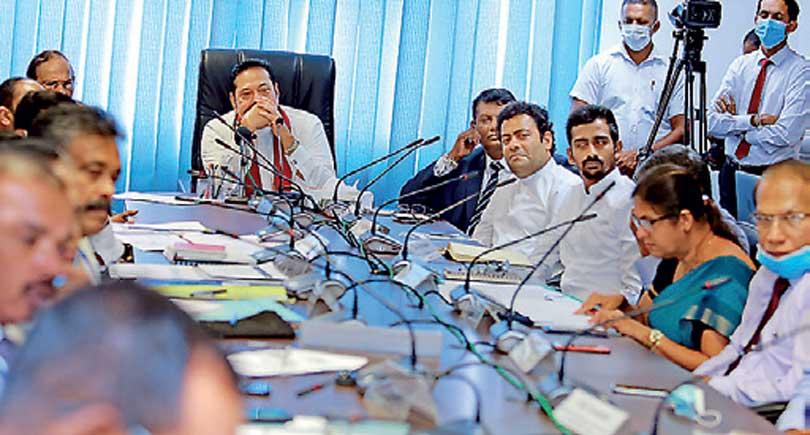 By Sandun A Jayasekera
Prime Minister Mahinda Rajapaksa has instructed the Urban Development and Housing Ministry to draw a 'Town Development Plan' for each and every town in the country with focus on the protection of the environment, a comprehensive solid waste disposal system, waste water drainage system and a proper traffic control system.
Premier Rajapaksa has stressed that city authorities must under no circumstances allocate lands in the city earmarked for housing for the citizenry for business purposes or for commercial ventures.

Mr. Rajapaksa has issued these guidelines to top officials of the Ministry when he chaired a progress review meeting of the Urban Development and Housing Ministry yesterday.
He has emphasized the need to put in place a mechanism to prevent the contamination of the ocean with waste water and solid waste matter brought in by rivers.

"If we are to prevent pollution of the sea, we must refrain from dumping solid waste, human waste and other pollutants into rivers and stop unplanned sand mining. There must be a proper and up to date strategy to realize this goal by each and every city," Mr. Rajapaksa said.

Mr. Rajakapaksa has also highlighted the importance of the State Engineering Corporation to compete with the private sector for development projects to improve the productivity and quality of services of both and added that attention should be drawn to complete development projects that had been launched by the previous government but stalled midway.

The Ministry has been allocated with Rs. 28 billion from the Vote on Account for the next four months.
Urban Development and Housing Ministry Secretary Sirinimal Perera said all loss making commercial establishments under the Ministry would be made profit making entities before December 31st, 2020.

The Ministry has already constructed 1,400 flats to be distributed free of charge among low income families and 608 apartments for middle class families. Another 800 middle class apartments are in the pipeline,Perera noted. State Ministers Dr. Nalaka Godahewa, Indika Anuruddha and Jeewan Thondaman also participated in the discussion.