---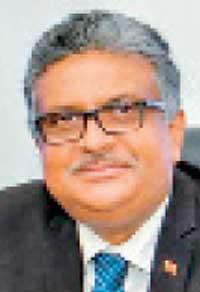 The Japanese government made public the recipients of "The Order of the Rising Sun", conferred by His Majesty the Emperor of Japan on foreign nationals who have made distinguished contributions to enhancing friendly relations with Japan.

The Spring Conferment this year honours two Sri Lankan nationals with this prestigious award namely Senior Prof. Sampath Amaratunge, Chairman of the University Grants Commission with The Order of the Rising Sun, Gold Rays with Neck Ribbon and Mr. Manoj Fernando, Executive Vice President of the Sri Lanka Baseball/Softball Association (SLBSA) with the Order of the Rising Sun, Silver Rays.

Snr. Prof. Sampath Amaratunge's commitment, persistence and dedication over the decades of association with Japan have promoted academic exchanges between the two countries to a new height. Having completed his higher education in Japan and proficient in Japanese, Snr. Prof. Amaratunge, during his tenure as the Vice Chancellor of the University of Sri Jayewardenepura founded the Faculty of Technology, which, through close collaboration with numerous universities in Japan, have contributed to advancing technological and scientific studies at the University. The partnership with the National Institute of Advanced Industrial Science in Japan have also promoted the university's technical competencies in the relevant areas. Mr. Manoj Fernando made invaluable contributions to strengthening bilateral relationship between Japan and Sri Lanka through promoting baseball in Sri Lanka, which was successively supported by the Japan Overseas Cooperation Volunteers (JOCVs). A reputed baseball player himself, Mr. Fernando, over the past three and a half decades, has dedicated himself to developing the skills and techniques of coaches and players in various capacities of the SLBSA while endeavouring to make baseball a popular sport in Sri Lanka.

The Embassy of Japan extends heartfelt congratulations to Snr. Prof. Sampath Amaratunge and Mr. Manoj Fernando on the decoration of the Order of the Rising Sun, with sincere appreciation for their dedication to the cause of promoting friendly relationship between Japan and Sri Lanka.