---
1. 2 million students to benefit by this programme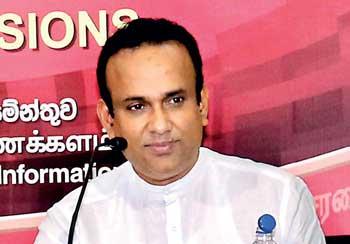 By Sandun A Jayasekera
School children in low income families will get a food pack worth Rs. 965 when schools reopen early next month to supplement their mid-day meal they lost during the long holiday in the aftermath of the COVID 19 viral infection, Cabinet spokesman and Minister Ramesh Pathirana said.

A proposal in this regard presented by Education Minister Dullas Alahapperuma was approved by the Cabinet, he said.

Minister Pathirana told the weekly cabinet news briefing that 1.2 million students are to be benefited by this programme and added the government would allocate Rs. 60 million annually to provide a mid day meal to school children.

The government spends about Rs. 35 per student to provide a midday meal. During the long holiday they did not get this. Therefore, Minister Alahapperuma has proposed to the cabinet that it was appropriate to provide a dry food package to each student worth Rs. 965. Each pack would include 10 eggs, 6 Samaposha packets, 3 packets of biscuits and one kilogramme of gram.

A proposal made by Prime Minister Mahinda Rajapaksa to build middle class houses on state lands in the country was also approved by the Cabinet, he said.

The middle class houses will be constructed on lands owned by the NHDA, UDA and other state establishments and sold to middle class families at an affordable price and on a soft bank loan repayable over a period of 20 to 30 years, Minister Pathirana noted.
The government spends about Rs. 35 per student to provide a midday meal. During the long holiday they did not get this