---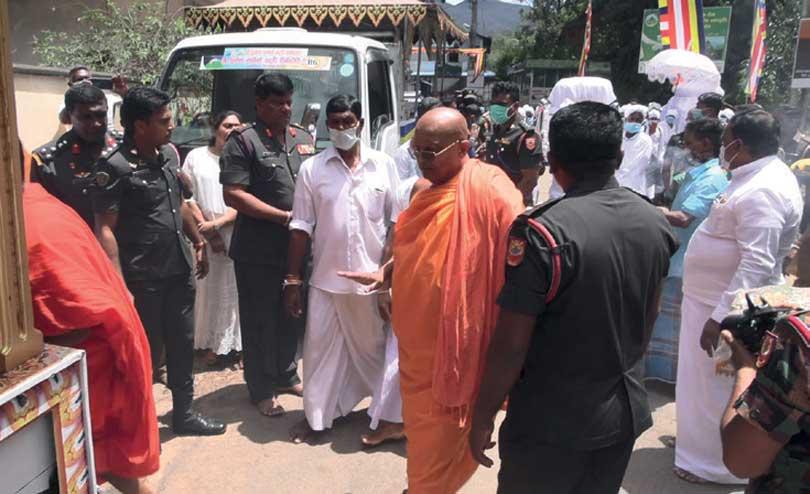 By Ranjith Rajapakse and Gamini Bandara
Ilangatilleka - Hatton
Sri Pada pilgrim season 2019/2020 ended on the Vesak Full Moon Poya Day on May 07. Pilgrimage to Sri Padasthan this year had been suspended on March 20 due to health concerns created by the coronavirus.
After performing religious observances, rites and rituals in the upper compound of the Sri Padasthana under the guidance of Chief Incumbent, Chief Sanghanayake of the Sabaragamuwa Province and Chancellor of the Uva –Wellassa University Ven. Bengamuwe Sri Dhammadinna Thera the casket of sacred relics and the statue of the God Sri Sumana Saman, the guardian god of the Sri Padastana, were taken in possession to Nallathanniya Sri Pada Centre yesterday morning by a group of army personnel from the Laxapana Camp.
The motorcade carrying the casket of sacred relics and the statue of the God placed in a float that left Nallathanniya proceeded through Bogawantalawa, Balangoda and Pelmadulla to Galpottawala Sri Pada Rajamaha Vihara under the supervision of Commanding Officer of the Laxapana Army Camp Lt. Col. Nilantha Gunawardena.
Several senior army and police officials participated.