---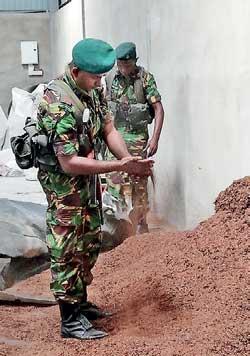 By Darshana Sanjeewa Balasuriya
Two suspects were arrested with 19,500 kgs of refuse tea by the STF during two raids carried out at Bopitiya in Pamunugama on Saturday.

The STF said initially they had seized a container travelling on the Bopitiya - Ja Ela road and had seized 17,500 of refuse tea from the container. The driver of the container was arrested.
Investigations have revealed that the refuse tea was to be transported to the Harbour for export to the Middle East.

Based on information obtained from the driver, the STF had raided a warehouse at Bopitiya and recovered another 2,000 kg of refuse tea.

A store keeper of the warehouse was arrested and statements were recorded from 13 other workers.

The arrested two suspects were handed over to the Pamunugama Police. The raid was conducted by a STF team led by CI Nadeeka Perera on the instructions of Commandant of the STF.