---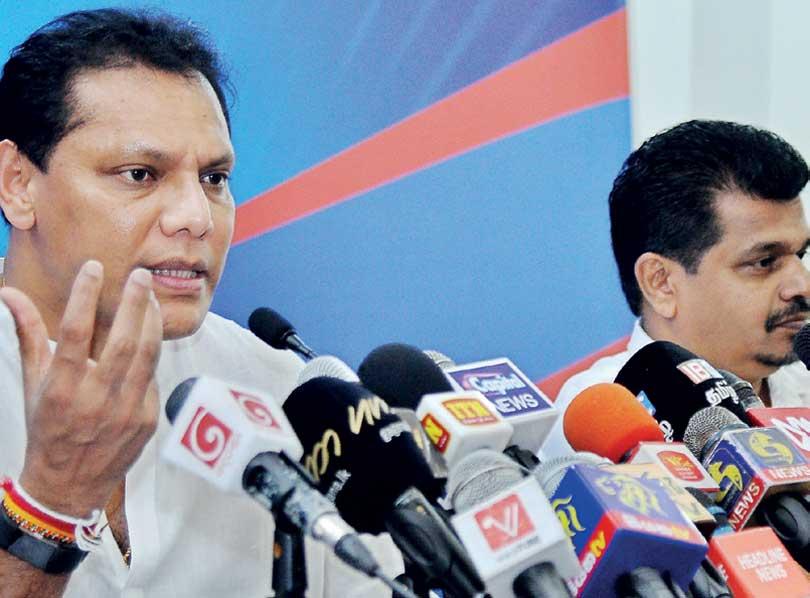 Pic by Nisal Baduge
By Sandun A Jayasekera
General Secretary of the SLFP, Dayasiri Jayasekara said the SLFP has not received an invitation from the SLPP to participate in its annual convention to be held on August 11 as yet and added if there was an invitation, the party's Central Committee would decide whether to accept it or not.

He requested SLFP members - the Provincial Council and Pradeshiya Sabha members in particular – not to attend the SLPP convention without the permission of the party and said strict disciplinary action would be taken against members who would attend the convention bypassing the party's official position.

Addressing the SLFP weekly news briefing at the party office, Mr. Jayasekara noted that if the SLFP is to take part in the SLPP convention, the party needs to have a clear idea on the intentions of the SLPP.

"We need to know the work plan and the policies of the SLPP. We also need to conclude the discussions between the two parties before the convention. It is extremely important if we could sign the SLFP – SLPP agreement with the final objective of forming a broad alliance against the UNP. Without these requirements addressed, I don't think we are in a position to attend the convention," Mr. Jayasekara stressed.

Mr. Jayasekara said individuals don't matter but the policies and planning on how to win the forthcoming polls matter and added the Presidential aspirants must be national candidates and not common candidates.

"He or she must be a person who can ensure national security, territorial integrity, independence of the nation and inter communal harmony. He or she must also be a politician who does not sell state assets, not engage in corruptions and crimes, embezzlement and nepotism. We don't want to field a candidate nominated by a group, family or an individual. Our Presidential candidate must be nominated by collective consent of all supporters, officials and leaders of the SLFP," Mr. Jayasekara said.

In response to a journalist, Mr. Jayasekara said President Maithripala Sirisena did not have a choice other than swearing in of Muslim Ministers who resigned on June 3rd when Prime Minister Ranil Wickremesinghe made a request to that effect.

"This is another outcome of the 19th amendment. It is not a matter of his liking or not. If Prime Minister makes a request to reappoint Muslim Ministers President has to oblige," he said.
However, Mr. Jayasekara admitted that reappointment of Minister Rishad Bathiudeen before conclusion of inquiries on allegations against him was not proper.

Trade Union leader of the SLFP, Parliamentarian Weerakumara Dissanayaka said the US ambassador has written to President Sirisena to say that US$ 480 million released to Sri Lanka by the Millennium Challenge Corporation (MCC) was not a loan but a grant.

"We take the statement of the US ambassador with a pinch of salt. We hope and pray it was correct and not intended to destroy this country and no covert motive involved," Mr. Dissanayaka said.
We need to know the work plan and the policies of the SLPP. We also need to conclude the discussions between the two parties before the convention