---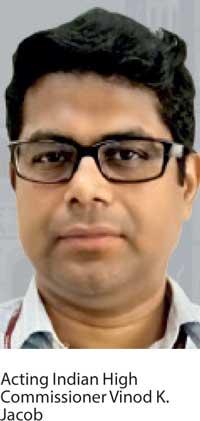 The acting Indian High Commissioner Vinod K. Jacob encouraged students of Sri Lanka to make use of the 25,000 plus seats earmarked in Indian educational institutions every year for foreign students.

He said the Indian Government also offers 750 scholarships each year to students across Sri Lanka for Undergraduate, Postgraduate and Doctoral courses in India and Sri Lanka. The acting Indian High Commissioner Jacob made these remarks whilst inaugurating the Fourth India Education Fair 2020 in Colombo yesterday with State Minister for Technology and Innovation Thilanga Sumathipala.

Speaking on the occasion Mr. Jacob highlighted the potential for strengthening India - Sri Lanka cooperation in the education sector. He said in addition, India offers fully-funded training opportunities for capacity building to around 400 Sri Lankan Government officials every year under the ITEC programme. Student exchanges under the Indo - Sri Lanka Foundation are a prominent feature of the annual calendar and helps foster deeper appreciation for each other's culture.

Among recent developments on the educational infrastructure forefront, India constructed the largest university auditorium in Sri Lanka at the University of Ruhuna and last week instituted the Indian High Commissioner's Gold Medals for the best performing students in the fields of Pharmacology, Nursing and Medical Laboratory Science at the Ruhuna University.

In mid January this year, new school buildings constructed with Indian assistance in five schools in the Northern Province were simultaneously handed over to the people of Sri Lanka.

Acting High Commissioner Jacob also encouraged aspiring young students to pursue their studies with the same commitment and passion as the late Prof. Indra Dassanayake who was awarded the prestigious Padma Shri award by the Government of India on 26 January 2020 in recognition of her pioneering contribution to the development of Hindi literature and education in Sri Lanka.
India offers fully-funded training opportunities for capacity building to around 400 Sri Lankan Government officials every year under the ITEC programme