---
while Geologist awaits information of disaster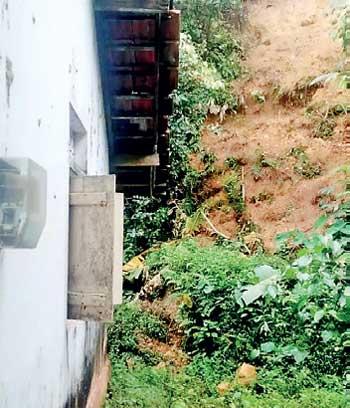 By G.W.K.Prematilleka
Residents of Indurupathwila in Baddegama accused the authorities of ignoring the danger of possible landslides in Kosgahahanda hill endangering about 15 families.

They pointed out that the hill had developed cracks and erosion due the prevailing heavy rains but their representations in that regard to the relevant authorities had fallen on deaf ear.
Asst. Director Galle District Disaster Management Centre Mjr. Induka Wickremesinghe said he had received several complaints from the residents of the area to the effect that they were living in fear of possible disastrous situation and that he referred them to the Baddegama Divisional Secretary. Divisional Secretary M.H.Navod Mihiraj said he called for a report from the National Building and Research Organisation in that regard.

However, Geologist In Charge of the Galle NBRO office E.R.Bandula said he had not received any information on the impending danger and that he would take prompt action after receiving information.