---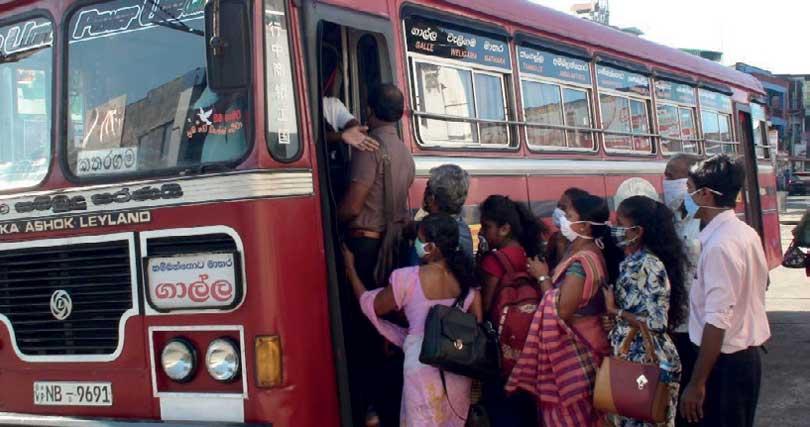 Persons using public transport on the roads did not adhere to health advisories.
By Sandun A Jayasekera
When the curfew was relaxed in18 districts for 15 hours yesterday between 5.00 am to 8.00 pm, most of the people in those districts paid scant respect to repeated requests by government, the heath authorities or security officials and flocked to the towns in numbers.

Private bus operators ran buses over-loaded with passengers, ignoring all health advisories to keep people a safe distance, wear face mask and wash their hands. Bus operators also ignored the requirement to disinfect buses before and after each journey.

Sadly, a large number of people were seen gathered in front of taverns, and there was brisk business at liquor shops in the super markets. Pawn brokering establishments also saw a rush of customers with people pawning their jewellery to raise a few hundred rupees to meet their day- to-day expenses.

Dedicated Economic Centres (DEC) at Narahenpita, Veyangoda, Tambuttegama, Nuwara Eliya Welisara too were open for whole sale and retail business and the main DEC for vegetables and fruits at Dambulla was opened after 15 days.

The Peliyagoda main fish market too had been opened for wholesale and retail business yesterday.

At railway stations and in trains, passengers were seen adhering to safety regulations as the police and army personnel deployed at railway stations monitored railway services.
However, on highways, private bus operators and commuters did not follow safety measures and guidelines.

Our provincial correspondents said buses were overloaded by SLTB and private buses operators. In many instances and commuters did not bother to keep a safe distance each other.
Private bus operators protested against the advice to take only a limited number of passengers. They said they could not cover even the maintenance cost of the bus by taking only one passenger to one seat

Correspondents said certain individuals who received the Rs. 5,000 free grant from the government were seen in the queues outside liquor shops.

Meanwhile, the head of the National Operation Centre for Prevention of COVID-19 Outbreak (NOCPCO), acting Chief of Staff and Army Commander Lieutenant General Shavendra Silva said people must properly understand the danger that can be caused by the virus. Therefore, people should follow the guidelines issued by the health authorities and the security personnel," the Military Chief said speaking to the media.

He appealed the public to act in responsible manner and follow good hygienic practices even when the curfew was not in force. Pics by Anisha Mnage and
Prasanna Pathmasiri.