---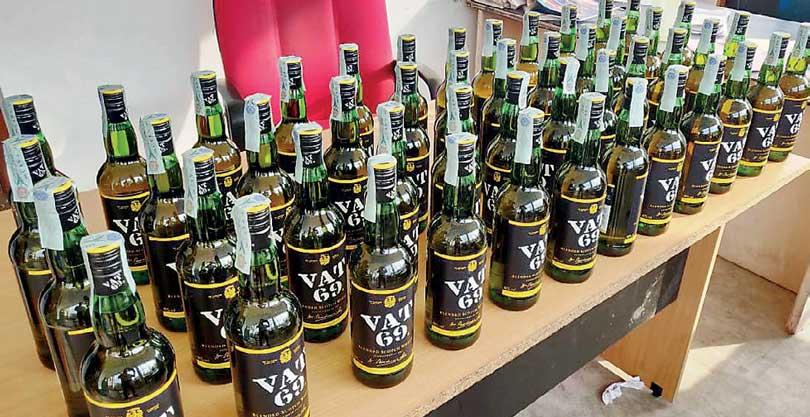 By Kurulu Koojana Kariyakarawana
A large stock of whiskey suspected to have been smuggled into the country under the nose of the authorities was seized by the Excise officials from three suburban areas of Colombo on the Independence Day (04).

This raid was carried out by the Excise Department flying squad, Bureau of Special Operations (BSO), Colombo on information received. February 04th has been named a 'dry day' throughout the country for its Independence celebrations.

Excise Department Spokesman Deputy Commissioner Kapila Kumarasinghe told the Daily Mirror that the raids were conducted in the areas of Kumbuka, Obeysekarapura and Bandaragama, where three persons who were in charge of the contraband were also taken into custody.

The Excise BSO seized altogether 48 bottles of 700ml imported 'Vat 69' scotch whiskey brand from the three raided venues. A bottle of 750ml 'Vat 69' is usually sold at Rs.6,500 in the retail market and the seized stock had been valued at over Rs.300,000.

When the contraband was seized, none of the bottles bore the security sticker, which should have been pasted on them like the ones that are displayed to be purchased at airport duty free shops.

The investigations are being conducted by OIC Excise BSO Chief Inspector P N Hemantha with Excise Inspector Ranaweera, Excise Guard Ranasinghe, Jayathilaka and Driver Asanka on the instructions of Excise Commissioner General Ariyadasa Bodaragama, Additional Excise Commissioner General Wasantha Dissanayake and Excise Superintendent BSO Channa Weerakkody.

The three arrested suspects had been released on Excise bail and were ordered to appear in courts in Horana and Maligakanda respectively on February 13th and 14th.