---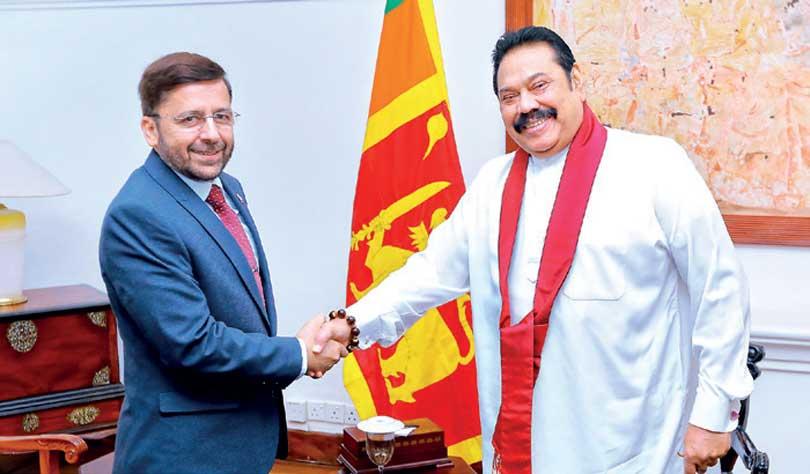 Pakistan High Commissioner Major General (Retired) Muhammad Saad Khattak has informed Prime Minister Mahinda Rajapaksa that they are fully prepared to cooperate Sri Lanka in counter-terrorism efforts.

The High Commissioner has said this during a courtesy call on Prime Minister Rajapaksa at Temple Trees on Monday afternoon.
On cooperation in multilateral fora, the High Commissioner said, "We always stood by you, and we will continue to always stand with you."

High Commissioner Khattak informed the Prime Minister that Pakistan is offering 1,000 fully-funded scholarships to Sri Lankan students under the Allama Iqbal Scholarships programme.
The final deadline for submitting applications is this Saturday, February 29. Students can visit the High Commission website for more information: http://www.pakistanhc.lk/wp-content/uploads/2020/02/ADVERTISEMENT.pdf.

The scholarships, being offered under the Pak-Sri Lanka Higher Education Cooperation Programme, allow students to pursue undergraduate, postgraduate and doctoral degree programmes in a vast array of fields such as engineering, medicine, information technology, the natural sciences and social sciences.

While thanking the High Commission for the opportunities offered to Sri Lankan students, the Prime Minister also thanked Pakistan for the long-term support provided to Sri Lanka, including during the war.

The High Commissioner said Pakistan is particularly interested in taking more Sri Lankan goods to the Pakistani market.

Pakistan is the second-largest trading partner of Sri Lanka in the SAARC region, and bilateral trade in 2018 stood at US$ 509.14 million.
The top export products to Pakistan that year were betel leaves, coconuts, wood charcoal, natural rubber, labels and cloves.

The two delegations also discussed cooperation within the SAARC region and the benefits of strengthening it.

Noting the already-strong ties in the defence sector and strong people-to-people relations, both sides agreed to work towards further enhancing trade relations.