---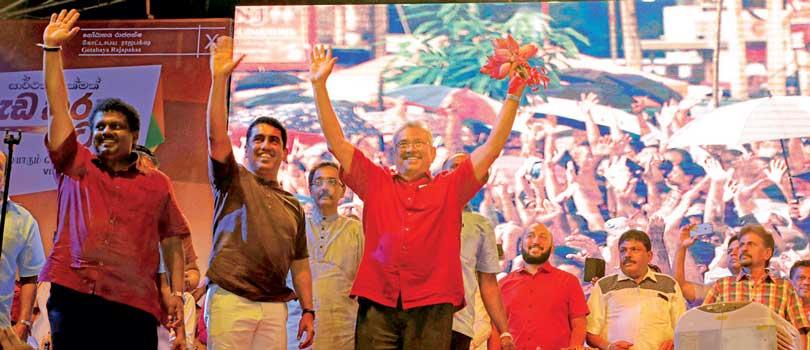 By Lahiru Pothmulla

SLPP Presidential Candidate Gotabaya Rajapaksa yesterday assured that the pledges given by them are practical and can
be implemented.

He said they were able to find answers to many pressing issues under former President Mahinda Rajapaksa's government formed in 2005.
"We were successful in resolving many issues, which former Presidents couldn't do. We brought peace to the country and developed infrastructure. Today, we place our promises in front of you and they are practical, just like in the past. We will restore security and redevelop the country. We have presented a practical plan," he said addressing a rally in Kuliyapitiya last evening.

He assured that a government of his would give prominence to agriculture unlike the incumbent government. "Farmers are facing severe hardships. We pledged in Anuradhapura to write off farmers loans and give fertilizer free of charge. These are not mere promises aimed at the election,"

he said.

He said the farmers should be granted a pension and an insurance scheme, while the latest technology be embedded into the agricultural sector. "We will make sure that agricultural sector is free from taxes. We say this with a proper vision," he said.

Mr. Rajapaksa said entrepreneurs, industrialists and businessmen all face severe difficulties due to the current tax system in the country and said they would introduce a
simplified alternative.

"We promise to simplify the tax system, make it stable and remove PAYE taxes. We will also bring down the VAT to 8%," he said.
We were successful in resolving many issues, which former Presidents couldn't do. We brought peace to the country and developed infrastructure