---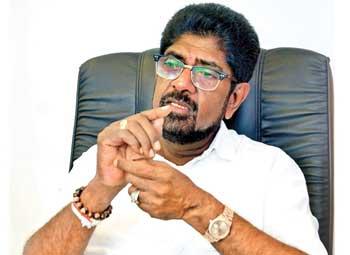 By Sandun A Jayasekera
Despite the wide spread notion that the Adanis Group of India and a Japanese company that are expected to join with the SLPA to develop the West Container Terminal (WCT) in a joint venture, would get a share parcel of 85%, it was disclosed yesterday that the Indians and Japanese would get only 51% of shares.

Responding to a journalist at yesterday's weekly cabinet news conference, co-cabinet spokesman Keheliya Rambukwella said not only the SLPA but any other local or foreign investors are free to invest in the WCT development project with the consent of the SLPA.

Nevertheless the Indian government did not directly get involved to nominate Adanis for the WCT development venture, but the Government of Sri Lanka (GOSL) invited the Adanis to participate in the WCT development project as New Delhi had earlier nominated the conglomerate to participate in the development of the ECT,

he added. The government invited Adanis as a development partner of the WCT under the provisions of the two tripartite agreements signed between Sri Lanka, Japan and India in 2017 and 2019 during the rule of the yahapalana government.

"The government decided to develop the ECT single handedly by the Sri Lanka Ports Authority (SLPA) following heavy objections raised by the Buddhist clergy, trade unions, public and social organizations. Therefore, the invitation to Adanis to develop the WCT is correct technically because they had been nominated by the Indian government to develop a container terminal in Sri Lanka.