---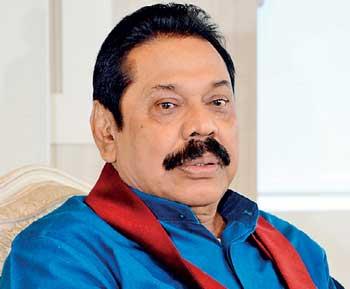 By Ajithlal Shanthaudaya
The government has introduced new laws that compromise the judicial independence, Opposition Leader Mahinda Rajapaksa charged. He said the powers of the Chief Justice had been curtailed and that power will be vested with the Attorney General. He said it was inappropriate to introduce new courts purely to take vengeance from
political opponents.
He made these remarks on Friday when he participated at the ceremony held to unveil the pinnacle of the largest Dagaba at the premisses of Mihind uthala Aranya in the close vicinity of Sinharaja Forest reserve in Pothupitiya Kalawana in the Sabaragamuwa Province. The Chief Incumbent of the Aranya Temple Ven. Viharahene Dhammasiddhi Thera had extended an invitation to the Opposition Leader.
Speaking further, he referred to the by-election held in 1981 over the Kalawana seat in Parliament and said at that time, he got a chance to visit every household in the electorate. The former government was able to end the thirty year war and within a few years the government had the ability to exp edite the development process. People in villages were able to maintain a satisfactory living condition as we were able to direct the country towards the development in all spheres. The average tourist arrival of 400,000 rose to 1.8 million. But under the new government tourists arrival has declined to zero from 2.4 million.
The recent bomb explosion shows how our security system had deteriorated in our country. He also said the security council was not meeting regularly. Amidst these lapses, the terrorists were able to carry out explosions. Some seems to have forgotten Sinhala and Buddhism and do not like to be called Sinhala Buddhists. Whether Sinhala, Tamil or Muslim all have a culture and identity of their own," he said.
.
The powers of the Chief Justice had been curtailed and that power will be vested with the Attorney General. It was inappropriate to introduce new courts purely to take vengeance from political opponents